A mosquito can bite multiple times, typically up to four times, during a single feeding session.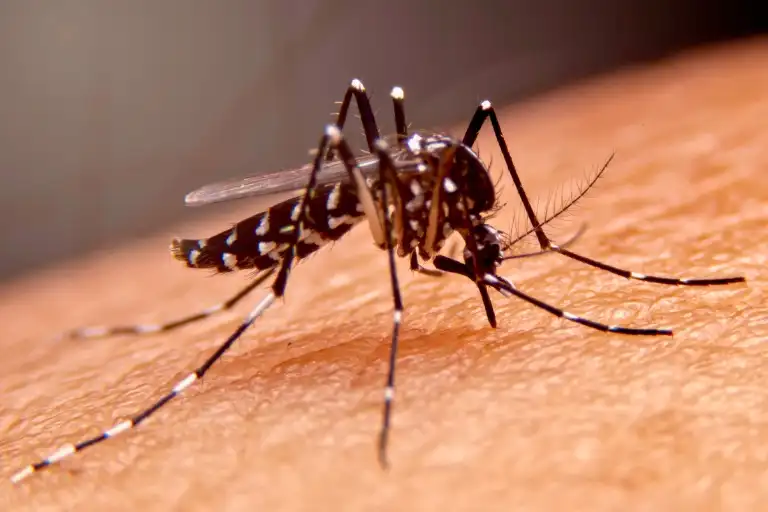 A Mosquito's Appetite: Understanding Its Bite Frequency
Mosquitoes, those tiny buzzing insects, have a notorious reputation for their irritating bites.
We've all experienced the annoyance of being bitten by these bloodsuckers, but have you ever wondered just how many times a mosquito can bite?
Understanding the bite frequency of mosquitoes is essential for effective disease control and prevention.
We will delve into the different species of mosquitoes and their feeding habits, as well as the various factors that determine a mosquito's bite frequency.
Let's dig in and uncover the secrets behind these persistent pests.
Different Species Of Mosquitoes And Their Feeding Habits
| Mosquito species | Feeding habit |
| --- | --- |
| Anopheles mosquitoes | Prefer human blood |
| Aedes mosquitoes | Primarily feed on mammals, including humans |
| Culex mosquitoes | Feed on birds, but also bite humans |
Mosquitoes come in various species, each with its own feeding habits. The Anopheles genus, for instance, is particularly notorious for transmitting malaria and tends to prefer feeding on humans.
Aedes mosquitoes, on the other hand, have a broad appetite, feeding on mammals, including humans, and are responsible for spreading diseases such as dengue, Zika, and yellow fever.
Culex mosquitoes, known for their nocturnal habits, primarily feed on birds but can also bite humans.
Understanding the feeding preferences of different mosquito species is key to effectively combating their presence and minimizing the risk of disease transmission.
Factors That Determine A Mosquito's Bite Frequency
A mosquito's bite frequency can be influenced by several factors that contribute to its feeding behavior:
Availability of hosts: Mosquitoes require hosts for their blood meals. The abundance and proximity of potential hosts, such as humans or animals, affect their bite frequency. Higher populations of hosts in an area can lead to more frequent mosquito bites.
Environmental conditions: Mosquitoes are sensitive to environmental factors like temperature, humidity, and lighting conditions. Warmer climates and stagnant water provide favorable conditions for mosquito breeding, resulting in increased bite frequency.
Mating and reproductive cycles: Mosquitoes, especially female mosquitoes, need blood meals to develop their eggs. The mating and reproductive cycles of mosquitoes can impact their bite frequency, as they may require multiple blood meals to successfully reproduce.
Chemical attractants: Mosquitoes are attracted to certain chemical compounds emitted by hosts, such as carbon dioxide and lactic acid. The presence of these chemical attractants in an area can attract mosquitoes and increase their bite frequency.
By understanding the factors that influence a mosquito's bite frequency, we can develop effective strategies for controlling mosquito populations and reducing the risk of mosquito-borne diseases.
Importance Of Understanding Mosquito Bite Frequency For Disease Control
Understanding mosquito bite frequency is crucial for effective disease control and prevention.
Mosquitoes are notorious vectors of infectious diseases, including malaria, dengue, Zika, and West Nile virus.
By knowing how often mosquitoes bite and the factors that contribute to their feeding behavior, we can implement targeted control measures to reduce their impact.
Efforts such as mosquito breeding site elimination, insecticide-treated bed nets, and use of repellents can all be optimized when informed by knowledge of mosquito bite frequency.
Public health authorities can also focus on educational campaigns and community engagement to raise awareness about personal protection measures and environmental management.
By unraveling the secrets of a mosquito's appetite and understanding its bite frequency, we can take proactive steps to minimize mosquito-human interaction, safeguard our health, and create a safer environment for all.
Unmasking The Myth: Fact Or Fiction – How Many Times Can A Mosquito Bite?
Have you ever wondered how many times a mosquito can bite? Maybe you've heard conflicting information and aren't sure what to believe.
We'll delve into the topic and uncover the truth behind the myth. So let's set the record straight: How many times can a mosquito really bite?
Debunking Common Misconceptions About Mosquito Biting Habits
There are a few common misconceptions about mosquito bites that need to be addressed.
Many people believe that mosquitoes only bite once per feeding session. However, this couldn't be further from the truth.
While it's true that a mosquito may bite you and then fly away, they are capable of multiple bites in a single session.
Another common misconception is that mosquitoes bite by piercing the skin once and then siphoning blood until they are full.
In reality, mosquito bites are more complex. Mosquitoes use their needle-like mouthparts to probe the skin and find a suitable blood vessel.
They then inject saliva, which acts as an anticoagulant and prevents the blood from clotting. The mosquito can continue to feed until it is full or interrupted.
Research And Studies On The Number Of Times A Mosquito Can Bite In A Single Feeding Session
Several research studies have been conducted to understand the biting habits of mosquitoes.
These studies have revealed that mosquitoes can bite multiple times in a single feeding session.
One study found that female mosquitoes, which are the ones that bite, can take up to four blood meals in a single night.
This ability to bite multiple times is crucial for the mosquito's reproductive cycle. Female mosquitoes require the nutrients from the blood to develop their eggs.
By taking multiple blood meals, they can ensure the successful development and laying of their eggs.
Variations In Bite Frequency Among Different Mosquito Species
It's important to note that the number of times a mosquito bites can vary among different mosquito species.
Some species may have a higher bite frequency, while others may have a lower bite frequency.
For example, the Aedes mosquito, which is responsible for transmitting diseases like dengue and Zika, tends to bite multiple times in a single feeding session.
On the other hand, the Anopheles mosquito, which transmits malaria, typically bites just once per feeding session.
Researchers have also found that factors such as environmental conditions, host availability, and the mosquito's age can influence their biting habits.
What Drives Mosquitoes To Bite? Unveiling The Attraction Factors
Ever wondered why mosquitoes seem to be irresistibly drawn to human beings?
We will delve into the fascinating world of mosquito behavior and explore the factors that drive them to bite.
By understanding these attraction factors, we can gain valuable insights into how to protect ourselves from these pesky insects.
The Sensory Mechanisms That Guide Mosquitoes Towards Their Human Hosts
Mosquitoes possess a remarkable array of sensory mechanisms that enable them to detect and locate their human hosts. These mechanisms include:
Chemical signals: Mosquitoes have a highly developed sense of smell, allowing them to detect the chemical compounds emitted by the human body. In particular, they are attracted to carbon dioxide (CO2), lactic acid, and ammonia. These chemical signals act as beacons, drawing mosquitoes towards their unsuspecting victims.
Body heat and infrared radiation: As warm-blooded creatures, humans emit infrared radiation and produce heat. Mosquitoes are equipped with specialized sensors known as thermoreceptors, which enable them to detect these signals. This helps them pinpoint warm bodies amidst the surrounding environment.
Visual cues: Although not as adept at visual navigation as other insects, mosquitoes can still rely on visual cues to some extent. They are attracted to dark colors, which stand out against lighter backgrounds. Moreover, they are drawn to moving objects, making them particularly drawn to individuals who are active or fidgeting.
Humidity and moisture: Mosquitoes thrive in humid environments and are more likely to be attracted to areas with higher levels of moisture. Perspiration is especially enticing to these insects, as it combines the chemical signals with increased humidity.
Factors That Influence A Mosquito's Decision To Bite Multiple Times
Contrary to popular belief, mosquitoes do not always bite only once. In fact, some individuals may find themselves repeatedly targeted by these bloodsuckers.
Several factors influence a mosquito's decision to bite multiple times, including:
Hunger: Mosquitoes require blood meals to nourish their eggs and reproduce. A mosquito that is particularly hungry is more likely to seek out multiple hosts in order to satiate its appetite.
Individual susceptibility: Mosquitoes possess the ability to detect variations in the chemical composition of an individual's blood. Some people may have blood that is more attractive to mosquitoes due to genetic, hormonal, or dietary factors, making them more prone to multiple bites.
Proximity to breeding areas: Mosquitoes tend to be most active near their breeding grounds. If you find yourself in close proximity to stagnant water or other conducive breeding sites, you may be at a higher risk of encountering multiple mosquito bites.
Impact Of Environmental Conditions On Mosquito Feeding Habits
Mosquito feeding habits are greatly influenced by environmental conditions. Understanding these factors can help us anticipate and minimize mosquito bites.
Some of the key environmental factors that impact mosquito feeding habits are:
| Environmental Factors | Impact |
| --- | --- |
| Temperature | Mosquitoes are most active in warm and humid conditions. Higher temperatures speed up their metabolic processes, making them more aggressive in seeking out hosts for blood meals. |
| Time of day | Mosquitoes are known to be most active during dawn and dusk, as these periods provide ideal lighting conditions and temperatures for their feeding activities. |
| Wind | Strong winds can disrupt mosquito flight patterns and make it more challenging for them to locate and bite their human hosts. Light breezes, on the other hand, may aid their flight and even carry their chemical signals to potential targets. |
| Humidity | High humidity levels facilitate mosquito activity, as it helps them survive and breed. Increased moisture in the environment also enhances the detection of chemical signals emitted by human hosts. |
By unraveling the sensory mechanisms, the factors influencing multiple bites, and the impact of environmental conditions on mosquito feeding habits, we can gain a better understanding of these tiny vampires and take steps to protect ourselves from their incessant bites.
The Science Behind Multiple Bites: Exploring Mosquito Feeding Techniques
Mosquitoes are undoubtedly one of the most annoying creatures on the planet.
Their persistent bites can leave us irritated and itchy, often making us wonder how many times a mosquito can actually bite.
We will delve into the fascinating science behind mosquito feeding techniques, focusing on why they bite multiple times and the evolutionary advantages they may confer.
Anatomy And Physiology Of A Mosquito's Proboscis
A mosquito's proboscis is a slender, needle-like structure that it uses to pierce the skin and extract blood.
This specialized mouthpart consists of several components:
Labrum: Located at the tip of the proboscis, the labrum acts as a straw, sucking up blood.
Maxillary Palpus: Found on either side of the labrum, the maxillary palps serve as sensory organs, helping the mosquito locate a suitable feeding spot.
Mandibles: These sharp, scissor-like structures are not involved in blood feeding. Instead, they are used by female mosquitoes to puncture the skin.
Labium: Also known as the "lower lip," the labium encloses and protects the other mouthparts. It remains outside the skin during feeding.
How A Mosquito Feeds On Blood And Why It May Bite Multiple Times
Mosquitoes have a unique feeding process that involves multiple bites. Let's break it down:
Probing: When a mosquito lands on our skin, it starts probing with its labrum and maxillary palps to locate a capillary or blood vessel beneath the surface.
Piercing the Skin: Once a suitable feeding spot is found, the mosquito inserts its mandibles into the skin, causing a slight amount of pain that we perceive as a bite.
Securing the Feeding: After piercing the skin, the mosquito injects saliva into the wound. This saliva contains anticoagulants and other substances that prevent the blood from clotting and numb the area, making it less likely to be detected.
Feeding: With the blood vessel accessed and the saliva flowing, the mosquito starts to feed, drawing up blood through its labrum.
Repeating the Process: Mosquitoes may not obtain an adequate blood meal with just one bite. Therefore, they may repeat the probing, piercing, securing, and feeding process multiple times until they are satisfied.
Evolutionary Theories Explaining The Advantage Of Multiple Bites For Female Mosquitoes
While both male and female mosquitoes feed on nectar, only the females require a blood meal to support their reproductive cycle.
Multiple bites may offer them several advantages:
Ensuring an ample supply of nutrients: Female mosquitoes need a sufficient amount of protein from blood to develop and lay their eggs. By biting multiple times, they ensure an adequate supply of nutrients to support their reproductive efforts.
Minimizing the risk of host defense: Each mosquito bite triggers an immune response in the host, making subsequent bites more difficult. By biting multiple times, female mosquitoes can extract as much blood as possible before the host's immune system becomes fully activated, increasing their chances of obtaining a complete blood meal.
Expanding the range of available feeding sites: By probing and biting multiple times, female mosquitoes increase the likelihood of finding a suitable capillary or blood vessel. This flexibility allows them to feed on a wider variety of hosts, potentially spreading diseases more effectively.
The Consequences Of Multiple Bites: Health Risks And Prevention Strategies
Discover the hidden dangers of multiple mosquito bites – they pose health risks and can lead to various diseases.
Explore effective prevention strategies to protect yourself from these pesky insects.
Mosquito-borne diseases and their transmission through multiple bites
Mosquito bites are not just an annoying nuisance; they can pose serious health risks.
These tiny insects are notorious for carrying and transmitting various diseases, making multiple mosquito bites a cause for concern.
We'll explore the potential health consequences of multiple mosquito bites and discuss effective prevention strategies to safeguard against mosquito-borne diseases.
Mosquitoes are known carriers of diseases such as malaria, dengue fever, Zika virus, yellow fever, and West Nile virus.
When a mosquito bites an infected individual, it can ingest the virus or parasite responsible for the disease.
If that same mosquito then bites a healthy person, it can transmit the pathogen into their bloodstream, thereby spreading the infection.
To illustrate the severity of the issue, let's take a closer look at some of these mosquito-borne diseases and their transmission through multiple bites:
Malaria: Mosquitoes of the Anopheles genus are responsible for spreading malaria. When an infected mosquito bites a person, the malaria parasite enters their bloodstream and travels to the liver, where it multiplies. The subsequent release of parasites into the bloodstream leads to symptoms such as high fever, chills, and flu-like illness.
Dengue Fever: Dengue, transmitted by Aedes mosquitoes, can cause severe flu-like symptoms, including high fever, headache, joint pain, and rash. If a person contracts dengue fever multiple times, they may be at a higher risk of developing a more severe form of the disease called dengue hemorrhagic fever, which can be life-threatening.
Zika Virus: Zika virus, primarily transmitted by Aedes mosquitoes, garnered attention in recent years due to its association with birth defects and neurological complications. Pregnant women are particularly vulnerable, as the virus can be transmitted from mother to fetus. Multiple mosquito bites increase the risk of contracting and transmitting the Zika virus.
Importance of mosquito control and personal protection measures
To mitigate the health risks posed by multiple mosquito bites, it is crucial to focus on mosquito control and personal protection measures.
Here are some important actions you can take:
Mosquito Control Measures:
Remove stagnant water sources, as these serve as breeding grounds for mosquitoes.
Regularly clean and maintain birdbaths, pools, and water containers to deter mosquito breeding.
Install mesh screens on windows and doors to prevent mosquitoes from entering your home.
Consider using mosquito nets, especially during sleep, to keep these bothersome insects at bay.
Personal Protection Measures:
Apply insect repellent with DEET or other EPA-approved active ingredients to exposed skin and clothing.
Wear long-sleeved shirts, long pants, and socks to minimize exposed skin.
Avoid outdoor activities during peak mosquito activity hours, typically dawn and dusk.
Use mosquito repellent coils or citronella candles in outdoor areas to deter mosquitoes.
Taking proactive steps to control mosquito populations and protect yourself from bites can significantly reduce the risk of contracting mosquito-borne diseases.
By implementing these prevention strategies, you and your loved ones can enjoy outdoor activities with greater peace of mind.
Remember, prevention is paramount when it comes to safeguarding your health against the consequences of multiple mosquito bites.
Stay informed, practice mosquito control measures, and prioritize personal protection to ensure a safe and enjoyable environment free from the risks associated with these pesky insects.
FAQs For How Many Times Can A Mosquito Bite
Can One Mosquito Bite You Multiple Times?
Yes, mosquitoes can bite you multiple times. They have a needle-like mouthpart called a proboscis that allows them to pierce the skin and feed on blood multiple times in search of necessary nutrients.
How Many Time Can You Get Bit By A Mosquito?
You can get bitten by a mosquito multiple times in a single instance. Mosquitoes often bite more than once to find a blood vessel successfully. It's common for people to experience multiple mosquito bites during an encounter.
How Many Mosquito Bites Can A Human Handle?
A human can handle a varying number of mosquito bites, depending on individual tolerance and immunity.
What Does It Mean If Mosquitoes Bite You A Lot?
Mosquitoes biting you frequently can be a sign of higher attractiveness to them. This might be due to factors like body odor, sweat, blood type, or even genetics. Additionally, certain individuals produce more attractant chemicals that lure mosquitoes. Using mosquito repellents or wearing long sleeves may reduce bites.
Final Thoughts
Mosquitoes can bite multiple times in a single feeding session, thanks to their specialized mouthparts.
Female mosquitoes, the ones that bite humans, engage in this behavior to obtain the blood they need for egg production.
While the number of bites may vary, it's important to protect ourselves from these pesky insects by using repellents, wearing protective clothing, and eliminating sources of stagnant water where they breed.
Stay proactive and mosquito-free!