In the world of insects, the diversity is astonishing, and each species brings unique characteristics and behaviors to the table.
In this article, we will explore the intriguing comparison between two fascinating creatures: the weevil and the tick.
Despite their small size, these creatures play significant roles in their respective ecosystems and can have a considerable impact on the environment and human life.
Let's dive into the world of weevils and ticks and uncover the distinctive features that set them apart.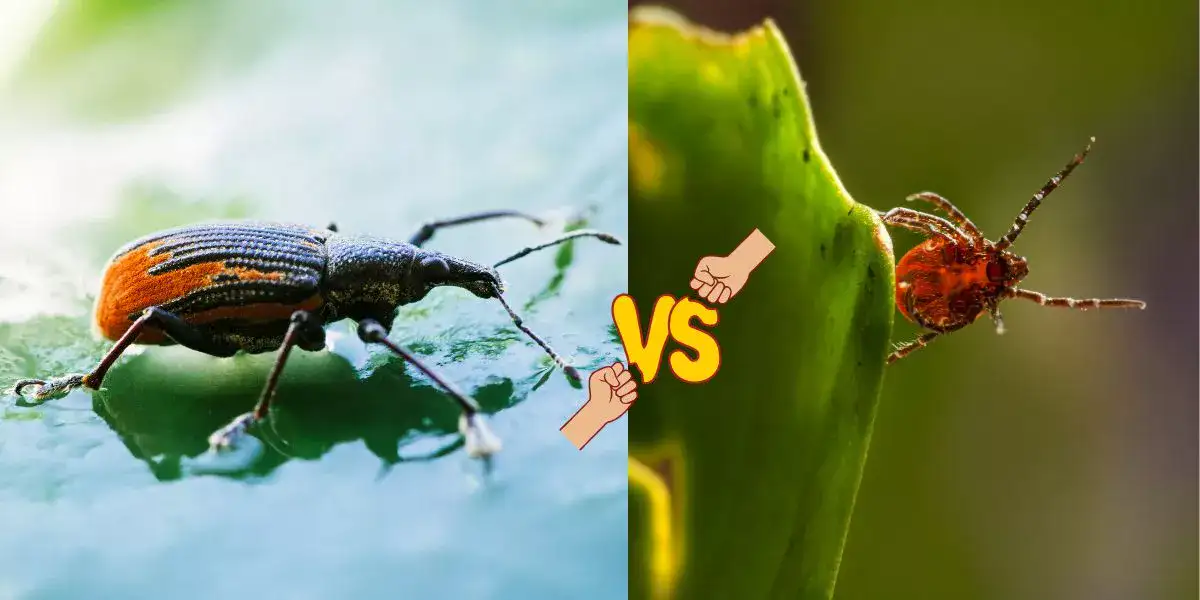 Weevil vs. Tick: A Comparative Exploration
Appearance:
Weevil
Weevils, members of the superfamily Curculionoidea, are tiny beetles with remarkable elongated snout-like structures (rostrums) on their heads.
These compact insects measure only a few millimeters to around 10 millimeters in length.
They exhibit a wide range of colors, from brown to black, and sometimes gray, making them inconspicuous in various environments.
Tick
Ticks, on the other hand, belong to the arachnid order Ixodida, distinguishing them from insects.
Unlike weevils, ticks have four pairs of legs as adults and can be significantly larger, ranging from a few millimeters to several centimeters in size, depending on their species and life stage.
Habitat:
Weevil
Weevils have adapted to thrive in diverse habitats, including fields, forests, gardens, and even stored food products.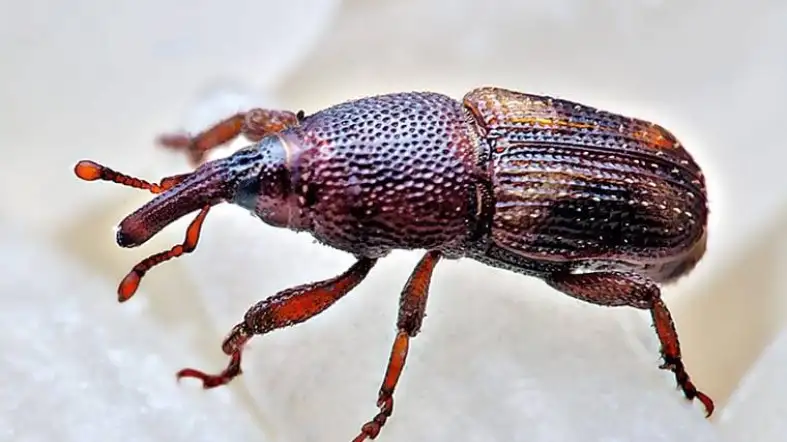 While some species are herbivorous and feed on plants, others might exploit stored goods as their primary source of nourishment.
Tick
Ticks are often found in grassy or wooded areas, where they can easily latch onto passing hosts.
These ectoparasites rely on the blood of various hosts, such as mammals, birds, reptiles, and sometimes even amphibians, to survive.
Diet:
Weevil
With their herbivorous nature, most weevils feed on plants, consuming leaves, fruits, seeds, and grains.
Unfortunately, certain weevil species can turn into agricultural pests, causing considerable damage to crops and posing challenges to farmers.
Tick
Ticks are obligate blood-feeders, meaning they exclusively consume blood for sustenance.
Their parasitic lifestyle can result in the transmission of diseases to both humans and animals, making them a concerning health risk.
Behavior:
Weevil
Weevils, in general, are not harmful to humans; however, their presence can be destructive to crops and stored food products.
Farmers and homeowners alike must be vigilant in controlling weevil populations to protect their valuable resources.
Tick
Ticks, being ectoparasites, can carry and transmit diseases to their hosts, including humans.
Some well-known diseases transmitted by ticks include Lyme disease and Rocky Mountain spotted fever.
This makes tick control and prevention crucial for safeguarding both human and animal health.
Life Cycle:
Weevil
Weevils undergo complete metamorphosis, a fascinating transformation consisting of four distinct life stages: egg, larva, pupa, and adult. Each stage plays a vital role in the life cycle of these small beetles.
Tick
Ticks have a life cycle that includes four stages as well: egg, larva, nymph, and adult. To grow and reproduce, ticks require blood meals at various stages, making their life cycle deeply intertwined with that of their hosts.
Reproduction:
Weevil
Weevils follow a traditional reproductive process, starting with courtship and mating.
Once a female is fertilized, she lays her eggs, often within or near a suitable food source for the hatching larvae.
The larvae, also known as grubs, feed on the provided food, undergoing several instars before pupating and eventually emerging as adults.
Tick
The reproduction process of ticks begins when a female tick feeds on a blood meal. After engorging herself, she detaches from the host to lay her eggs in a secure location.
Tick eggs typically hatch into six-legged larvae, which then become eight-legged nymphs after feeding on another host's blood.
After one more blood meal, the nymph molts and becomes an adult tick, continuing the life cycle.
Adaptations for Survival:
Weevil
Weevils possess various adaptations that enhance their survival in different environments.
Their elongated snouts, though a defining feature, also serve as a tool for boring into fruits, nuts, or seeds, where they deposit their eggs.
Some weevils have camouflage coloring, making them blend seamlessly with their surroundings, thus evading predators.
Tick
Ticks have evolved several remarkable adaptations to ensure their survival.
Their sensory organs, known as Haller's organs, help detect heat, carbon dioxide, and other chemical cues emitted by potential hosts.
This allows them to locate suitable hosts from a distance, maximizing their chances of finding a blood meal.
Impact on Human Health:
Weevil
While weevils are not known to cause direct harm to humans, they can indirectly impact human health.
Certain weevil species can destroy crops and stored food, leading to food shortages and economic losses.
Moreover, some people may develop allergies to certain weevil proteins found in stored grains.
Tick
Ticks pose a more direct threat to human health due to their ability to transmit diseases.
Lyme disease, caused by the bacterium Borrelia burgdorferi, is one of the most well-known tick-borne illnesses, leading to symptoms like fever, fatigue, joint pain, and a characteristic "bull's-eye" rash.
Additionally, ticks can transmit other diseases like ehrlichiosis, anaplasmosis, and babesiosis.
Control and Management:
Weevil
Controlling weevil populations requires a multifaceted approach. In agricultural settings, integrated pest management (IPM) practices are often employed.
These may include crop rotation, proper storage techniques to prevent infestations, and the use of natural enemies (biocontrol agents) like parasitic wasps that target weevil larvae.
Tick
Tick control and management involve measures to reduce their presence in human-populated areas.
Some strategies include maintaining trimmed lawns and vegetation, applying tick-repellent treatments to outdoor clothing, and conducting regular tick checks on pets and family members after outdoor activities.
Ecological Significance:
Weevil
Weevils play essential roles in various ecosystems, contributing to pollination and seed dispersal.
For instance, some weevils are crucial pollinators for specific plant species, aiding in their reproduction and genetic diversity.
Additionally, weevils act as decomposers, breaking down plant matter and recycling nutrients back into the ecosystem.
Tick
Ticks, while not considered pollinators or decomposers, are still ecologically significant.
They contribute to food chains by serving as a food source for many predators, such as birds, reptiles, and small mammals.
Moreover, their parasitic nature can influence the behavior and movement of their hosts, leading to potential effects on ecosystem dynamics.
Tick-Borne Diseases:
Lyme Disease
Lyme disease is the most prevalent tick-borne illness in the United States and Europe.
It is caused by the bacterium Borrelia burgdorferi and is primarily transmitted by black-legged ticks (Ixodes scapularis and Ixodes pacificus).
Early symptoms may include fever, headache, fatigue, and a characteristic skin rash known as erythema migrans.
Rocky Mountain Spotted Fever (RMSF)
RMSF is caused by the bacterium Rickettsia and is transmitted primarily by the American dog tick (Dermacentor variabilis) and the Rocky Mountain wood tick (Dermacentor andersoni).
Symptoms may include fever, headache, muscle pain, and a distinctive spotted rash that typically appears on the wrists and ankles.
Anaplasmosis
Anaplasmosis is caused by the bacterium Anaplasma phagocytophilum and is transmitted primarily by black-legged ticks (Ixodes scapularis) and western black-legged ticks (Ixodes pacificus).
Symptoms may include fever, headache, muscle aches, chills, and nausea.
Babesiosis
Babesiosis is caused by microscopic parasites of the genus Babesia. It is transmitted to humans primarily by black-legged ticks (Ixodes scapularis and Ixodes pacificus).
Symptoms can vary widely, ranging from mild or absent to severe and life-threatening, especially in individuals with weakened immune systems.
Powassan Virus Disease
Powassan virus is a rare but potentially severe tick-borne illness. It is transmitted to humans by black-legged ticks (Ixodes scapularis) and woodchuck ticks (Ixodes cookei).
Symptoms can range from mild fever and headache to more severe manifestations, including encephalitis (inflammation of the brain) and meningitis (inflammation of the lining of the brain and spinal cord).
What Insects with a Sting Can I Encounter in Nature?
When exploring the great outdoors, it's essential to be aware of the 16 stinging insects: nature's buzzing secrets you might encounter. This diverse group includes bees, wasps, hornets, and ants. While most stings cause temporary pain and discomfort, some individuals may experience severe allergic reactions. Stay cautious and respect these fascinating creatures in their natural habitat.
FAQs About Weevils and Ticks
Do weevils bite humans?
No, weevils are not known to bite humans. They are primarily herbivorous insects that feed on plants and stored food products. While they may be a nuisance for crops and cause economic losses, they do not pose a direct health threat to humans.
Can ticks fly or jump to reach their hosts?
No, ticks cannot fly or jump like other insects. Instead, they rely on a behavior called "questing." They climb tall grass or vegetation and extend their legs to latch onto passing hosts, such as mammals or birds.
What are the main diseases transmitted by ticks?
Ticks can transmit various diseases, including Lyme disease, Rocky Mountain spotted fever, anaplasmosis, and babesiosis. These diseases can have serious health implications for both humans and animals.
Are there natural predators for weevils and ticks?
Yes, both weevils and ticks have natural predators. For weevils, birds, reptiles, and other insects may prey on them. As for ticks, certain animals, such as birds, rodents, and other arthropods, can help control tick populations.
How can I protect myself from ticks when outdoors?
When spending time in tick-prone areas, wear long-sleeved clothing, tuck pants into socks, and use insect repellents containing DEET. After outdoor activities, thoroughly check your body and clothing for ticks and promptly remove any you find.
Conclusion
In this comprehensive exploration, we've delved into the intriguing comparison between weevils and ticks.
Despite their small size, both insects play vital roles in their ecosystems, impacting agriculture and posing health risks.
We've uncovered their unique appearances, habitats, diets, behaviors, and life cycles.
Understanding the distinctions between these two remarkable creatures empowers us to take appropriate measures for their control and our safety.
By appreciating the complexities of nature's inhabitants, we foster a deeper connection with the world around us.