One of the lotions that keeps mosquitoes away is lemon eucalyptus oil-based lotion. Mosquitoes are repelled by the scent of lemon eucalyptus and it can provide effective protection against mosquito bites.
Mosquitoes can be a nuisance and also carry diseases such as malaria, dengue fever, and Zika virus.
Protecting oneself from mosquito bites becomes crucial, especially in areas with a high mosquito population.
While there are various products available in the market, finding the right lotion that effectively repels mosquitoes is essential.
Lemon eucalyptus oil-based lotion is a popular choice as it not only provides a refreshing scent but also acts as a natural deterrent for mosquitoes.
This lotion is known to keep mosquitoes away due to the repelling properties of lemon eucalyptus oil.
By exploring the benefits and features of lemon eucalyptus oil-based lotion, one can make an informed decision to protect themselves from mosquito bites and enjoy outdoor activities without the constant annoyance of these pesky insects.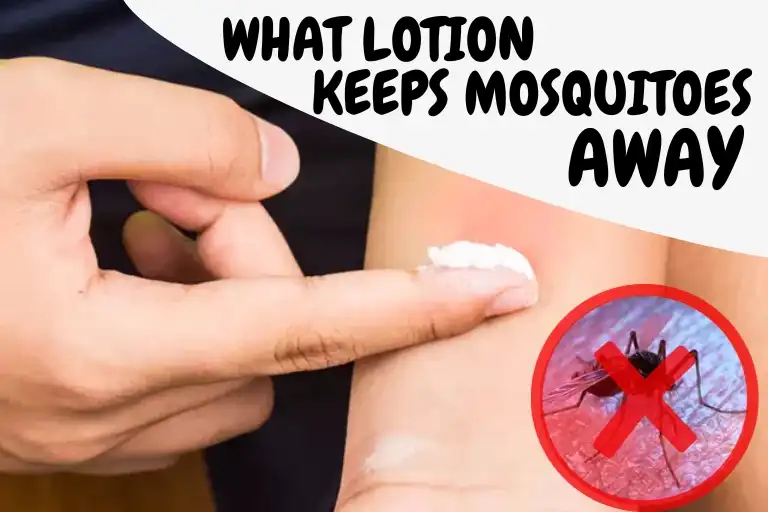 Understanding Mosquito Behavior
Mosquitoes can be a nuisance, especially during the warmer months. Understanding their behavior and what attracts them can help us protect ourselves effectively.
In this section, we will explore the factors that attract mosquitoes, the role of scent and body heat, and how to identify mosquito breeding grounds.
Factors That Attract Mosquitoes
Several factors contribute to mosquitoes being attracted to certain individuals. Understanding these factors can help you take the necessary precautions.
The following factors are known to make you more attractive to mosquitoes:
Carbon dioxide: Mosquitoes are attracted to the carbon dioxide we exhale. They can detect it from up to 100 feet away. Increased physical activity or simply being out in the open can make you more susceptible to mosquito bites.
Lactic acid: When we exercise, our bodies produce lactic acid. Mosquitoes find the scent of this acid alluring, so they are more likely to be attracted to individuals who have recently exercised.
Skin temperature and heat: Mosquitoes are attracted to warm bodies. If your skin temperature is higher than those around you, you are more likely to be a target for these pesky insects.
The Role Of Scent And Body Heat
Mosquitoes are highly receptive to scents and body heat, which plays an important role in their search for a blood meal.
They are equipped with specialized sensors that allow them to detect certain chemical compounds emitted by our bodies, such as:
Lactic acid: As mentioned earlier, the scent of lactic acid attracts mosquitoes. The more lactic acid you produce, the more likely you are to be a target for these pests.
Ammonia: Mosquitoes are also attracted to the scent of ammonia, which is released through sweat. Increased physical activity and warmer temperatures can lead to more sweating, making you more appealing to mosquitoes.
Olfactory receptors: Mosquitoes have highly sensitive olfactory receptors that can detect the presence of certain compounds in our sweat, such as fatty acids and steroids. These compounds can signal the presence of a potential meal to a mosquito.
Identifying Mosquito Breeding Grounds
Mosquitoes need stagnant water to lay their eggs and complete their life cycle. By eliminating or treating their breeding grounds, we can significantly reduce the mosquito population around us.
Here are some common places to look for mosquito breeding grounds:
| | |
| --- | --- |
| 1. | Gutters and drains |
| 2. | Old tires or buckets |
| 3. | Unused containers or flowerpots |
| 4. | Birdbaths or pet water bowls |
| 5. | Puddles or low-lying areas in your yard |
The Importance Of Stagnant Water In Mosquito Reproduction
Mosquitoes rely on stagnant water to reproduce. Female mosquitoes lay their eggs in still water, which then hatch into larvae and pupa before emerging as adult mosquitoes.
The presence of stagnant water provides the necessary environment for this reproductive cycle to occur.
Eliminating stagnant water and maintaining proper drainage in and around your property is crucial in reducing mosquito populations.
By removing potential breeding sites, you can minimize the number of mosquitoes in your vicinity and lower the risk of mosquito-borne diseases.
How Mosquito Repellents Work
The effectiveness of mosquito repellents is a topic of interest for many people, especially during mosquito season.
Understanding how mosquito repellents work can help you choose the right product to keep these pesky insects at bay.
In this section, we will explore the different types of mosquito repellents and how they function to repel mosquitoes.
Type Of Mosquito Repellents
When it comes to mosquito repellents, there are several options available on the market.
These include chemical repellents, permethrin-treated clothing, natural repellents, and electronic repellent devices. Let's take a closer look at each type.
Chemical Repellents
Chemical repellents are the most commonly used mosquito repellents. They work by creating a barrier that repels mosquitoes, preventing them from landing on your skin or clothing.
Chemical repellents typically contain active ingredients that are effective at repelling mosquitoes.
Deet-based Repellents
One type of chemical repellent is DEET-based repellents. DEET, short for N,N-diethyl-meta-toluamide, is a widely used mosquito-repellent ingredient.
It has been proven to be highly effective in repelling mosquitoes for extended periods of time.
DEET-based repellents work by interfering with the mosquito's sense of smell, making it difficult for them to locate their human target.
Picaridin-based Repellents
Another type of chemical repellent is picaridin-based repellent. Picaridin is a synthetic compound that mimics the properties of a natural insect repellent found in the black pepper plant.
Picaridin-based repellents are effective against mosquitoes and provide long-lasting protection.
Permethrin-treated Clothing
Permethrin-treated clothing is a unique form of mosquito repellent. Unlike topical repellents that are applied directly to the skin, permethrin-treated clothing creates a barrier against mosquitoes when worn.
This type of repellent works by repelling and killing mosquitoes on contact.
Natural Repellents
If you prefer to use natural ingredients, there are several options available as well.
Natural repellents are derived from plant-based ingredients and are typically considered safer for use, especially for children and individuals with sensitive skin.
Citronella
Citronella is a well-known natural mosquito repellent. It is derived from the essential oil of the citronella grass plant.
Citronella has a strong scent that masks the attractive scents humans produce, making it difficult for mosquitoes to find their targets.
Lemon Eucalyptus Oil
Lemon eucalyptus oil is another natural mosquito repellent. It is extracted from the leaves and twigs of the lemon eucalyptus tree.
Lemon eucalyptus oil contains a compound called PMD (para-menthane-3,8-diol) which has been shown to be effective in repelling mosquitoes.
Neem Oil
Neem oil is derived from the seeds of the neem tree. It has been used for centuries in traditional medicine and is known for its insect-repelling properties.
Neem oil acts as a deterrent for mosquitoes, making it harder for them to bite.
Electronic Repellent Devices
Electronic-repellent devices are relatively newer options on the market. These devices use ultrasonic waves or electromagnetic frequencies to repel mosquitoes.
While their effectiveness is debated, many people find them to be a convenient and non-toxic alternative to chemical-based repellents.
Evaluating the Effectiveness Of Mosquito Repellents
Mosquitoes are not only annoying pests but potential carriers of dangerous diseases too. Protecting yourself from their bites is of utmost importance.
One way to combat mosquito bites is to use mosquito repellents. However, not all repellents are equally effective.
In this section, we will delve into understanding the efficacy of mosquito repellents and the factors that can affect their effectiveness.
Understanding Efficacy
Efficacy refers to the ability of a mosquito repellent to effectively keep mosquitoes away.
It is crucial to understand that while some repellents may claim to be highly effective, not all live up to their promises.
The key factor in determining efficacy is the active ingredients used in the repellent formula.
While DEET (N,N-Diethyl-meta-toluamide) is a widely recognized and effective active ingredient, various other ingredients such as Picaridin, IR3535, and oil of lemon eucalyptus (OLE) are also known to repel mosquitoes effectively.
Each repellent ingredient has a unique way of repelling mosquitoes, inhibiting their ability to detect and bite humans.
Determining The Effectiveness Of Repellents
Now that we understand the importance of active ingredients, how can we determine the effectiveness of repellents?
The first and foremost factor is the concentration of the active ingredient in the product. Generally, a higher concentration implies a longer-lasting and more effective repelling action. However, it is essential to follow the instructions and guidelines provided by the manufacturer to avoid any potential skin irritation or adverse reactions.
The duration of protection is another crucial aspect. Some repellents may provide only a few hours of protection, while others may offer protection for an extended period. Consider your specific needs and the duration of outdoor activities when choosing a repellent.
Take into account the environment and mosquito population in your area. Repellents may perform differently depending on factors such as humidity, temperature, and mosquito species prevalent in your region. Certain environments may require stronger formulations or alternative repellent ingredients.
Factors That Can Affect Repellent Efficacy
Various factors can impact a mosquito repellent's effectiveness:
Skin characteristics:
Different individuals may have different skin chemistry and attract mosquitoes to varying degrees.
Some people naturally produce more lactic acid, uric acid, or other substances that are attractive to mosquitoes.
Sweating:
Mosquitoes are attracted to the substances produced by sweat glands. Sweating excessively can decrease the effectiveness of repellents, leading to a higher chance of mosquito bites.
Application method:
Proper application is crucial for the repellent to work optimally. Applying repellents evenly and covering exposed skin areas can provide the best defense against mosquito bites.
Interaction with other products:
Some products, such as sunscreen or perfumes, may interfere with the efficacy of repellents. Take caution and follow the instructions to ensure maximum protection.
Choosing The Right Mosquito Repellent
When it comes to protecting ourselves from the annoying and disease-carrying mosquitoes, choosing the right mosquito repellent is crucial.
With the multitude of options available in the market, it can be overwhelming to determine which lotion keeps mosquitoes away effectively.
However, by considering a few key factors, you can make an informed decision that aligns with your personal preferences and needs, while ensuring maximum protection.
Considering Personal Preferences And Needs
When selecting a mosquito repellent, it is essential to take into account your personal preferences and needs.
You may prefer a specific fragrance, texture, or formulation. Some people might be comfortable with lotions, while others prefer sprays or wipes.
It is important to choose a repellent that you find easy to use and apply, as this will encourage consistent usage.
Assessing The Duration Of Protection Needed
The duration of protection is another vital aspect to consider. Different mosquito repellents offer varying lengths of effectiveness.
Determine the duration you will be exposed to mosquitoes and select a lotion that provides adequate protection for that time frame.
Some repellents may need reapplication every few hours, while others offer extended protection for a more extended period.
Factoring In Sensitivity To Chemicals
For individuals with sensitive skin or allergies, it is crucial to consider the chemical composition of the mosquito repellent.
Some lotions may contain ingredients that can cause irritation or adverse reactions.
Therefore, it is important to check the product labels and opt for repellents that are specifically formulated for sensitive skin or are labeled as hypoallergenic.
Considering Environmental Impact
The environmental impact of mosquito repellents is another important consideration.
Certain chemical ingredients in some repellents can be harmful to the environment, particularly aquatic life.
Look for options that are eco-friendly and contain natural ingredients. These alternatives are not only safer for the environment but also for your overall well-being.
Additional Tips For Mosquito Prevention
Along with using the right lotion to keep mosquitoes away, there are several complementary methods you can employ to enhance your protection against these pesky insects.
By incorporating these additional tips into your mosquito prevention routine, you can further reduce your risk of bites and enjoy a mosquito-free environment.
Let's explore these effective methods below:
Complementary Methods To Repel Mosquitoes
To enhance the effectiveness of your mosquito repellent lotion, consider using complementary methods that can repel these bothersome bugs.
By incorporating multiple defense mechanisms, you can create a powerful barrier against mosquitoes and increase your chances of enjoying a mosquito-free experience.
Here are some complementary methods that can help repel mosquitoes:
Use citronella candles or oil diffusers: Mosquitoes are known to dislike the scent of citronella, making it an excellent natural repellent. Light citronella candles or use oil diffusers to create a mosquito-deterring ambiance in your outdoor space.
Apply essential oils: Certain essential oils such as lavender, eucalyptus, and peppermint have mosquito-repelling properties. Dilute these oils with carrier oils like coconut or almond oil and apply them to your skin for added protection.
Try natural mosquito repellent plants: Incorporate plants known to repel mosquitoes, such as basil, mint, and lemon balm, in your garden or potted arrangements. These plants emit fragrances that deter mosquitoes from approaching.
Wearing Protective Clothing
One effective way to reduce your exposure to mosquito bites is by wearing protective clothing.
Mosquitoes find it more difficult to bite through certain fabrics and are less likely to land on covered areas.
When spending time outdoors, consider the following clothing options:
Wear long-sleeved shirts and long pants: By covering your arms and legs, you provide an extra layer of protection against mosquito bites.
Choose loose-fitting garments: Mosquitoes can easily bite through tight clothing, so opt for loose-fitting outfits that minimize skin contact and make it more difficult for mosquitoes to bite through the fabric.
Opt for light-colored clothing: Mosquitoes are more attracted to dark-colored fabrics. Wearing light-colored clothing can make you less visible to mosquitoes and reduce the likelihood of bites.
Using Mosquito Nets
Mosquito nets are a simple and effective way to protect yourself from mosquito bites, especially while sleeping or resting outdoors.
By creating a physical barrier between you and the mosquitoes, mosquito nets can provide a peaceful and undisturbed environment.
To make the most of mosquito nets, consider the following:
Install mosquito nets over beds and outdoor seating areas: Ensure that your sleeping area is completely enclosed by a mosquito net to prevent mosquitoes from entering and disturbing your slumber.
Check for holes and tears: Regularly inspect your mosquito nets for any damage and promptly repair or replace them as needed. Even small gaps can provide an entry point for mosquitoes.
Use portable nets for outdoor activities: When engaging in outdoor activities such as picnics or camping, portable mosquito nets can be an excellent investment. These nets are easy to transport and can provide protection wherever you go.
Eliminating Standing Water Sources
Mosquitoes breed and thrive in stagnant water sources, so eliminating such breeding grounds can significantly reduce their populations. By taking measures to eradicate standing water, you can minimize the number of mosquitoes around your home or outdoor areas.
Consider the following steps to eliminate standing water:
Regularly empty and clean containers: Empty and clean containers that collect water, such as flower pots, buckets, and birdbaths. Stagnant water in these containers can become breeding grounds for mosquitoes.
Unclog gutters and drains: Ensure that gutters and drains are clear of debris, as clogged areas can accumulate water and attract mosquitoes.
Keep swimming pools properly maintained: Treat swimming pools with appropriate chemicals and keep them covered when not in use to prevent mosquitoes from laying eggs in the water.
By following these additional tips, you can enhance your mosquito prevention efforts and enjoy a mosquito-free environment.
Incorporate these complementary methods, wear protective clothing, use mosquito nets, and eliminate standing water sources to keep mosquitoes at bay and make the most of your outdoor activities!
FAQs About Lotion That Keeps Mosquitoes Away
What Is The Best Lotion To Repel Mosquitoes?
The best lotion to repel mosquitoes is one that contains DEET, such as Off! Deep Woods or Cutter Skinsations.
These lotions effectively keep mosquitoes away for extended periods, providing protection while outdoors.
What Lotion Protects Against Mosquitoes?
Some lotions protect against mosquitoes by repelling them and minimizing the chances of getting bitten.
These lotions usually contain ingredients such as DEET, picaridin, or oil of lemon eucalyptus, which deter mosquitoes from landing on your skin.
Remember to apply the lotion as directed on the product label.
Does Body Lotion Keep Mosquitoes Away?
Body lotion does not repel mosquitoes. While it may make your skin smoother, it does not have any ingredients to deter or keep mosquitoes away.
To keep mosquitoes at bay, use mosquito repellents containing DEET or Picaridin.
What Can You Rub On Your Skin To Keep Mosquitoes Away?
To keep mosquitoes away, you can rub insect repellent containing DEET or picaridin on your skin.
Other natural options include applying essential oils like citronella, lemon eucalyptus, or lavender.
Final Thoughts
With the rise of mosquito-borne diseases, finding an effective lotion to keep these pesky insects away is crucial.
From our research, it is evident that lotions containing ingredients such as DEET, picaridin, or oil of lemon eucalyptus are highly effective in repelling mosquitoes.
Remember to always read the labels and choose a lotion that suits your needs. By using the right lotion, you can enjoy your outdoor adventures mosquito-free, all while protecting your health. Stay safe and itch-free!