Mosquitoes come out in Illinois during the warmer months, typically between April and October. As the temperature rises, these pesky insects become more active and can be found in various outdoor areas such as parks, gardens, and near bodies of water like lakes and ponds.
Their presence can be particularly noticeable during dawn and dusk when they are most active.
Being aware of their emergence and taking necessary precautions such as using mosquito repellents, wearing protective clothing, and eliminating standing water can help in preventing mosquito bites and the potential spread of diseases they carry.
Mosquitoes are a common nuisance in Illinois, and being informed about their behavior and ways to minimize their presence is essential for enjoying outdoor activities during the warmer seasons.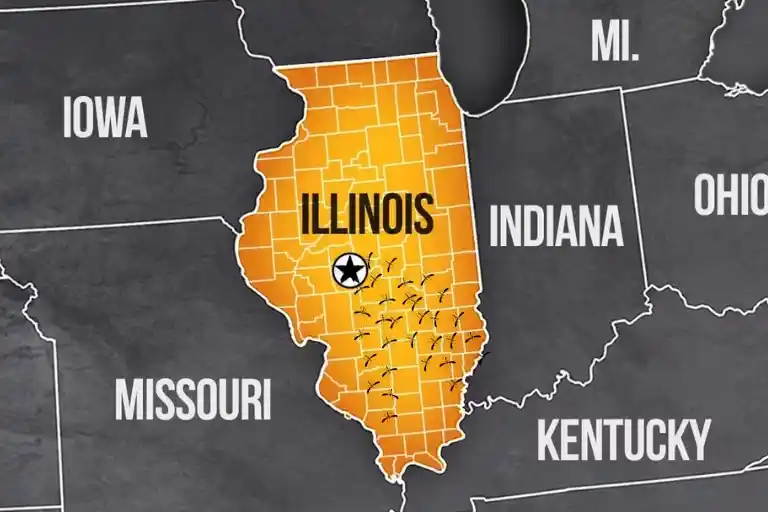 Understanding The Mosquito Season In Illinois
The mosquito season in Illinois varies, but typically mosquitoes come out from late spring to early fall, with peak activity in the summer months.
Understanding the timing can help residents take necessary precautions against these pesky insects.
Factors That Influence Mosquito Activity In Illinois
Several factors contribute to the levels of mosquito activity witnessed in Illinois.
Understanding these factors can help us better prepare and protect ourselves from these pesky insects.
Let's take a look at some of the key factors:
Temperature: Mosquitoes are cold-blooded creatures that thrive in warmer temperatures. As temperatures rise, mosquito activity increases, leading to a more significant presence during the summer months.
Rainfall: Mosquitoes require water for breeding. Adequate rainfall provides numerous breeding sites, such as stagnant pools, puddles, and containers holding standing water. Increased rainfall can result in a larger mosquito population.
Vegetation and habitat: Mosquitoes are attracted to areas with dense vegetation and water bodies for reproduction and feeding. Areas with abundant vegetation, water sources, and sheltered spots are ideal breeding grounds for mosquitoes.
Urbanization: Urban environments with artificial containers, such as discarded tires and buckets, can become breeding grounds for mosquitoes. The presence of these breeding sites in urban areas contributes to higher mosquito activity.
The Typical Timeline Of Mosquito Emergence In Illinois
The timeline of mosquito emergence varies each year based on environmental conditions, especially temperature and rainfall patterns.
However, we can generally observe the following progression:
Spring: As temperatures gradually increase in early spring, we start to see the emergence of some mosquito species. These early mosquitoes are typically less aggressive and are not known to transmit diseases.
Summer: With the arrival of warmer weather, mosquito activity reaches its peak during the summer months. Mosquitoes become more abundant and more aggressive, posing a higher risk of disease transmission.
Fall: As temperatures cool down in the fall, mosquito activity begins to decline. However, some species can remain active until the first frost, so precautions should still be taken.
Climate Trends And Their Impact On Mosquito Populations
Climate plays a crucial role in shaping mosquito populations. Various climate trends can influence their abundance and behavior.
Here are some examples:
| Climate Trend | Impact on Mosquitoes |
| --- | --- |
| Warmer temperatures | Promote faster mosquito development and increase their activity levels. |
| Increased rainfall | Creates more breeding sites and boosts mosquito population growth. |
| Drought conditions | Reduce the availability of suitable habitats, leading to decreased mosquito numbers. |
| Extreme weather events | Flooding caused by heavy rainfall can displace mosquitoes, driving them towards new areas and potentially increasing their impact on human populations. |
Identifying Types Of Mosquitoes Found In Illinois
When it comes to mosquitoes in Illinois, it is important to understand the different types of species that can be found in the region.
Identifying these mosquito species not only helps us better understand their behavior and habitat preferences but also enables us to take appropriate precautions to protect ourselves from potential mosquito-borne diseases.
Common Mosquito Species In Illinois
Illinois is home to several common mosquito species, each with its own distinct characteristics.
Here are some of the most prevalent mosquito species you might come across in Illinois:
| Mosquito Species | Characteristics |
| --- | --- |
| Aedes aegypti | Also known as the yellow fever mosquito, Aedes aegypti is a small and dark mosquito species, typically found in urban areas. They breed in containers of stagnant water and are known carriers of diseases like dengue fever, Zika virus, and chikungunya. |
| Culex pipiens | Culex pipiens, commonly known as the northern house mosquito, is a medium-sized mosquito species often found in residential areas. They breed in standing water such as bird baths and puddles and can transmit West Nile virus. |
| Anopheles quadrimaculatus | Anopheles quadrimaculatus, commonly known as the malaria mosquito, is a larger mosquito species found in rural areas near water bodies like ponds and swamps. They are carriers of malaria, a potentially dangerous mosquito-borne disease. |
The Behavior And Habitat Preferences Of Different Mosquito Species
Understanding the behavior and habitat preferences of different mosquito species can help us mitigate the risks associated with mosquito bites.
Here are some key insights:
Aedes aegypti: These mosquitoes prefer to bite during the day and are typically found in urban areas with containers of stagnant water.
Culex pipiens: These mosquitoes are most active during the evening and night and are commonly found in residential areas with standing water.
Anopheles quadrimaculatus: These mosquitoes are active during the evening and night and typically breed in rural areas near bodies of water.
Mosquito-borne Diseases Prevalent In Illinois
Illinois is susceptible to various mosquito-borne diseases due to the presence of different mosquito species.
Some of the prevalent mosquito-borne diseases in Illinois include:
West Nile virus: Transmitted primarily by Culex pipiens mosquitoes, this disease can cause flu-like symptoms and, in severe cases, may lead to neurological complications.
Dengue fever: Aedes aegypti mosquitoes, known carriers of the dengue virus, can transmit this disease, causing high fever, muscle pain, and skin rash.
Zika virus: Another disease transmitted by Aedes aegypti mosquitoes, Zika virus infection can result in mild symptoms, including fever, rash, and joint pain, but can also pose a risk to pregnant women due to potential birth defects.
Malaria: Anopheles quadrimaculatus mosquitoes are responsible for transmitting malaria, an infectious disease characterized by high fever, chills, and flu-like symptoms.
By understanding the different types of mosquitoes found in Illinois, their behavior, and the diseases they carry, you can better protect yourself and your loved ones from potential health risks.
Taking necessary precautions, such as using mosquito repellents, eliminating stagnant water sources, and wearing protective clothing, can go a long way in preventing mosquito-borne diseases.
How To Prevent Mosquito Bites In Illinois
Mosquitoes can be a nuisance in Illinois, especially during the warmer months.
Not only do their bites cause itching and discomfort, but they can also transmit diseases such as West Nile virus.
By taking preventative measures, you can protect yourself from mosquito bites and enjoy the outdoors without worry.
We will discuss effective ways to protect yourself from mosquito bites, choosing the right insect repellent for different situations, and eliminating standing water in and around your property.
Effective Ways To Protect Yourself From Mosquito Bites
To minimize your chances of getting bitten by mosquitoes in Illinois, follow these tips:
Wear long-sleeved shirts and long pants, especially during dawn and dusk when mosquitoes are most active.
Use mosquito nets or screens on windows and doors to prevent them from entering your home.
Stay in well-ventilated areas or air-conditioned spaces, as mosquitoes are less likely to thrive in cool environments.
Avoid areas with high mosquito populations, such as stagnant water bodies or heavily wooded areas.
Apply mosquito repellent to exposed skin and clothing. Read on to learn how to choose the right one.
Choosing The Right Insect Repellent For Different Situations
When selecting an insect repellent, it's important to consider the active ingredients and their effectiveness.
Look for repellents that contain DEET, picaridin, or oil of lemon eucalyptus, as these are proven to be effective against mosquitoes.
Here are some guidelines for choosing the right insect repellent:
For regular outdoor activities, opt for repellents with at least 20% DEET or 20% picaridin. Apply the repellent evenly to the exposed skin.
If you prefer natural alternatives, consider repellents containing oil of lemon eucalyptus. However, keep in mind that these may not be as long-lasting as those with DEET or picaridin.
For children, choose repellents with lower concentrations of DEET or picaridin. Follow the instructions carefully and avoid applying to their hands, eyes, or mouth.
When using sunscreen and insect repellent together, apply the sunscreen first and allow it to dry before applying the repellent.
Remember to reapply the repellent as instructed on the product label, especially if you're sweating or spending a longer period outdoors.
Eliminating Standing Water In And Around Your Property
Mosquitoes breed in stagnant water, so it's crucial to eliminate any potential breeding grounds in and around your property.
Here are some steps you can take:
Regularly empty and clean containers that can hold water, such as flower pots, buckets, and bird baths.
Ensure that gutters are clean and free of leaves or debris to prevent water from pooling.
Keep swimming pools and hot tubs properly chlorinated and filtered.
Repair any outdoor faucets or pipes that may be dripping or leaking.
Change the water in pet water bowls and livestock troughs frequently.
By taking these proactive measures, you can significantly reduce mosquito populations around your property and decrease your chances of getting bitten.
Natural Methods To Repel Mosquitoes In Illinois
Mosquitoes can be a nuisance when they invade your outdoor space, especially in the warm summer months. Instead of relying on chemical-based repellents, which can have harmful effects on the environment and your health, why not try natural methods to repel mosquitoes in Illinois? Not only are these methods effective, but they are also eco-friendly. In this article, we will explore three natural methods to keep mosquitoes at bay: planting mosquito-repelling plants in your garden, homemade mosquito repellent recipes, and other eco-friendly options for repelling mosquitoes.
Planting Mosquito-repelling Plants In Your Garden
One effective way to naturally repel mosquitoes in Illinois is by using specific plants in your garden. These plants contain natural compounds that mosquitoes find unappealing, keeping them away from your outdoor area. Consider planting the following mosquito-repellent plants in your garden:
| Plant Name | Characteristics |
| --- | --- |
| Lemon Balm | Produces a lemon-scented oil that mosquitoes dislike |
| Lavender | Emits a strong fragrance that repels mosquitoes |
| Citronella | Known for its strong mosquito-repellent properties |
| Marigolds | Contain a substance called pyrethrum, which repels mosquitoes |
Homemade Mosquito Repellent Recipes
Another natural approach to keeping mosquitoes away is by making your own homemade mosquito repellents using simple ingredients found in your kitchen. These homemade repellent recipes not only provide protection from mosquitoes but also give you peace of mind knowing what exactly is going on in your skin. Here are a few easy and effective recipes:
Lemon Eucalyptus Oil Spray: Mix 10-12 drops of lemon eucalyptus oil with one cup of distilled water. Pour the mixture into a spray bottle and apply it to your skin or clothing before heading outdoors.
Apple Cider Vinegar Solution: Combine equal parts of apple cider vinegar and water in a spray bottle. Spray this solution on your skin or clothing to deter mosquitoes.
Garlic and Vegetable Oil Solution: Crush several garlic cloves and mix them with a tablespoon of vegetable oil. Let the mixture sit for at least 24 hours. Strain out the garlic and mix the infused oil with one cup of water. Apply this solution to exposed areas of your skin.
Other Eco-friendly Options For Repelling Mosquitoes
If you are looking for additional eco-friendly options to repel mosquitoes in Illinois, consider these alternatives:
Mosquito Nets: Use mosquito nets around your outdoor seating areas or over your bed to create a barrier between you and the mosquitoes.
Citronella Candles: Light up citronella candles, which emit a fragrance that mosquitoes dislike, creating a mosquito-free zone in your outdoor space.
Mosquito Traps: Use traps that attract and capture mosquitoes without the use of harmful chemicals.
By implementing these natural methods, you can enjoy your time outdoors without the constant annoyance of mosquitoes.
Give these eco-friendly options a try and say goodbye to mosquito bites!
Mosquito Control Measures For Illinois Residents
Living in Illinois, dealing with mosquitoes is a common challenge for many residents.
These blood-thirsty insects can quickly ruin outdoor activities and pose a health risk with their potential to transmit diseases.
It's crucial to take proactive measures to control the mosquito population and protect your family.
We will explore effective mosquito control measures specific to Illinois residents, including hiring professional mosquito control services, understanding the legal restrictions on mosquito control methods, and community initiatives for reducing mosquito populations in the area.
Hiring Professional Mosquito Control Services
Mosquitoes are notorious for breeding in stagnant water, making it difficult to eradicate them completely.
To tackle mosquito infestations effectively, many Illinois residents opt for professional mosquito control services.
These experts come equipped with the knowledge, tools, and expertise to effectively eliminate mosquitoes from your property.
They can conduct comprehensive inspections, identify breeding sites, and implement targeted mosquito control methods.
A thorough inspection of your property to identify potential breeding grounds.
Implementation of targeted mosquito control measures based on the specific needs of your property.
Regular monitoring and follow-up services to ensure long-term mosquito control.
Use of safe and environmentally friendly mosquito control products.
Understanding The Legal Restrictions On Mosquito Control Methods In Illinois
While it is essential to take action against mosquitoes, it is crucial to be aware of the legal restrictions on mosquito control methods within Illinois.
The state has regulations in place to protect the environment and ensure the safe and responsible use of mosquito control products.
| Mosquito Control Method | Legal Restrictions |
| --- | --- |
| Chemical Pesticides | Must be applied by licensed professionals following specific guidelines and in accordance with state regulations. |
| Water Management | Residents can modify their landscapes to reduce standing water without legal restrictions. |
| Mosquito Traps | No legal restrictions for using traps that do not use chemical attractants or pesticides. |
Community Initiatives For Reducing Mosquito Populations In Illinois
Reducing mosquito populations requires collective efforts from the community.
Illinois residents can actively participate in community initiatives aimed at minimizing mosquito breeding sites and controlling their numbers.
Encouraging proper disposal of waste and eliminating any potential containers that may collect water.
Promoting regular maintenance of rain gutters, bird baths, and swimming pools.
Supporting local mosquito abatement districts and public health initiatives.
Organizing neighborhood clean-up campaigns to remove debris and stagnant water sources.
FAQs For When Do Mosquitoes Come Out In Illinois
What Month Do Mosquitoes Come Out The Most?
Mosquitoes are most active during warmer months, typically from spring to fall. They peak in numbers during summer when temperatures are consistently high.
What Time Of Year Do Mosquitoes Come Out In Illinois?
Mosquitoes come out in Illinois during the warmer months, typically from late spring to early fall.
How Bad Are Mosquitoes In Illinois?
Mosquitoes in Illinois can be a nuisance. They are prevalent in the summer months and can transmit diseases. Taking preventive measures, such as using insect repellent and eliminating standing water, can help reduce their presence.
At What Temp Do Mosquitoes Stop Biting?
Mosquitoes stop biting at temperatures below 50 degrees Fahrenheit.
Final Thoughts
It is important to be aware of the mosquito season in Illinois to protect yourself from these pesky insects.
Mosquitoes are most active during warm and humid weather from spring to fall.
Understanding their habits and behavior can help you take necessary precautions to prevent mosquito bites and minimize the risk of mosquito-borne diseases.
By being informed and implementing effective strategies, you can enjoy your time outdoors in Illinois without being bothered by mosquitoes. Stay vigilant and stay safe!