The Mosquito Magnet works by emitting a combination of CO2, heat, and moisture to attract and trap mosquitoes, disrupting their breeding cycle and reducing their population. Mosquito Magnet is an effective and efficient solution for controlling mosquitoes.
With its innovative technology, it emits a combination of carbon dioxide, heat, and moisture, mimicking human breath and attracting mosquitoes.
Once lured in, the device vacuums the pests into a net, preventing them from laying eggs and interrupting their breeding cycle.
This results in a significant decrease in the mosquito population in the area of usage.
The Mosquito Magnet can be easily placed in outdoor spaces, providing a long-term solution for mosquito control and ensuring a more enjoyable and comfortable environment.
So, say goodbye to pesky mosquito bites and hello to a mosquito-free outdoors with the Mosquito Magnet.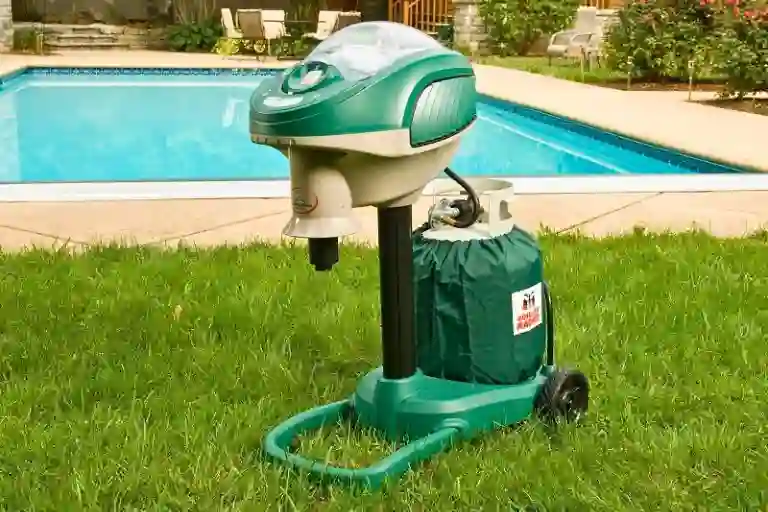 What Is A Mosquito Magnet?
A Mosquito Magnet is a device that traps and kills mosquitoes by emitting carbon dioxide, heat, and a chemical attractant.
These lure the insects into the trap, where they are collected and killed, effectively reducing mosquito populations in the surrounding area.
Definition and Explanation Of Mosquito Magnet
A Mosquito Magnet is a highly effective mosquito control device that uses advanced technology to attract, trap, and kill mosquitoes.
This innovative device works by emitting a precise combination of carbon dioxide (CO2), heat, moisture, and special mosquito attractants to simulate human presence.
Once activated, the Mosquito Magnet starts attracting mosquitoes from a wide area, drawing them towards its powerful vacuum fan.
As the mosquitoes get closer, they are sucked into the device's trap, where they are unable to escape.
Inside the trap, the mosquitoes are dehydrated and eventually die. The trap is designed to be easy to empty and clean, ensuring continuous protection against these disease-carrying pests.
Now, let's delve deeper into the fascinating working mechanism of a Mosquito Magnet.
how Does Mosquito Magnet Work?
Attracting mosquitoes With Precise Formulas
The key to the remarkable effectiveness of Mosquito Magnet lies in its ability to attract mosquitoes using scientifically developed formulas.
These formulas mimic the natural cues that mosquitoes use to locate their human hosts.
The device releases precise amounts of CO2, a gas that mosquitoes are innately drawn to.
Since humans exhale CO2, mosquitoes perceive high levels of this gas as indicators of human presence.
In addition to CO2, Mosquito Magnet harnesses the power of heat and moisture.
Mosquitoes are highly sensitive to changes in temperature and humidity, which they associate with potential food sources.
By combining these cues, Mosquito Magnet creates an irresistible trap for mosquitoes, diverting their attention away from people and towards the device.
powerful Vacuum Fan For Capturing Mosquitoes
Once the mosquitoes are lured toward the Mosquito Magnet, a powerful vacuum fan comes into action. The fan generates suction, drawing the mosquitoes into the device.
The fan is strategically placed near the attractant and trap area to maximize mosquito capture.
Its strength ensures that even the most persistent and elusive mosquitoes are captured, preventing them from reaching their intended human victims.
Trapping and Killing Mosquitoes
Once inside the Mosquito Magnet, the captured mosquitoes are directed into a trap. This trap is designed to prevent any potential escape, ensuring that the mosquitoes stay contained and cannot return to bite humans.
Inside the trap, the mosquitoes are exposed to low humidity levels. This dehydration process is lethal for the mosquitoes, leading to their eventual demise.
Periodically, the trap needs to be emptied and cleaned to ensure the device's continued effectiveness.
By eliminating mosquito breeding grounds, this maintenance step also contributes to reducing mosquito populations over time.
The Science Behind Mosquito Magnet
Welcome to our blog post about the science behind the Mosquito Magnet.
If you're tired of being relentlessly attacked by mosquitoes whenever you step outside, the Mosquito Magnet might just be the solution you've been searching for.
Understanding The Mosquito's Attraction To Humans
Mosquitoes have been plaguing humans for centuries, drawn to us by their uncanny ability to detect body heat, movement, and the chemical compounds we emit.
Science has shown that mosquitoes are particularly attracted to the carbon dioxide (CO2) we exhale, as well as certain volatile organic compounds (VOCs) present in our breath and sweat.
To effectively combat mosquitoes, it's crucial to understand these factors that lure them towards humans.
By targeting and leveraging their attraction to these specific cues, we can effectively disrupt their feeding and breeding cycles.
The Role Of Carbon Dioxide In Mosquito Attraction
Carbon dioxide serves as a key marker for mosquitoes, signaling the presence of a potential blood meal source.
When we exhale, we release a plume of CO2 into the atmosphere, which mosquitoes detect using special sensory organs on their antennae.
This triggers their hunting instincts and directs them toward the source.
Mosquitoes are highly sensitive to even minute concentrations of CO2. In fact, studies have shown that they can detect it from as far as 100 feet away.
Once mosquitoes get closer to the CO2 source, they then rely on their additional detection methods to find a human host.
How The Mosquito Magnet Mimics Human Breath
The groundbreaking technology behind the Mosquito Magnet lies in its ability to effectively mimic the breath of a human target.
This device emits a steady stream of CO2 as well as a specific combination of VOCs that closely resemble those produced by humans.
| Key Factors | How Mosquito Magnet Works |
| --- | --- |
| Carbon Dioxide (CO2) | Highly efficient catalytic conversion technology releases measured and regulated amounts of CO2 to attract mosquitoes. |
| Volatile Organic Compounds (VOCs) | A proprietary blend of VOCs, designed to replicate human breath, is released to further enhance the Mosquito Magnet's attraction power. |
| Heat and Moisture | The device also generates warmth and moisture, creating an environment that simulates the conditions around humans. |
By recreating these key elements that draw mosquitoes towards humans, the Mosquito Magnet effectively lures the insects away from their intended victims and into its trap.
Once closed, the device utilizes a powerful vacuum to capture and securely contain the mosquitoes, preventing them from wreaking havoc on you and your loved ones.
In summary, the Mosquito Magnet capitalizes on the mosquito's attraction to carbon dioxide, VOCs, heat, and moisture.
It replicates human breath, tricking mosquitoes into thinking they have found a viable feeding source.
The Mosquito Magnet then traps these pests, allowing you to enjoy your outdoor activities without suffering from their incessant bites.
With its innovative technology and scientific approach, the Mosquito Magnet offers a highly effective and environmentally friendly solution to mosquito control.
Be sure to check out our next blog post, where we will explore the various benefits and features of this remarkable device.
Components Of A Mosquito Magnet
A Mosquito Magnet is a highly effective solution for getting rid of mosquitoes and protecting yourself from their annoying bites.
It uses a combination of several key components to attract, trap, and kill mosquitoes. Each of these components plays a crucial role in the overall functionality of the Mosquito Magnet.
Overview Of The Key Components
The Mosquito Magnet consists of three main components: the attractant cartridge, the propane tank, and the mosquito net.
Let's examine each of these components in detail:
The Role Of The Attractant Cartridge
The attractant cartridge is an essential part of the Mosquito Magnet and is responsible for luring mosquitoes towards the trap.
It contains a mixture of chemicals that mimic the scent of humans and other animals that attract mosquitoes.
When placed in the Mosquito Magnet, the attractant cartridge emits these chemicals, creating an irresistible bait for mosquitoes.
As they get closer to the trap, they are drawn into the device, where they are captured and eventually killed.
Understanding The Use Of Propane
Propane is another vital component of the Mosquito Magnet. It is used to produce carbon dioxide, heat, and moisture, which are all attractive to mosquitoes and other biting insects.
The Mosquito Magnet utilizes a propane tank that is connected to the device. As the propane is released and burned, it generates the necessary elements that simulate the presence of humans and animals.
This combination of carbon dioxide, heat, and moisture, in conjunction with the attractant cartridge, forms a powerful mosquito attractant system.
The use of propane ensures that the Mosquito Magnet remains operational for extended periods without needing frequent refills.
It also allows the device to imitate the natural environmental factors that mosquitoes are naturally drawn to, which increases the trapping efficiency.
Working Mechanism Of A Mosquito Magnet
A Mosquito Magnet works by attracting and trapping mosquitoes through the emission of carbon dioxide, heat, and moisture, mimicking human breath.
Explanation Of The Trapping Process
Mosquito Magnet is an innovative device designed to effectively and efficiently reduce the mosquito population in your outdoor area.
This powerful trap utilizes a combination of technology and natural attractants to lure mosquitoes, trap them, and ultimately eradicate them.
The trapping process of the Mosquito Magnet can be summarized in three simple steps:
Attract: The Mosquito Magnet is equipped with a patented CounterFlow Technology that emits a precise combination of carbon dioxide (CO2), moisture, heat, and a secondary attractant called Octenol. This combination replicates the breath and body heat of humans, making the device irresistibly attractive to mosquitoes.
Trap: Once the mosquitoes are lured towards the Mosquito Magnet, they encounter a strategically placed vacuum system. This powerful suction force, created by a dual-stage airflow system, pulls the mosquitoes into the device.
Kill: After being trapped, the mosquitoes are then directed into a net assembly where they dehydrate and die due to the lack of water and nutrients. This net is specially designed to prevent the escape of mosquitoes while allowing for maximum airflow to keep the device running efficiently.
The trapping process of the Mosquito Magnet is designed to be effective for various species of mosquitoes, including those known to transmit harmful diseases like dengue fever, malaria, and Zika virus.
How The Mosquito Magnet Captures And Kills Mosquitoes
The Mosquito Magnet employs a combination of cutting-edge technology and clever trapping mechanisms to effectively capture and kill mosquitoes.
Let's take a closer look at each stage:
Attract: The key to the Mosquito Magnet's success lies in its ability to attract mosquitoes. By releasing a precise combination of CO2, moisture, heat, and Octenol, the device effectively mimics the allure of a human presence. This irresistible combination lures mosquitoes towards the trap.
Trap: Once drawn towards the Mosquito Magnet, the mosquitoes encounter the suction power of the vacuum and net assembly. This dual-stage airflow system creates a strong vacuum force, pulling the mosquitoes into the device.
Kill: Trapped inside the Mosquito Magnet, the mosquitoes are directed into the net assembly. This specially designed net allows for optimal airflow while preventing the escape of mosquitoes. As the mosquitoes remain trapped, they eventually dehydrate and perish due to the lack of water and nutrients.
The Mosquito Magnet's capturing and killing mechanism ensures that mosquitoes are effectively contained and eliminated, reducing their population in your outdoor space and providing you with a mosquito-free environment.
The Role Of The Vacuum And Net Assembly
The vacuum and net assembly in the Mosquito Magnet play a vital role in the trapping and eradication process.
Here's how these components contribute to the device's effectiveness:
| Vacuum System | Net Assembly |
| --- | --- |
| The vacuum system, powered by a powerful suction force, pulls mosquitoes into the Mosquito Magnet. This force ensures that mosquitoes are effectively captured and prevented from escaping. | The net assembly serves as the final destination for trapped mosquitoes. Its specially designed structure allows for maximum airflow, ensuring the efficient operation of the Mosquito Magnet. Additionally, the net prevents mosquitoes from escaping while enabling them to dehydrate and ultimately die due to the lack of water and nutrients. |
The vacuum and net assembly are crucial components of the Mosquito Magnet, working together to ensure the effective trapping and elimination of mosquitoes in your outdoor area.
With this mechanism in place, you can enjoy peace of mind knowing that you'll be able to enjoy your outdoor space without the nuisance and potential health risks associated with mosquitoes.
Factors Affecting Mosquito Magnet Effectiveness
Importance Of Proper Placement And Location
When it comes to maximizing the effectiveness of a mosquito magnet, proper placement and location play a crucial role.
Placing the mosquito magnet in the right spot can significantly enhance its ability to attract and capture those pesky insects.
Here are a few key considerations to keep in mind:
Proximity to mosquito breeding sites: Positioning the mosquito magnet near potential breeding grounds, such as stagnant water sources or areas with high humidity, can help increase its efficiency by targeting mosquitoes from their source.
Distance from outdoor living areas: While the mosquito magnet is designed to lure mosquitoes away from your outdoor spaces, it is recommended to place it at a reasonable distance from where people gather regularly. This ensures that the mosquitoes are drawn to the trap rather than being a nuisance to you and your guests.
Access to CO2: Carbon dioxide (CO2) is one of the main attractants for mosquitoes. To optimize the mosquito magnet's performance, it should be positioned in an area where it can capture CO2 emissions effectively, such as near areas with abundant plant life or where humans exhale CO2 frequently.
Effect Of Environmental Factors On Efficiency
The efficiency of a mosquito magnet can be influenced by various environmental factors.
Understanding these factors can help you make necessary adjustments for optimal performance:
| Factor | Impact |
| --- | --- |
| Temperature and humidity: | Warm and humid conditions create an ideal environment for mosquitoes, increasing their activity levels. Therefore, positioning the mosquito magnet in areas with higher temperature and humidity can enhance its effectiveness. |
| Wind direction and speed: | Wind can disperse the attractants emitted by the mosquito magnet, making it more challenging to lure mosquitoes. Hence, it's recommended to place the trap in an area where the prevailing winds do not blow directly against it. |
| Vegetation and barriers: | Tall grasses, bushes, or other obstacles can hinder the airflow and the movement of mosquitoes. Ensuring that the mosquito magnet has an unobstructed path can improve its ability to capture mosquitoes. |
Maintenance And Cleaning Tips For Optimal Performance
Regular maintenance and cleaning are essential for keeping your mosquito magnet operating at its best.
Follow these tips to ensure optimal performance:
Empty the collection tray: Mosquitoes captured in the trap accumulate in the collection tray over time. It is important to empty the tray regularly to prevent clogging and ensure uninterrupted operation.
Clean the trap components: Dirt, debris, and dead insects can accumulate on the trap's surfaces, impacting its efficiency. Clean the exterior and interior components of the trap as instructed in the user manual.
Replace attractants as needed: The attractants used in mosquito magnets may lose their effectiveness over time. Follow the manufacturer's guidelines for replacing attractants to ensure continuous attractiveness to mosquitoes.
Check the propane supply: Mosquito magnets powered by propane require regular inspection of the fuel supply. Ensure the propane tank is not empty and there are no leaks or blockages.
By considering the placement, environmental conditions, and maintenance requirements of your mosquito magnet, you can maximize its effectiveness in controlling mosquito populations and make your outdoor spaces more enjoyable.
Tips For Maximizing Mosquito Magnet Effectiveness
Whether you are planning a backyard barbecue or simply enjoying a peaceful night outdoors, the last thing you want is pesky mosquitoes ruining your experience.
Fortunately, a mosquito magnet can provide an efficient and effective solution to keep these annoying insects at bay.
Along with investing in a reliable mosquito magnet, there are several tips and strategies you can implement to optimize its effectiveness.
The Importance Of Regular Maintenance
Regular maintenance is crucial to keep your mosquito magnet performing at its best.
By following these simple steps, you can ensure your device continues to trap mosquitoes with efficiency:
Clean the trap regularly: Mosquito magnets typically include a catch net or bag to collect captured mosquitoes. It is important to clean this component regularly to ensure maximum trapping efficiency. Dispose of the collected mosquitoes and clean the net or bag according to the manufacturer's instructions.
Replace consumables: Mosquito magnets often use attractant cartridges or propane tanks to lure mosquitoes. These consumables need to be replaced periodically to ensure the device remains effective. Keep track of the recommended replacement schedule and replace these components accordingly.
Check for blockages: Mosquito magnets work by creating a suction that draws mosquitoes into the trap. Over time, debris or blockages may accumulate, hindering this process. Regularly inspect the trap and remove any obstructions to maintain optimal suction power.
How To Optimize Attractant Placement
The placement of attractants is a crucial factor in maximizing the effectiveness of your mosquito magnet.
Consider the following tips for optimal attractant placement:
Position the mosquito magnet in a shaded area: Mosquitoes are naturally attracted to dark and shaded areas. Place your mosquito magnet in a location where it is shaded from direct sunlight to increase its attractiveness to mosquitoes.
Elevate the trap: Mosquitoes tend to fly at lower levels, so elevating the trap can help attract them more effectively. Place the trap on a sturdy stand or hang it from a tree or pole to improve its trapping efficiency.
Keep attractants away from competing odors: Strong odors from garbage cans, compost piles, or flowering plants can distract mosquitoes from the attractants emitted by the mosquito magnet. Ensure that the area surrounding the trap is free from competing scents.
Additional Strategies For Mosquito Control
In addition to using a mosquito magnet, there are other strategies you can incorporate to enhance mosquito control in your outdoor space.
Consider implementing these additional measures:
| Strategy | Description |
| --- | --- |
| Remove standing water | Mosquitoes breed in stagnant water, so eliminating any standing water sources in your yard can significantly reduce their population. |
| Use natural repellents | Consider using natural repellents such as citronella candles, plant-based oils, or herbal sprays to repel mosquitoes. These can complement the effectiveness of the mosquito magnet. |
| Install screens | Installing screens on doors and windows can create a barrier to prevent mosquitoes from entering your home. This can help create a mosquito-free environment indoors. |
| Trim vegetation | Mosquitoes often rest in dense vegetation during the day. Regularly trimming bushes, shrubs, and grass can reduce the resting spots for mosquitoes in your yard. |
By combining these additional strategies with the utilization of a mosquito magnet and adhering to regular maintenance practices, you can effectively control and minimize the presence of mosquitoes in and around your outdoor living spaces.
Frequently Asked Questions Of How Does Mosquito Magnet Work
Does The Mosquito Magnet Really Work?
Yes, the Mosquito Magnet is an effective solution for reducing mosquitoes. It attracts and traps mosquitoes using carbon dioxide and a powerful fan, reducing their population in your area.
Does The Mosquito Magnet Work Without Attractant?
Yes, the Mosquito Magnet can work without an attractant. However, using an attractant increases its effectiveness in trapping mosquitoes.
Does The Mosquito Magnet Catch Black Flies?
Yes, the Mosquito Magnet can catch black flies.
How Long Does A Mosquito Magnet Last?
A Mosquito Magnet typically lasts for about three to four years.
Final Thoughts
The Mosquito Magnet is a highly effective solution for reducing mosquito populations in your outdoor space.
By utilizing a combination of attractants and a powerful vacuum, it lures and captures mosquitoes, disrupting their breeding cycle.
This innovative technology offers a chemical-free and environmentally friendly alternative to traditional mosquito control methods.
With its proven track record, the Mosquito Magnet is a reliable choice for creating a mosquito-free environment in your backyard.