Mosquitoes have six chromosomes. These small insects possess a total of six chromosomes in their genetic makeup.
Mosquitoes, with their six chromosomes, belong to the insect family Culicidae. Known for their ability to transmit diseases such as malaria and dengue fever, these tiny creatures play a significant role in various ecosystems around the world.
Understanding their genetic composition, particularly the number of chromosomes they possess, is crucial for scientists researching their behavior, reproduction, and evolutionary history.
By studying the chromosomes of mosquitoes, researchers can gain valuable insights into their biology and contribute to efforts aimed at controlling the spread of mosquito-borne diseases.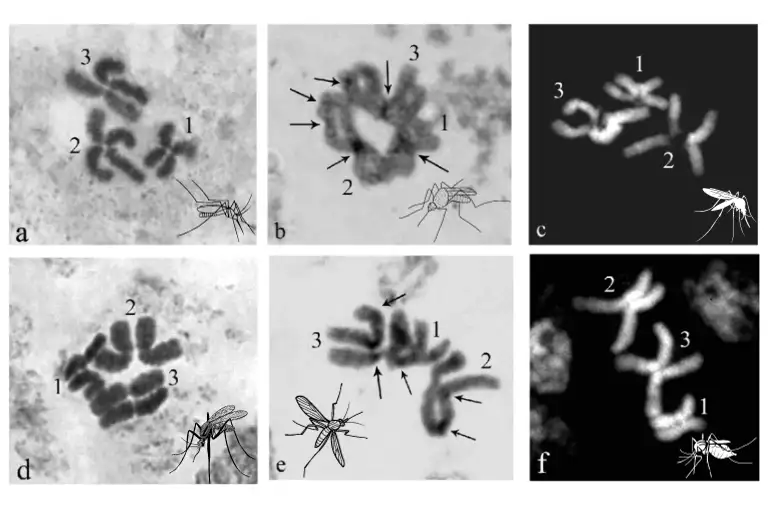 Understanding The Chromosomal Makeup
When it comes to the world of insects, mosquitoes are some of the most notorious creatures.
These tiny bloodsuckers can wreak havoc on our summer nights, leaving itchy bites in their wake.
But have you ever wondered how these pesky insects are wired genetically?
Specifically, how many chromosomes do mosquitoes have?
Overview of The Genetic Composition Of Mosquitoes
In order to understand the chromosomal makeup of mosquitoes, it's important to first have a grasp of their overall genetic composition.
Like humans and many other animals, mosquitoes are diploid organisms, meaning they have two sets of chromosomes.
However, the number of chromosomes present in mosquitoes is different from our own.
Mosquitoes belong to the Culicidae family, and within this family, there are over 3,500 species.
Despite this vast diversity, most mosquitoes have a similar chromosomal makeup.
The common house mosquito, Culex pipiens, for example, has a total of 6 chromosomes.
Now you might be wondering, how can such a small number of chromosomes carry all the genetic information necessary for a mosquito to survive and reproduce?
The answer lies in the structure and organization of these chromosomes.
the Role Of Chromosomes In Determining Genetic Traits
Chromosomes play a crucial role in determining the genetic traits of an organism.
Within each chromosome are genes, which are segments of DNA that carry the instructions for building and operating the various components of an organism.
For mosquitoes, their six chromosomes contain the genes responsible for traits such as wing length, body coloration, and susceptibility to certain diseases.
Each gene is located at a specific position, or locus, on the chromosome. By analyzing the genetic code in these loci, scientists can identify the variations that give mosquitoes their distinct characteristics.
It's important to note that while chromosomes carry the genetic blueprint, not all genes on a chromosome are actively expressed.
Some genes may be turned on or off depending on environmental cues or developmental stages of the mosquito.
This intricate interplay between the genetic code and the environment contributes to the complex life cycle and adaptability of mosquitoes.
Decoding The Mosquito Genome
Mosquitoes, those pesky creatures that buzz around and leave us with itchy bites, have long been the bane of human existence.
But have you ever wondered about the secret behind their incredible adaptability and resilience? The answer lies in their genetic code.
By decoding the mosquito genome, scientists have unlocked a wealth of information about these tiny insects, shedding light on their biology and helping to develop more effective strategies for controlling their population.
The Process Of Mapping And Sequencing The Mosquito Genome
Mapping and sequencing the mosquito genome is no small feat.
It involves a painstaking process of extracting and purifying DNA from mosquito samples, followed by sequencing these DNA fragments to determine the order of nucleotides.
This process generates massive amounts of genetic data that must be organized and analyzed to decipher the mosquito's genetic code.
To begin with, the first step in this process is the selection of mosquitoes with intact and uncontaminated DNA.
These mosquitoes are carefully collected from various regions to capture the genetic diversity within the species.
The DNA is then extracted from the samples using specialized techniques to ensure its purity and integrity.
Once the DNA extraction is complete, the next step is sequencing the mosquito genome. There are different methods available for this, such as Sanger sequencing and Next-Generation Sequencing (NGS).
These techniques enable scientists to read the genetic code of the mosquitoes and generate a vast amount of raw genetic data.
Now comes the challenging part – assembling this enormous amount of data into a meaningful and coherent whole.
Bioinformatics tools and algorithms play a crucial role in this process. These tools help in aligning and merging the overlapping DNA sequences, identifying the genes present in the genome, and determining their functions.
By leveraging these algorithms and resources, scientists can create a comprehensive map of the mosquito genome, providing invaluable insights into its genetic makeup.
Insights Gained From Studying The Genetic Code Of Mosquitoes
The study of the genetic code of mosquitoes has yielded fascinating insights into their biology and behavior.
Here are some key findings:
Genetic Basis for Insecticide Resistance: Researchers have identified specific genes and genetic mutations that confer resistance to common insecticides used to control mosquito populations. This knowledge allows for the development of targeted strategies to combat insecticide resistance and enhance the effectiveness of mosquito control efforts.
Immunity and Disease Transmission: By examining the mosquito genome, scientists have gained a deeper understanding of how mosquitoes interact with pathogens and transmit diseases such as malaria, dengue, and Zika. This knowledge is crucial for developing interventions and treatments to disrupt disease transmission cycles and protect human health.
Evolutionary Adaptations: The mosquito genome provides insights into the evolutionary history of these insects and the genetic adaptations that have allowed them to survive and thrive in various environments. Understanding these adaptations can inform strategies for mosquito control and management.
Reproductive Biology: The genetic code of mosquitoes reveals essential information about their reproductive biology, including factors that influence mating behavior and fertility. This knowledge is valuable for developing innovative approaches to control mosquito populations by targeting their reproductive processes.
Unraveling Chromosome Numbers
When it comes to the mysteries of the insect world, few creatures are as fascinating as mosquitoes.
Not only are these tiny insects known for their annoying bites and ability to spread deadly diseases, but they also hold a secret within their DNA (deoxyribonucleic acid) – the number of chromosomes they possess.
Chromosomes are thread-like structures found in the nucleus of cells, containing genetic information that determines an organism's traits and characteristics.
how Many Chromosomes Do Mosquitoes Actually Have?
Understanding the number of chromosomes mosquitoes possess is key to unraveling the complexity of their genetic makeup.
To put it simply, mosquitoes have a total of three pairs of chromosomes, summing up to a total of six chromosomes in each cell.
This may seem minimal compared to the 46 chromosomes found in humans, but it's important to remember that the size and complexity of an organism's genome do not necessarily determine its sophistication or evolutionary success.
To shed light on the variations in chromosome numbers among mosquito species, scientists have delved deep into the microscopic world of mosquito genetics.
Through meticulous observation and analysis, they have discovered that not all mosquitoes possess the same number of chromosomes.
While the majority adhere to the six-chromosome rule, there are some species that deviate from this norm, exhibiting differing numbers of chromosomes.
Examining the Variations In Chromosome Numbers Across Mosquito Species
Examining the variations in mosquito chromosome numbers has revealed fascinating insights into the evolutionary history and genetic diversity of these insects.
Let's explore some examples of mosquito species with different chromosome numbers:
| Mosquito Species | Chromosome Number |
| --- | --- |
| Anopheles gambiae | 3 pairs (6 chromosomes) |
| Culex pipiens | 3 pairs (6 chromosomes) |
| Aedes aegypti | 3 pairs (6 chromosomes) |
| Psorophora columbiae | 4 pairs (8 chromosomes) |
| Culiseta longiareolata | 4 pairs (8 chromosomes) |
The Impact Of Chromosomal Abnormalities
Chromosomal abnormalities are genetic mutations that can greatly impact an organism's biology and behavior.
Mosquitoes, like any other living species, can experience these abnormalities, which may affect their overall functionality.
The Consequences Of Chromosomal Mutations In Mosquitoes
Chromosomal mutations in mosquitoes can lead to a variety of consequences throughout their lifecycle.
These mutations are often caused by errors during DNA replication or environmental factors that can induce changes in the chromosomal structure.
Here are some significant consequences of chromosomal mutations in mosquitoes:
Reduced fertility: Mosquitoes with chromosomal abnormalities may experience reduced fertility rates. This means that they are less likely to reproduce successfully, which can potentially limit their population growth and the spread of mosquito-borne diseases.
Increased susceptibility to diseases: Chromosomal mutations can weaken the mosquito's immune system, making them more susceptible to various diseases and pathogens. This can have a significant impact on their ability to transmit diseases to humans and other animals.
Altered development: Chromosomal abnormalities can disrupt the normal developmental patterns of mosquitoes. This can lead to physical deformities, such as malformed wings or legs, impairing their ability to fly or feed effectively.
Changes in behavior: Chromosomal mutations can also affect mosquito behavior, altering their feeding preferences, mating rituals, and even their response to insecticides. These behavior changes can significantly impact their survival and ability to fulfill their ecological roles.
Altered resistance to insecticides: Some chromosomal mutations can confer resistance to commonly used insecticides. This can pose challenges in mosquito control programs and make it more difficult to manage mosquito populations effectively.
How Chromosomal Abnormalities Affect Mosquito Biology And Behavior
Chromosomal abnormalities can have profound effects on mosquito biology and behavior, ultimately influencing their ability to survive, reproduce, and transmit diseases.
Let's explore some of the ways these abnormalities impact mosquitoes:
Disrupted gene expression: Chromosomal mutations can disrupt the normal expression of genes that are crucial for mosquito biology. This may result in the malfunctioning or absence of important proteins, which can have cascading effects on various physiological processes.
Sex determination: Some chromosomal abnormalities can affect the sex determination mechanism in mosquitoes. For instance, a mutation known as "Heterozygous Autosome" can lead to the creation of female mosquitoes from unfertilized eggs. This disrupts the natural sex ratio and influences population dynamics.
Nutritional requirements: Mosquitoes with chromosomal mutations might have altered nutritional requirements, causing them to seek out different food sources or exhibit unique feeding behaviors. These changes can affect their survival rates and overall ecological interactions.
Mating compatibility: Chromosomal abnormalities can interfere with the compatibility of different mosquito populations. This can reduce successful mating opportunities, potentially leading to reproductive isolation and the formation of distinct mosquito species.
Adaptability: In some cases, chromosomal mutations can confer advantages to mosquitoes, enhancing their adaptability to new environments or enabling them to exploit novel ecological niches. This can lead to the emergence of new mosquito populations with different behaviors and biology.
Understanding the impact of chromosomal abnormalities on mosquitoes is vital for comprehending mosquito biology, controlling their population, and combating mosquito-borne diseases effectively.
By further studying these mutations, researchers can gain valuable insights into mosquito evolution, behavior, and the development of novel control strategies.
The Future Of Genetic Research On Mosquitoes
In recent years, the field of genetic research has made remarkable strides in uncovering the secrets held within the genomes of various organisms.
And when it comes to mosquitoes, unraveling their genetic code can hold tremendous potential in combating the diseases they spread.
From malaria to dengue fever, these tiny yet formidable insects pose a significant threat to human and animal health worldwide.
However, by studying their genetic makeup, scientists hope to gain valuable insights into their biology and develop innovative strategies for mosquito control and disease prevention.
Potential Applications Of Studying The Genetic Secrets Of Mosquitoes
A deeper understanding of mosquito genetics can open up a world of possibilities in terms of controlling these disease-carrying creatures.
By studying their chromosomes and DNA, researchers can identify specific genes responsible for traits such as insecticide resistance, feeding preferences, and even their ability to transmit diseases.
Armed with this knowledge, scientists can work towards developing targeted and effective interventions to limit mosquito populations, disrupt their disease transmission cycles, and ultimately protect communities from the devastating impact of mosquito-borne illnesses.
Harnessing Genetic Knowledge For Mosquito Control And Disease Prevention
Beyond understanding the genetic makeup of mosquitoes, scientists can harness this knowledge to develop innovative tools for mosquito control and disease prevention.
One potential application is the development of genetically modified mosquitoes that are unable to transmit diseases like malaria or dengue fever.
By manipulating specific genes, scientists can create mosquitoes that are resistant to disease-causing parasites or incapable of transmitting them to humans.
A combination of genetic engineering techniques and the release of these modified mosquitoes into the wild could significantly reduce disease transmission.
This approach has already shown promise in small-scale trials, providing hope for future large-scale interventions.
Additionally, genetically modified mosquitoes can also be engineered to have reduced populations by targeting genes that contribute to their reproduction or survival.
These population control strategies aim to reduce mosquito numbers and consequently the spread of diseases.
FAQs Of How Many Chromosomes Do Mosquitoes Have
How Many Chromosomes Do Bugs Have?
Bugs typically have a varying number of chromosomes, depending on the species.
How Many Chromosomes Are In Each Egg From A Mosquito?
Each egg from a mosquito contains a total of six chromosomes. These chromosomes carry the genetic information necessary for the development and functioning of the mosquito.
When does A Mosquito Cell Have 6 Chromosomes?
A mosquito cell with six chromosomes indicates the number of distinct DNA molecules present in the cell.
How Many Chromosomes Does A Yellow Fever Mosquito Have?
The yellow fever mosquito has a total of 6 chromosomes.
Final Words
To sum up, mosquitoes have a rather complex chromosomal structure, with most species having six pairs of chromosomes in their cells.
The number can vary among different mosquito species, reflecting their evolutionary diversity.
Understanding the intricacies of their genetic makeup is crucial for studying their physiology, behavior, and overall biology, which could ultimately lead to more effective control measures against these disease-carrying pests.
So, the next time you encounter a mosquito, remember the fascinating world that lies within its tiny genetic code.