Keep your outdoor area fly and mosquito-free with these effective methods. A combination of repellents, traps, and proper maintenance will help you get rid of flies and mosquitoes outside and enjoy bug-free outdoor activities.
Flies and mosquitoes can quickly ruin any outdoor gathering or relaxation time. Dealing with these pesky insects is essential to ensure a comfortable and pleasant environment.
Fortunately, there are various effective methods to get rid of flies and mosquitoes outside.
By employing a combination of repellents, traps, and regular maintenance practices, you can minimize their presence and enjoy bug-free outdoor activities.
We will explore these methods in detail, providing you with practical tips to help combat these flying nuisances.
Whether you're hosting a backyard barbecue or simply wanting to relax on your patio, implementing these methods will ensure a fly and mosquito-free outdoor experience.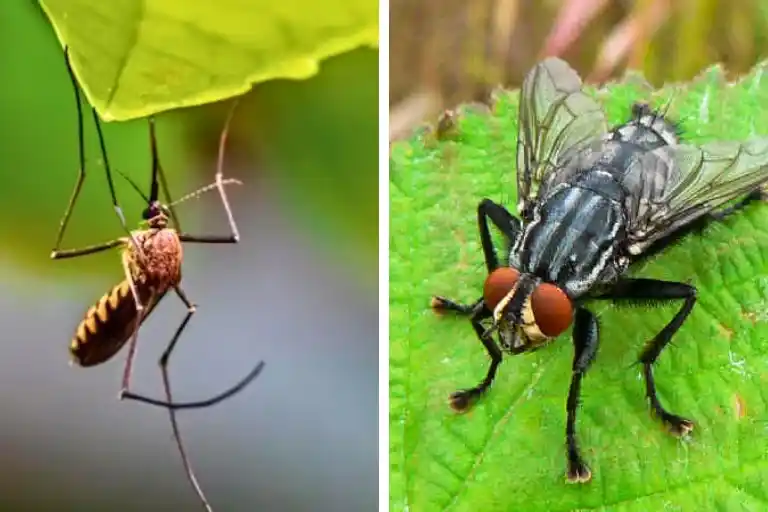 Understanding The Habits Of Flies And Mosquitoes
Before we delve into effective ways to get rid of flies and mosquitoes outside, it's important to understand their habits and behaviors.
By gaining insight into the makeup of these pesky insects, we can better arm ourselves against their intrusion into our living spaces.
We will discuss here an overview of common fly and mosquito species, why flies and mosquitoes are attracted to outdoor environments, and the potential dangers they pose to human health.
Overview Of Common Fly And Mosquito Species
Flies and mosquitoes come in various species, each with their own unique characteristics.
By familiarizing ourselves with the major players, we can better identify and target their weaknesses.
Here are some common fly and mosquito species:
Flies
Mosquitoes

Houseflies (Musca domestica)
Fruit flies (Drosophila spp.)
Blowflies (Calliphoridae)

Aedes mosquitoes
Anopheles mosquitoes
Culex mosquitoes
Why Flies And Mosquitoes Are Attracted To Outdoor Environments
Both flies and mosquitoes are magnetically drawn to outdoor environments due to several factors.
Understanding their attraction can help us create environments that discourage their presence and prevent infestations.
Here's why flies and mosquitoes find outdoor spaces irresistible:
Food sources: Flies are attracted to decaying organic matter, such as garbage, animal waste, and compost. Mosquitoes, on the other hand, are attracted to stagnant water bodies where they lay their eggs.
Warmth and humidity: Flies and mosquitoes thrive in warm and humid conditions, making outdoor environments the perfect breeding grounds for them.
Scents and fragrances: Flies and mosquitoes are highly attracted to certain scents and fragrances, such as floral perfumes and sweet-smelling plants.
Carbon dioxide: Mosquitoes are especially drawn to carbon dioxide, which is exhaled by humans and animals.
The Dangers Of Flies And Mosquitoes For Human Health
While the annoyance caused by flies and mosquitoes is undeniable, the potential health risks they pose should not be overlooked.
These insects can transmit a range of diseases, making it crucial to take measures to keep their populations in check.
Here are some of the dangers associated with flies and mosquitoes:
Flies: They can spread bacteria and viruses, including E. coli, Salmonella, and norovirus, by landing on food and surfaces after coming into contact with fecal matter or other contaminated areas.
Mosquitoes: They are notorious for transmitting diseases such as dengue fever, malaria, Zika virus, and West Nile virus. Their bites can cause uncomfortable itching and irritation.
By understanding the habits of flies and mosquitoes and the risks they pose, we can take effective measures to protect ourselves and our outdoor spaces.
Implementing Preventive Measures
Implementing preventive measures is essential to effectively get rid of flies and mosquitoes outside.
By taking proactive steps and addressing the root causes, you can create a hostile environment for these pesky pests.
Eliminating Standing Water Sources To Prevent Mosquito Breeding
One of the most important steps you can take to deter mosquitoes is to eliminate any standing water sources around your outdoor space.
Mosquitoes thrive in stagnant water, using it as a breeding ground for their eggs. To combat this, regularly inspect your yard for any containers or areas that hold water.
Examples include birdbaths, flower pots, gutters, and old tires. Ensure these are emptied and cleaned or covered to prevent mosquitoes from laying eggs.
Securing Trash Cans And Disposing Of Waste Properly To Deter Flies
Flies are attracted to decaying organic matter, making your trash cans a hot spot for them.
To discourage flies from congregating around your outdoor area, it is crucial to secure your trash cans properly and dispose of waste correctly.
Consider investing in trash cans with tight-fitting lids and place them in a location away from living spaces.
Additionally, regularly empty and clean your trash cans to eliminate any lingering odors that may attract flies.
Installing Window Screens And Door Sweeps To Keep Flies And Mosquitoes Out
A simple yet effective way to prevent flies and mosquitoes from entering your home is to install window screens and door sweeps.
Window screens not only allow fresh air to circulate but also act as a barrier, preventing these insects from gaining access to your living spaces.
Similarly, door sweeps provide an additional layer of protection, sealing the gap between the bottom of the door and the floor.
Ensure that your window screens are in good condition and that any holes or tears are promptly repaired to maintain their effectiveness.
Using Natural Repellents And Herbs To Repel Flies And Mosquitoes
Another preventive measure to keep flies and mosquitoes away is to utilize natural repellents and herbs.
Certain scents and plants are known to repel these insects due to their strong odors.
Citronella, lemongrass, and lavender are examples of plants that can naturally deter flies and mosquitoes.
Consider planting these herbs in your garden or using essential oils derived from these plants to create a protective barrier.
Additionally, burning citronella candles or using natural repellent sprays can also be effective in keeping these pests at bay.
Creating A Fly And Mosquito-repellent Outdoor Space
Create a mosquito and fly-free outdoor area with these effective tips and tricks that will help you get rid of these annoying pests and enjoy your time outside.
When it comes to enjoying your outdoor space without the annoyance of flies and mosquitoes, taking proactive steps to create a repellent environment can make all the difference.
By implementing a few key strategies, you can minimize fly and mosquito habitats, utilize outdoor lighting to your advantage, encourage air circulation, and make savvy choices when it comes to outdoor furniture and fabrics.
Landscaping Techniques To Minimize Fly And Mosquito Habitats
Landscaping plays a crucial role in creating an environment that discourages flies and mosquitoes.
Follow these simple techniques to minimize their habitats:
Keep your lawn well-maintained and mow it regularly to eliminate tall grass and weeds where mosquitoes like to breed.
Properly trim and prune shrubs and trees to reduce shaded areas that flies and mosquitoes are drawn to.
Remove any standing water sources, such as bird baths or unused buckets, as these serve as breeding grounds for mosquitoes.
Consider planting natural mosquito-repellent plants, such as citronella, lavender, and marigolds, which can help deter these pests.
The Role Of Outdoor Lighting In Attracting Or Repelling Flies And Mosquitoes
Believe it or not, your outdoor lighting choices can either attract or repel flies and mosquitoes.
To minimize their presence, keep the following tips in mind:
Avoid using bright white or fluorescent lights, as these tend to attract flies and mosquitoes. Instead, opt for yellow or orange bulbs, which are less appealing to these pests.
Install insect-repellent light fixtures or bulbs that emit a scent or repelling frequency.
Position your outdoor lighting away from seating areas and entry points to discourage flies and mosquitoes from gathering around them.
Using Fans And Air Circulation To Deter Flies And Mosquitoes
Fans can be an effective tool for deterring flies and mosquitoes from your outdoor space.
Here's how you can utilize them:
Place fans strategically around your patio or seating area to create an airflow that makes it difficult for flies and mosquitoes to land or fly around.
Consider using an oscillating fan, as the constant motion of the air can further discourage these pests.
Mosquitoes are weak fliers, so setting up a fan in a way that it blows towards seating areas can make it challenging for them to reach you.
Choosing The Right Outdoor Furniture And Fabrics To Discourage Flies And Mosquitoes
The choice of outdoor furniture and fabrics can also influence the presence of flies and mosquitoes in your outdoor space.
Follow these guidelines to deter them:
Opt for furniture made of materials that are less attractive to flies and mosquitoes, such as metal, resin, or teak.
Avoid upholstery with open weaves or textures that can trap insects.
Consider using insect-repellent fabrics or treating outdoor cushions and pillows with DIY repellents.
Regularly clean and maintain your outdoor furniture to prevent the buildup of food particles or stagnant water that can attract flies and mosquitoes.
Exploring Effective Fly And Mosquito Control Methods
The presence of flies and mosquitoes can ruin any outdoor gathering or relaxation time.
Fortunately, there are several effective methods to control their populations and reclaim your outdoor spaces.
Introducing Beneficial Insects And Animals To Control Fly And Mosquito Populations
One natural and eco-friendly approach to reducing the number of flies and mosquitoes around your outdoor areas is harnessing the power of beneficial insects and animals.
These creatures are natural predators of these pests and can help keep their populations in check.
Some beneficial insects that you can introduce to your outdoor spaces include:
Insect/Animal
Benefits
Ladybugs
– Prey on aphids and other small insects
– Attract them by planting flowers such as dill and fennel
Dragonflies
– Feed on mosquitoes and flies in their larval and adult stages
– Provide a water source, such as a pond or birdbath, to attract them
Bats
– Consume large numbers of insects, including mosquitoes
– Install a bat house to encourage their presence
Note: Although ladybugs primarily target aphids, they can still help control other small insects.
Utilizing Insecticides And Larvicides As A Last Resort
If the fly and mosquito populations in your outdoor areas become overwhelming, you may need to resort to insecticides and larvicides.
However, it's important to remember that these should be used as a last resort due to their potential environmental impact.
Choose an eco-friendly and non-toxic option to minimize harm to beneficial insects and animals.
Follow the manufacturer's instructions carefully to prevent over-application and ensure safety.
Target areas where flies and mosquitoes rest, such as shrubs, trees, and outdoor structures.
Electronic Devices And Traps To Capture And Eliminate Flies And Mosquitoes
Another effective method to control flies and mosquitoes is by using electronic devices and traps designed to capture and eliminate them.
These devices work by luring the pests in and trapping them, preventing further breeding and annoyance.
Here are some types of electronic devices and traps you can consider:
UV light traps: Emit ultraviolet light to attract and zap flies and mosquitoes.
CO2 traps: Mimic human breath to lure and capture mosquitoes.
Flypaper strips: Sticky adhesive on strips captures and traps fly when they land on them.
Using Physical Barriers And Netting To Protect Outdoor Areas From Flies And Mosquitoes
A simple yet effective method of keeping flies and mosquitoes away from your outdoor areas is by using physical barriers and netting.
These barriers create a barrier between you and the pests, preventing them from invading your personal space.
Mesh screens: Install screens on windows, doors, and outdoor structures to keep flies and mosquitoes out.
Outdoor tents or canopies: Set up a tent or canopy with mesh sidewalls to create a protected outdoor space.
Mosquito netting: Use netting around seating areas or over beds to prevent mosquito bites.
By implementing these effective fly and mosquito control methods, you can enjoy your outdoor spaces without the constant annoyance of these pesky insects.
Maintenance And Long-term Fly And Mosquito Prevention
To effectively prevent flies and mosquitoes outside for the long term, regular maintenance is crucial.
Implement measures such as keeping your surroundings clean, removing stagnant water, and installing screens or nets to keep these pests at bay.
Creating a fly and mosquito-free outdoor space requires more than just temporary solutions.
To ensure a lasting solution, regular inspection, maintenance, and preventive measures are crucial.
Regular Inspection And Maintenance Tips To Keep Outdoor Areas Fly And Mosquito-free
Maintaining a fly and mosquito-free environment outside your home involves regular inspections to identify and address potential problem areas.
By implementing simple yet effective maintenance practices, you can significantly reduce the presence of these pesky insects.
Here are some tips to consider:
Remove standing water: Conduct regular checks for stagnant water sources such as birdbaths, clogged gutters, and flower pots. Empty them promptly, as stagnant water is a breeding ground for mosquitoes.
Clean and maintain outdoor spaces: Regularly clean up debris, fallen leaves, and other organic matter that can accumulate in your outdoor spaces. Trim hedges and shrubs to reduce hiding places for flies and mosquitoes.
Seal potential entry points: Inspect your outdoor areas for gaps or openings that flies and mosquitoes could use to enter your property. Seal gaps in doors, windows, and screens to prevent their entry.
Use citronella candles and repellents: Incorporate natural repellents like citronella candles or oil-based repellents to deter flies and mosquitoes from gathering in your outdoor spaces.
Educating Yourself And Others About Fly And Mosquito Prevention
Educating yourself and those around you about fly and mosquito prevention plays a vital role in maintaining a pest-free environment.
By creating awareness and promoting good habits, you can contribute to the overall reduction of these pests.
Here are some important points to consider:
Know their habits: Learn about the breeding, feeding, and resting habits of flies and mosquitoes. Understanding their behavior will help you implement targeted prevention strategies.
Share prevention tips: Spread knowledge about effective preventive measures with your family, neighbors, and community. Encourage them to follow practices such as removing standing water and maintaining clean outdoor areas.
Promote sustainable practices: Advocate for sustainable practices that reduce the attractiveness of your outdoor spaces to flies and mosquitoes. This can include proper trash disposal, keeping compost areas covered, and using natural alternatives to chemical-based products.
Monitoring And Addressing Potential Breeding Sites And Infestations
Vigilance is key when it comes to controlling flies and mosquitoes. By monitoring your outdoor areas and addressing potential breeding sites and infestations promptly, you can break their life cycle and prevent future problems.
Consider the following tips:
Regular visual inspections: Regularly examine your outdoor spaces for signs of breeding, such as larvae or eggs. Pay close attention to areas with standing water, such as ponds, pools, or rain barrels.
Remove breeding sites: If you discover breeding sites, promptly remove or treat them. Clean gutters, repair leaky pipes and cover rain barrels with mesh screens to prevent mosquitoes from laying eggs.
Consider biological control: Introduce biological control methods such as beneficial bacteria or predators that target flies and mosquito larvae. These natural methods can help reduce populations without resorting to chemical solutions.
Seeking Professional Help For Severe Fly And Mosquito Issues
In severe cases where preventive measures and DIY solutions prove insufficient, it may be necessary to seek professional assistance.
Professional pest control experts possess the knowledge, experience, and resources to deal with persistent fly and mosquito problems effectively.
Consider the following scenarios when professional intervention may be required:
Recurring infestations: If you continuously face fly and mosquito infestations despite your best efforts, it's advisable to consult a professional. They can identify the root cause and develop a customized treatment plan.
High-risk areas: Homes located in areas with high fly or mosquito populations, such as near bodies of water, may require professional assistance to establish long-term control strategies.
Remember, a proactive approach to maintenance and prevention is essential to keep flies and mosquitoes at bay.
By consistently implementing these practices and seeking help when necessary, you can enjoy a more pleasant and pest-free outdoor environment.
FAQs On How To Get Rid Of Flies And Mosquitoes Outside
What Is The Best Thing To Keep Flies And Mosquitoes Away?
To keep flies and mosquitoes away, use natural remedies like citronella candles, and essential oils (such as lavender, eucalyptus, or lemon), or install screens on windows/doors. Additionally, keep your surroundings clean by removing standing water and emptying bins regularly.
How Do I Permanently Get Rid Of Flies Outside?
To permanently eliminate flies outside, follow these tips:
1. Keep your surroundings clean and free of trash or organic waste.
2. Use fly traps or sticky paper to capture them.
3. Plant herbs like basil or lavender, which repel flies.
4. Install screens on windows and doors to prevent their entry.
5. Use natural repellents like citronella or eucalyptus oil.
What Repels Both Flies And Mosquitoes?
Lemon eucalyptus oil, citronella oil, and DEET are effective in repelling both flies and mosquitoes.
What Scents Do Flies And Mosquitoes Hate?
Flies and mosquitoes hate scents like citronella, eucalyptus, lavender, and peppermint. These scents repel them due to their strong aroma, deterring these pests effectively.
Final Words
Keeping flies and mosquitoes away from your outdoor space can significantly improve your enjoyment of the outdoors.
By implementing a combination of natural remedies, proper sanitation practices, and investing in effective repellents, you can create a fly and mosquito-free zone for yourself and your loved ones.
Don't let these annoying pests ruin your outdoor activities – take action today and reclaim your outdoor haven.