To get rid of mosquitoes in your garden, plant mosquito-repelling plants and remove stagnant water sources. By following these steps, you can eliminate mosquitoes from your garden effectively.
Mosquitoes can be a nuisance in your garden, interrupting your outdoor activities and leaving itchy bites. Not only are they irritating, but they can also transmit diseases.
If you're wondering how to get rid of mosquitoes in the garden, there are a few simple and effective methods you can employ.
By taking proactive measures and making some adjustments to your garden, you can create an environment that is less attractive to mosquitoes.
We will discuss practical tips that will help you eliminate mosquitoes and enjoy a mosquito-free garden.
From planting mosquito-repelling plants to removing stagnant water sources, these techniques will help you take back control of your outdoor space.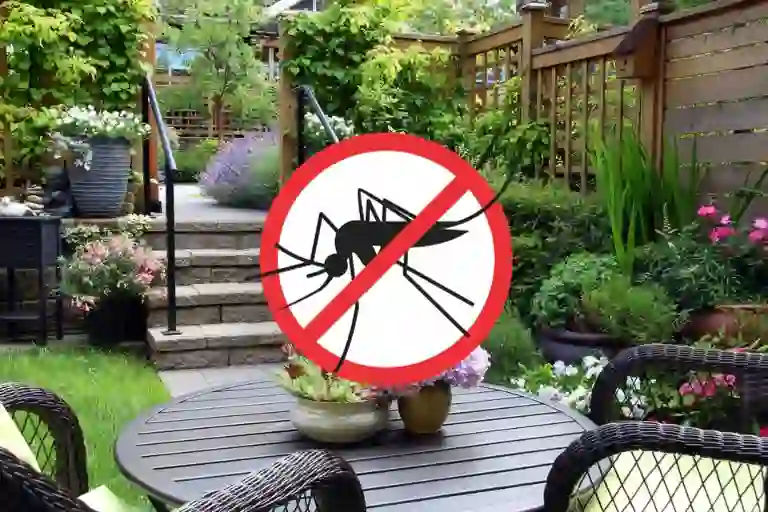 Understanding The Mosquito Problem In Your Garden
Learn how to effectively eliminate mosquitoes from your garden with these practical tips and strategies.
Discover the key factors contributing to the mosquito problem and find out how to create a mosquito-free environment without the use of harmful chemicals.
Mosquitoes can be a major nuisance in your garden, turning what should be a peaceful retreat into an itchy and uncomfortable experience.
Understanding the mosquito problem in your garden is the first step towards effectively getting rid of them.
By identifying the breeding grounds of mosquitoes, recognizing the different species, and understanding their impact on both your garden and your health, you'll be better equipped to create a mosquito-free oasis in your outdoor space.
Identifying The Breeding Grounds Of Mosquitoes
Mosquitoes need water to breed, so it's important to identify and eliminate any stagnant water sources in your garden.
These can include:
Uncleared gutters and downspouts
Water-filled containers such as buckets, flower pots, and bird baths
Clogged drains or ditches
Puddles or low-lying areas where water accumulates
Overwatered plants or poorly drained areas
Regularly checking your garden for these breeding grounds and emptying or treating them will help reduce mosquito populations.
Recognizing The Different Species Of Mosquitoes
Not all mosquitoes are created equal, and different species have different habits and preferences.
Knowing which species are common in your area can help you target them more effectively.
Common mosquito species include:
| Species | Characteristics |
| --- | --- |
| Aedes | Active during the day, lay eggs near water sources like containers, aggressive biters |
| Culex | Active at night, lay eggs in stagnant water, can transmit diseases like West Nile virus |
| Anopheles | Active at night, lay eggs in stagnant water, can transmit malaria |
By understanding the habits and characteristics of the most common mosquito species in your area, you can implement targeted control measures to reduce their populations.
The Impact Of Mosquitoes On Your Garden And Health
Mosquitoes can have a detrimental impact on both your garden and your health.
In the garden, mosquitoes can disrupt outdoor activities, prevent you from enjoying your space, and damage your plants.
Mosquitoes are not only annoying, but they can also transmit diseases such as West Nile virus, dengue fever, and Zika virus to humans and animals.
By taking proactive steps to control mosquitoes in your garden, you can create a safer and more enjoyable outdoor environment for yourself and your family.
This includes identifying and eliminating breeding grounds, using mosquito repellents, and implementing natural pest control methods.
Remember, a mosquito-free garden is within reach. By understanding the mosquito problem in your garden and taking the necessary precautions, you can enjoy your outdoor space to the fullest without worrying about those pesky and potentially dangerous insects.
Creating A Mosquito-proof Garden
Mosquitoes can quickly turn your beautiful garden into an unbearable zone of irritation. However, with the right strategies, you can create a mosquito-proof garden that will allow you to enjoy your outdoor space without constantly swatting away these pesky insects.
Choosing Mosquito-repellent Plants For Your Garden
One effective way to deter mosquitoes from invading your garden is by strategically planting mosquito-repellent plants.
These plants release natural scents that repel mosquitoes, providing you with an all-natural solution to keep them at bay.
Lavender: This fragrant herb not only adds beauty to your garden but also has mosquito-repellent properties. Planting lavender around the perimeter of your garden or near seating areas can help ward off these pesky insects.
Citronella grass: Citronella is widely known for its ability to repel mosquitoes. Cultivate citronella grass in your garden to create a natural barrier against these annoying pests. Consider incorporating this plant into your patio planters or garden borders.
Marigolds: Marigolds not only add vibrant color to your garden but also act as a natural mosquito repellent. Plant them in pots or flower beds near entrances and seating areas to keep mosquitoes away.
Basil: Apart from being a versatile culinary herb, basil also has mosquito-repelling qualities. Growing basil near your outdoor dining area can enhance your dining experience by warding off these bothersome insects.
Natural Ways To Repel Mosquitoes Without Harmful Chemicals
If you prefer natural alternatives to chemical sprays, there are several methods you can employ to repel mosquitoes in your garden.
Mosquito repellent candles: Candles infused with essential oils like citronella, eucalyptus, and lemongrass can create a mosquito-free zone in your garden. Place these candles strategically to keep mosquitoes at bay.
DIY mosquito spray: Create your own mosquito repellent spray using essential oils such as lavender, tea tree, and peppermint. Dilute these oils with water and spray them around your outdoor area to repel mosquitoes.
Mosquito nets or screens: Installing mosquito nets or screens around your patio, deck, or outdoor seating area can offer protection from biting mosquitoes while still enjoying the fresh outdoor air.
Proper Maintenance Of Your Garden To Prevent Mosquito Breeding
To truly have a mosquito-proof garden, it's crucial to eliminate any potential breeding grounds for mosquitoes. Proactive maintenance is key to preventing their reproduction.
Here are some essential steps to maintain a mosquito-free garden:
Remove standing water: Mosquitoes breed in stagnant water. Regularly check your garden for any containers, birdbaths, or pots that may collect water and empty them. This simple step can significantly reduce mosquito populations in your garden.
Trim vegetation: Mosquitoes tend to hide in overgrown vegetation. Regularly trim your bushes, shrubs, and grass to eliminate potential resting spots for mosquitoes.
Keep gutters clean: Clogged gutters can accumulate standing water, becoming ideal mosquito breeding grounds. Ensure your gutters are regularly cleaned and free from debris to prevent stagnant water buildup.
Maintain a clean garden: Remove any debris or fallen leaves from your garden as they can collect water and provide a breeding ground for mosquitoes.
By incorporating these measures into your garden maintenance routine, you can effectively reduce the mosquito population and create a peaceful outdoor environment.
Installing Mosquito-control Devices
Installing mosquito-control devices in your garden is an effective way to get rid of mosquitoes.
These devices, such as bug zappers or mosquito traps, attract and eliminate these annoying pests, allowing you to enjoy your outdoor space without the constant buzzing and bites.
Understanding the effectiveness of mosquito traps
Mosquito traps can be an effective solution for reducing the number of these annoying pests in your garden.
These devices work by attracting mosquitoes and then capturing or killing them.
However, it's important to understand that the effectiveness of mosquito traps can vary depending on various factors.
Choosing the right type of mosquito trap for your garden
When it comes to choosing a mosquito trap, you'll find a wide range of options available in the market. To select the most suitable one for your garden, consider factors such as your budget, the size of your outdoor space, and the level of mosquito infestation. Here are some common types of mosquito traps you can consider:
Electric mosquito traps: These traps use ultraviolet light to attract mosquitoes, and an electric fan or vacuum to capture them. They are effective for small to medium-sized gardens and can be a good option if you're looking for a chemical-free solution.
CO2 mosquito traps: Mosquitoes are attracted to carbon dioxide (CO2) as it indicates the presence of a potential blood source. CO2 mosquito traps emit this gas to lure mosquitoes and then trap or kill them. These traps are generally more effective for larger gardens or areas with high mosquito activity.
Propane mosquito traps: Propane mosquito traps work by generating heat and moisture to imitate human body temperature and perspiration odor, attracting mosquitoes. They also emit CO2 to enhance their attractiveness. These traps are suitable for larger outdoor areas and can significantly reduce mosquito populations.
Tips for proper placement and maintenance of mosquito traps
Once you've selected the right type of mosquito trap for your garden, proper placement and maintenance are crucial for optimal effectiveness.
Here are some tips to ensure you get the most out of your mosquito trap:
Position your trap strategically: Place your mosquito trap in an area where mosquitoes are most likely to gather, such as near standing water sources or shaded areas. Keep it away from areas where people commonly gather to divert mosquitoes' attention.
Regularly clean and maintain your trap: Mosquito traps can accumulate dead mosquitoes, debris, and other residue over time, which can reduce their effectiveness. Clean and empty the trap regularly to ensure it keeps functioning properly.
Consider using attractants: Some mosquito traps offer attractants that can enhance their effectiveness. These attractants can include chemicals that mimic human body odor or additional lures specific to certain mosquito species.
Use multiple traps for larger gardens: If you have a large garden or a significant mosquito problem, consider using multiple traps strategically placed to increase coverage and improve trapping efficiency.
Remember, while mosquito traps can be a useful tool in your battle against these buzzing pests, they may not completely eliminate them.
It's important to combine trap usage with other preventive measures like removing stagnant water, using repellents, and keeping your garden well-maintained.
Implementing Protective Measures For Yourself
The presence of mosquitoes can significantly impact your enjoyment of the garden. To safeguard yourself from these pesky critters, it is essential to implement protective measures. By following these practical tips, you can minimize mosquito bites and create a more comfortable outdoor living space. This section will explore wearing protective clothing, using mosquito repellents effectively, and creating a mosquito-free outdoor living space.
Wearing Protective Clothing To Prevent Mosquito Bites
Wearing the right clothing can be a highly effective way to prevent mosquito bites. When spending time in your garden, consider the following:
Cover as much skin as possible by wearing long-sleeved shirts, long pants, and socks. This helps to minimize exposed areas where mosquitoes can bite.
Opt for loose-fitting clothing to reduce the chance of mosquitoes penetrating through tight-fitting garments.
Consider choosing light-colored clothing as mosquitoes are more attracted to dark colors.
Using Mosquito Repellents Effectively
Mosquito repellents can also serve as an effective defense against these bothersome insects. When using repellents, keep the following in mind:
Choose a mosquito repellent that contains an active ingredient like DEET, picaridin, or oil of lemon eucalyptus. Check the product label for the recommended concentration based on the length of time you will be exposed to mosquitoes.
Apply the repellent evenly to all exposed skin surfaces.
Reapply repellent as directed since its effectiveness can diminish over time.
Creating A Mosquito-free Outdoor Living Space
Transforming your garden into a mosquito-free outdoor living space can provide an oasis free from these irritating pests.
Consider the following steps:
Remove standing water in your garden, such as birdbaths, buckets, and potted plant saucers. Mosquitoes breed in stagnant water, so eliminating these breeding grounds can help reduce their population.
Use mosquito repellent plants in your garden, such as lavender, citronella, and marigolds. These plants emit natural odors that mosquitoes find repulsive.
Install fans on your deck or patio. The breeze created by fans can make it difficult for mosquitoes to fly, thus reducing their presence in your outdoor space.
Consider using citronella candles or torches strategically placed in your garden. Citronella has a strong scent that repels mosquitoes.
Additional Tips And Tricks For Effective Mosquito Control
Mosquitoes can quickly turn your peaceful garden into a buzzing nuisance. The constant swatting and itching can quickly discourage you from spending time outdoors.
While we have already discussed some effective methods to get rid of mosquitoes in the garden, there are a few more tips and tricks that can help enhance your mosquito control efforts.
Minimizing Standing Water In And Around Your Garden
One of the most effective ways to control mosquito populations in your garden is to minimize the availability of standing water.
Mosquitoes breed and lay their eggs in stagnant water sources, so by eliminating these breeding grounds, you can significantly reduce their numbers.
Regularly empty and clean bird baths, flower pots, and saucers. Ensure that they are completely dry before filling them up again.
Check for and fix any leaks or drainage issues in your garden. Ensure that water is not collected in low-lying areas or in containers.
Cover rainwater barrels and other water storage containers with tight-fitting lids or screens to prevent mosquitoes from accessing them.
Using Citronella Candles And Torches For Mosquito Control
Citronella is a natural mosquito repellent that can be an excellent addition to your mosquito control arsenal.
It emits an odor that is unpleasant to mosquitoes, effectively keeping them at bay.
Place citronella candles or torches strategically around your garden, especially in areas where you usually spend time.
Light them up a few hours before you plan to be outdoors to allow the fragrance to disperse and create a mosquito-free zone.
Keep in mind that citronella candles and torches are most effective in windless conditions, as the scent can dissipate quickly in windy environments.
Enlisting The Help Of Beneficial Insects To Control Mosquito Population
Nature provides us with some beneficial insects that are natural predators of mosquitoes.
By attracting and encouraging these insects to thrive in your garden, you can establish an ecosystem that naturally keeps mosquito populations in check.
Plant mosquito-repellent plants such as lavender, marigold, and basil, naturally repel mosquitoes and attract beneficial insects like dragonflies and damselflies.
Consider installing a small pond or water feature in your garden. Dragonflies, in particular, are attracted to water and will naturally patrol the area, devouring mosquito larvae.
Avoid using chemical pesticides that can harm beneficial insects. Instead, opt for organic methods to control other garden pests.
By following these additional tips and tricks, you can enhance your mosquito control efforts and create a more enjoyable outdoor space.
Remember, consistency is key, so be diligent in implementing these measures to keep mosquitoes at bay.
FAQs For How To Get Rid Of Mosquitoes In The Garden
How Do I Keep Mosquitoes Out Of My Garden?
To keep mosquitoes out of your garden, remove any standing water, keep the grass and shrubs trimmed, plant mosquito-repellent plants like marigolds and lavender, use outdoor fans to create a breeze, and consider using natural mosquito repellents or citronella candles.
How Do I Make My Garden Mosquito Free?
To make your garden mosquito-free:
1. Remove any standing water where mosquitoes breed.
2. Keep your garden clean and free of debris.
3. Use mosquito-repelling plants like citronella, lavender, or marigolds.
4. Install mosquito nets or screens on doors and windows.
5. Consider using mosquito repellents or traps for added protection.
How Do I Permanently Get Rid Of Mosquitoes Outside?
To permanently get rid of mosquitoes outside, you can eliminate stagnant water, which is their breeding ground. Use mosquito repellents and insecticides, install bug screens on doors and windows, and use mosquito traps. Ensure proper landscaping and remove any potential mosquito resting areas.
What Can I Spray In My Garden For Mosquitoes?
To repel mosquitoes in your garden, use mosquito spray containing DEET, picaridin, or oil of lemon eucalyptus. These sprays are effective and safe for outdoor use.
Final Words
Overall, implementing these simple yet effective methods can help you get rid of mosquitoes in your garden.
By keeping your space clean and eliminating standing water, you can reduce their breeding grounds.
Natural remedies such as planting mosquito-repellent plants and using essential oils can also play a significant role.
Finally, employing physical barriers and considering professional pest control services can provide further protection.
Remember, taking preventive measures consistently will ensure a mosquito-free garden for you to enjoy all year round.