To get rid of tiger mosquitoes, remove standing water and use mosquito repellents regularly. Tiger mosquitoes can be a nuisance, leaving you itching and uncomfortable.
These pesky insects are known for their aggressive biting behavior and the potential to transmit diseases like dengue fever and Zika virus.
If you're wondering how to remove these unwelcome guests from your surroundings, it's important to understand their breeding habits.
Tiger mosquitoes lay their eggs in stagnant water sources, so removing standing water from your property is a crucial first step.
Additionally, you can use mosquito repellents to ward off these pests and protect yourself from their bites.
By taking these proactive measures, you can effectively tackle the problem of tiger mosquitoes and enjoy a mosquito-free environment.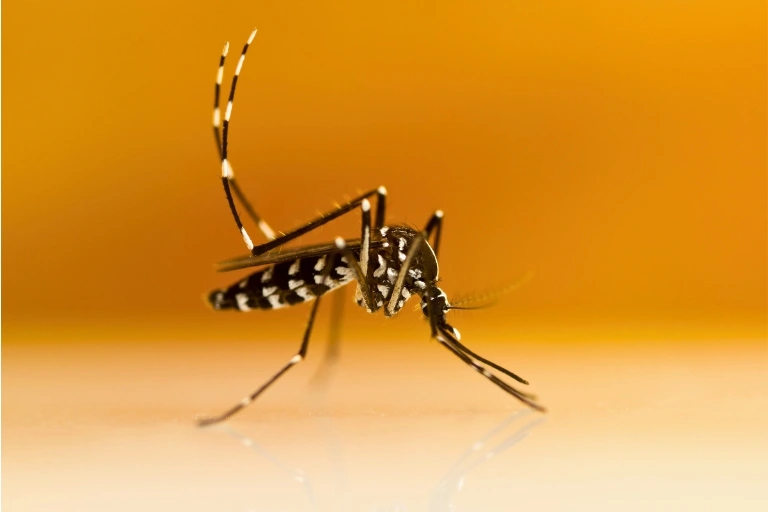 Understanding The Implications Of Tiger Mosquitoes For Public Health
The presence of tiger mosquitoes poses significant risks to public health. To effectively eliminate these pests, follow these tips for getting rid of tiger mosquitoes and protect yourself and your community.
Tiger Mosquitoes: A Global Menace
Tiger mosquitoes, scientifically known as Aedes albopictus, are a significant concern worldwide due to their ability to transmit dangerous diseases.
Originally native to Southeast Asia, these invasive mosquitoes have spread rapidly across the globe, making their presence felt in various regions.
With their distinctive black and white striped bodies, tiger mosquitoes have earned their name as a formidable species of mosquitoes.
Recognizing the global menace they pose is crucial in understanding the implications they have for public health.
The Danger Of Tiger Mosquitoes In Spreading Diseases
Tiger mosquitoes have gained notoriety for their role in transmitting diseases like dengue fever, Zika virus, chikungunya, and yellow fever.
Unlike other mosquito species that primarily bite during the evening or night, tiger mosquitoes are known to be aggressive daytime biters, increasing the risk of disease transmission.
This behavior makes them a significant concern for public health authorities around the world.
The ability of tiger mosquitoes to thrive in urban areas and adapt to various environments further escalates the danger.
They are known to breed in small pools of stagnant water, such as flowerpots, old tires, and even bottle caps.
This adaptability translates into a higher likelihood of encountering these mosquitoes in residential, commercial, and recreational areas.
What compounds the issue is the fact that tiger mosquitoes have a wide range of hosts they feed on, including humans and animals.
This multiplicity of hosts facilitates the transmission of diseases, making tiger mosquitoes a formidable threat to public health.
The Need For Expert Strategies To Combat Tiger Mosquitoes
To effectively combat tiger mosquitoes and minimize the risks they pose to public health, it is essential to employ expert strategies.
Traditional methods, such as using mosquito repellents or mosquito nets, may provide temporary relief, but more comprehensive efforts are required to address the issue at its core.
Public health authorities need to adopt integrated pest management techniques that target the various stages of the mosquito life cycle.
This approach involves identifying and eliminating potential breeding sites, implementing larval control measures, and conducting targeted adult mosquito control activities.
Ensuring the utilization of safe and environmentally friendly methods is equally important to protect not just humans but also the ecosystem.
Furthermore, community involvement and education play vital roles in combating tiger mosquitoes.
Raising awareness about the potential risks of tiger mosquitoes and implementing preventive measures on an individual level are crucial steps toward controlling their population.
Public health campaigns should emphasize the importance of eliminating stagnant water sources, practicing personal protection measures, and reporting any tiger mosquito sightings to the authorities.
By adopting expert strategies and fostering community involvement, we can collectively combat the threat of tiger mosquitoes and safeguard public health.
Understanding their global menace and the dangers they pose in disease transmission strengthens our resolve to take proactive measures, ensuring a safer and healthier environment for everyone.
Recognizing The Characteristics And Behavior Of Tiger Mosquitoes
Tiger mosquitoes (scientifically known as Aedes albopictus) are notorious for their aggressive behavior and their ability to transmit diseases such as dengue fever, Zika virus, and chikungunya.
It's essential to recognize their physical characteristics, understand their habitat preferences and breeding patterns, and learn how to differentiate them from other mosquito species.
By gaining an in-depth understanding of tiger mosquitoes, you can effectively implement strategies to get rid of them and protect yourself from their potentially harmful bites.
Physical Characteristics Of Tiger Mosquitoes
Tiger mosquitoes possess distinct physical features that distinguish them from other mosquito species.
Here are some important characteristics to look out for:
| Characteristic | Description |
| --- | --- |
| Size | Tiger mosquitoes are relatively small, typically measuring about 2 to 10 millimeters in length. |
| Color | These mosquitoes have a distinctive appearance with black bodies and white stripes across their legs, thorax, and abdomen. |
| Wing pattern | Their wings feature prominent patterns of black and white scales, giving them a distinct tiger-like appearance. |
Habitat Preferences And Breeding Patterns Of Tiger Mosquitoes
Tiger mosquitoes have specific habitat preferences and unique breeding patterns. Understanding these aspects can help you identify and prevent their proliferation.
Here are key points to keep in mind:
Preference for urban areas: Tiger mosquitoes thrive in urban environments, preferring areas with plenty of standing water sources such as flower pots, birdbaths, and discarded tires.
Daytime activity: Unlike other mosquito species that are mainly active during twilight hours, tiger mosquitoes are aggressive daytime biters, with peak activity occurring during dawn and dusk.
Breeding habits: Female tiger mosquitoes lay their eggs in water-filled containers, where they can soon hatch into larvae. These mosquitoes can reproduce rapidly, making it crucial to eliminate any potential breeding grounds.
Differentiating Tiger Mosquitoes From Other Mosquito Species
Being able to distinguish tiger mosquitoes from other mosquito species is vital for effective control and prevention.
Here are some key differences to consider:
Physical appearance: As mentioned earlier, tiger mosquitoes have distinct black bodies with white stripes on their legs, thorax, and abdomen.
Daytime activity: Unlike many other mosquito species that primarily bite during the evening and nighttime, tiger mosquitoes actively seek human blood during the day.
Aggressiveness: Tiger mosquitoes have a reputation for aggressive biting behavior, often attacking humans persistently until they obtain a blood meal.
Disease transmission: While many mosquitoes are capable of transmitting diseases, tiger mosquitoes have been identified as significant carriers of dengue fever, Zika virus, and chikungunya.
By recognizing the physical characteristics and behavior of tiger mosquitoes, you can take appropriate measures to control and eliminate their presence effectively.
Remember, prevention is key when it comes to protecting yourself and your surroundings from these invasive and potentially dangerous mosquitoes.
Proven Methods To Eliminate And Prevent Tiger Mosquito Infestations
Are you tired of those pesky tiger mosquitoes ruining your outdoor activities?
Don't worry, we've got you covered! In this blog post, we will share proven methods to eliminate and prevent tiger mosquito infestations.
From eliminating standing water to using effective repellents, natural methods, and even insecticide-based approaches, we have solutions for every situation. Let's dive right in!
Eliminating Standing Water: A Crucial Step In Mosquito Control
One of the most important steps you can take to get rid of tiger mosquitoes is to eliminate standing water around your property.
These mosquitoes breed in stagnant water, so by removing their breeding sites, you are significantly reducing their population.
Here are some tips to help you identify and eliminate common sources of standing water:
Table: Common sources of standing water
| Source | Solution |
| --- | --- |
| Empty flower pots | Turn pots upside down or store them indoors |
| Clogged gutters | Clean out debris regularly |
| Bird baths | Replace water every few days |
| Tire swings | Drill holes to allow water drainage |
| Unused swimming pools | Regularly clean and treat the water or cover the pool |
By following these simple steps, you can prevent tiger mosquitoes from breeding and multiplying in your surroundings, thus reducing the risk of bites.
Effective Use Of Repellents To Deter Tiger Mosquitoes
Repellents are another powerful tool in your arsenal against tiger mosquitoes.
These products work by masking the scents that attract mosquitoes, making it difficult for them to locate their human targets.
When selecting a repellent, look for those containing ingredients like DEET or picaridin, as they are known to be effective against tiger mosquitoes.
Here are some tips to help you use repellents effectively:
Apply repellents to exposed skin and clothing
Follow the instructions on the product label
Reapply as necessary, especially after sweating or swimming
Remember, repellents are a great way to protect yourself and your loved ones from tiger mosquito bites, especially when you're spending time outdoors.
Natural Methods Of Mosquito Control: Plants And Essential Oils
If you prefer natural alternatives, you'll be pleased to know that certain plants and essential oils can also help keep tiger mosquitoes at bay.
These natural repellents not only smell great but can also add beauty to your garden.
Consider planting the following:
Citronella
Lemongrass
Lavender
Peppermint
You can also use essential oils derived from these plants to make your own repellent spray.
Simply mix a few drops with a carrier oil, such as coconut or olive oil, and apply it to your skin or clothing.
This natural approach is safe, eco-friendly, and effective in repelling tiger mosquitoes.
Insecticide-based Approaches For Eradicating Tiger Mosquitoes
In severe infestations or cases where other methods fail, insecticide-based approaches can be used to tackle tiger mosquitoes.
It's important to choose an insecticide specifically designed for mosquito control and follow the instructions carefully.
Here are some commonly used insecticides for tiger mosquito eradication:
Pyrethroids
Permethrin
Deltamethrin
When using insecticide-based approaches, ensure proper safety precautions, such as wearing protective clothing and avoiding direct contact with the product.
It's also advisable to consult a professional pest control service for the effective and safe application of these methods.
Now that you have learned about these proven methods to eliminate and prevent tiger mosquito infestations, you can enjoy your outdoor activities without the constant annoyance of mosquito bites.
Implement these strategies and reclaim your outdoor space today!
The Importance Of Collective Action In Combating Tiger Mosquitoes
Tiger mosquitoes are known to be aggressive biters and carriers of several diseases, making their presence a significant concern for communities worldwide.
Given their ability to adapt and spread rapidly, individual efforts alone may not be enough to tackle this problem effectively.
It is crucial to understand the importance of collective action in combating tiger mosquitoes.
By fostering collaboration, raising awareness, and implementing community-based control programs, we can safeguard our neighborhoods from the threats posed by these bothersome insects.
Raising Awareness About Tiger Mosquitoes And Their Threat
Raising awareness about the presence and potential dangers of tiger mosquitoes is a vital first step in combating their population.
Educating the community about the diseases they may transmit, such as dengue fever, Zika virus, and chikungunya, helps individuals understand the urgency of the issue.
By providing information about their breeding habits, preferred habitats, and prevention strategies, we empower people to take action proactively.
Some effective methods to raise awareness about tiger mosquitoes include:
Distributing educational pamphlets and posters in community centers, schools, and local businesses.
Organizing workshops or seminars with experts on mosquito control and prevention.
Collaborating with local media outlets to feature articles or segments that highlight the risks posed by tiger mosquitoes and the importance of collective action.
Using social media platforms to share informative content, practical tips, and success stories of mosquito control efforts within the community.
Collaborating With Local Authorities And Organizations
A coordinated effort involving local authorities and organizations is crucial in combatting tiger mosquitoes effectively.
By working together, communities can pool resources, share expertise, and streamline mosquito control measures.
Collaborative initiatives should include:
Establishing partnerships with local government agencies responsible for mosquito control, health departments, and environmental organizations.
Hosting regular meetings or forums to discuss and address mosquito-related concerns.
Sharing information about successful prevention strategies and programs implemented by other communities.
Encouraging local businesses, schools, and homeowners' associations to actively participate in mosquito abatement activities.
Implementing Community-based Mosquito Control Programs
Implementing community-based mosquito control programs fosters a sense of collective responsibility and empowers residents to take ownership of mosquito prevention in their neighborhoods.
These programs should aim to:
Encourage the distribution and proper usage of insect repellents and protective clothing.
Promote the elimination of stagnant water sources where mosquitoes breed.
Encourage regular maintenance of yards and gardens to reduce favorable breeding habitats.
Implement targeted pesticide application and biological control measures in high-risk areas.
Facilitate the reporting of mosquito-related issues to relevant authorities for prompt intervention.
By embracing these community-based programs and working collectively, we can minimize the presence and negative impact of tiger mosquitoes in our local environments.
The combined efforts of individuals, authorities, and organizations are instrumental in effectively combating these disease-carrying pests.
Ensuring Continued Success In Keeping Tiger Mosquito Populations Under Control
Achieving continued success in controlling tiger mosquito populations is crucial. Follow these effective methods to get rid of tiger mosquitoes and keep their numbers in check.
The tiger mosquito, scientifically known as Aedes albopictus, is a widespread and invasive species known for its aggressive biting and ability to transmit diseases such as dengue, Zika, and chikungunya.
Controlling and reducing their population is crucial for public health. We will explore key strategies to ensure continued success in keeping tiger mosquito populations under control.
Monitoring And Surveillance Of Tiger Mosquito Populations
Effective mosquito control begins with a thorough understanding of their population dynamics and distribution.
Monitoring and surveillance are essential for pinpointing high-risk areas and identifying potential breeding sites.
Regular inspections of residential areas, parks, and other mosquito-prone locations can help detect and eliminate tiger mosquito breeding grounds.
To effectively monitor tiger mosquito populations, some recommended approaches include:
Trapping: Placing mosquito traps in strategic locations is an efficient way to capture adult mosquitoes and determine population densities. These traps can use attractants such as carbon dioxide and specific mosquito pheromones.
Larval surveillance: Conducting surveys to identify and eliminate mosquito larval habitats, such as stagnant water sources, plays a vital role in reducing population growth.
Geospatial mapping: Using geographical techniques to map tiger mosquito distribution can assist in planning control measures and targeting high-risk areas.
Developing And Implementing Integrated Pest Management Strategies
Integrated Pest Management (IPM) is an effective strategy that combines various pest control methods to reduce reliance on chemical insecticides.
By integrating different approaches, we can achieve long-term and sustainable control of tiger mosquito populations.
Some IPM strategies include:
Source reduction: Identifying and eliminating potential breeding sites, such as removing standing water containers or treating them with larvicides, can significantly impact mosquito populations.
Biological control: Introducing natural predators, like certain species of fish or insects, that feed on mosquito larvae can help control their numbers in aquatic habitats.
Public education: Raising awareness about mosquito-borne diseases, breeding habits, and effective preventive measures can encourage individuals to take necessary actions.
Insecticide application: When necessary, targeted use of insecticides can be employed to control adult mosquitoes. Care should be taken to follow safety guidelines and use environmentally friendly products.
Evaluating The Effectiveness Of Control Measures
It is essential to assess the impact of implemented control measures to determine their effectiveness and make necessary adjustments if needed.
This evaluation process helps refine management strategies and ensure resources are used efficiently.
Techniques for evaluating the effectiveness of control measures include:
| Method | Description |
| --- | --- |
| Population surveys | Regular monitoring and trapping to measure changes in mosquito populations. |
| Disease surveillance | Tracking disease transmission rates to evaluate the impact of control measures on public health. |
| Long-term data analysis | Examining trends in mosquito populations and disease incidence over time to determine the overall efficacy of control interventions. |
Adapting To Changing Mosquito Behaviors And Environmental Conditions
Mosquitoes, including tiger mosquitoes, can display adaptive behaviors and environmental preferences that influence their population dynamics.
Environmental factors such as temperature, humidity, and rainfall can affect their breeding patterns and survival rates.
To ensure continued success in controlling tiger mosquito populations, it is important to adapt strategies based on changing behaviors and environmental conditions.
Some adaptive measures for mosquito control include:
Continuous monitoring: Regular surveillance to detect changes in mosquito populations and breeding patterns.
Environmental modifications: Taking steps to eliminate or manage environmental conditions favorable for mosquito breeding and survival.
Research and innovation: Keeping up with the latest scientific advancements to develop new control methods and strategies.
By implementing these adaptive measures, monitoring populations, developing integrated pest management strategies, and evaluating control measures, we can stay ahead in the ongoing battle against tiger mosquitoes.
Taking a proactive and holistic approach to mosquito control allows us to protect public health and ensure a higher degree of success in reducing their populations.
Frequently Asked Questions Of How To Get Rid Of Tiger Mosquitoes
What Is The Best Way To Repel Tiger Mosquitoes?
The best way to repel tiger mosquitoes is by using mosquito repellents containing DEET or Picaridin. Also, wear long sleeves, pants, and socks to cover exposed skin. Remove any standing water around your home to eliminate breeding grounds. Install screens on windows and doors to keep mosquitoes out.
What Kills The Tiger Mosquito?
The tiger mosquito is killed by using insecticides, eliminating standing water where they breed, and employing physical barriers such as screens or nets.
What Are Tiger Mosquitoes Attracted To?
Tiger mosquitoes are attracted to body heat, sweat, and carbon dioxide. They also prefer dark-colored clothing, as well as moisture and standing water for breeding.
Why Are There So Many Tiger Mosquitoes?
Tiger mosquitoes thrive due to their ability to adapt to diverse environments and reproduce rapidly. Their aggressive behavior and preference for human blood make them highly successful in urban areas. Climate change and global travel also contribute to their spread, increasing their presence worldwide.
Final Thoughts
Combating tiger mosquitoes requires a proactive approach and a combination of preventive measures.
By eliminating breeding sites, using insect repellents, and implementing environmental controls, we can significantly reduce their populations.
Awareness and education are vital in protecting ourselves and our communities from the diseases these mosquitoes carry.
So, let us be vigilant, take action, and create mosquito-free environments for a healthier and safer future.