To get rid of mosquito scars, you can use natural remedies or over-the-counter products specifically designed to fade scars. These methods can help minimize the appearance of mosquito scars and improve the overall texture of your skin.
Mosquito scars are a common concern for many people, especially during the warmer months when mosquitoes are more prevalent.
While these scars may fade over time, there are steps you can take to speed up the healing process and reduce their visibility.
We will explore various ways to get rid of mosquito scars, including natural remedies, over-the-counter treatments, and preventive measures to avoid further scarring.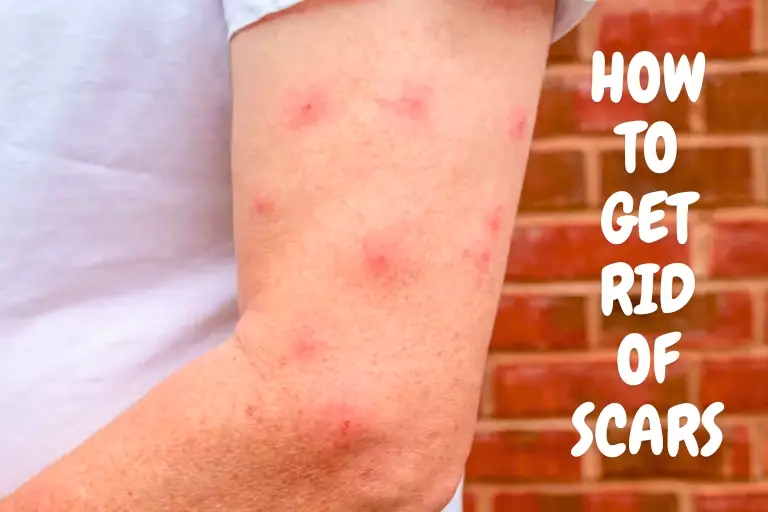 Understanding Mosquito Bites And Scars
Mosquito bites are not only annoyingly itchy but can also leave behind unsightly scars. Understanding the anatomy of mosquito bites, why some people are more prone to scarring, and the different types of mosquito scars can help you effectively deal with them.
In this article, we will delve into each of these aspects to help you understand and ultimately get rid of mosquito scars.
The Anatomy Of A Mosquito Bite
Mosquito bites are a result of female mosquitoes using their sharp, elongated mouthparts to pierce through the skin and feed on blood.
When a mosquito bites, it injects saliva into the skin to prevent blood from clotting.
This saliva contains proteins that can trigger an immune response, resulting in the familiar red bumps and itching that follow mosquito bites.
Why Some People Are More Prone To Scarring
While most mosquito bites heal without leaving lasting marks, some individuals may experience more severe skin reactions that can lead to scar formation.
Several factors contribute to this increased susceptibility to scarring:
Hypersensitivity: Some people have a heightened immune response to mosquito saliva, causing more significant inflammation and increasing the chances of scarring.
Genetic predisposition: Certain individuals may have a genetic predisposition to produce excessive scar tissue, making them more prone to mosquito scars.
Scratching: Constantly scratching mosquito bites can damage the skin further, increasing the risk of scarring.
Delay in healing: If the mosquito bite is deep or remains open for an extended period, it can hinder the natural healing process and lead to scar formation.
The Different Types Of Mosquito Scars
Mosquito scars can manifest in various forms, and understanding these types can help you identify and treat them effectively:
| Type of Mosquito Scar | Description |
| --- | --- |
| Hypertrophic scars | These scars are raised, red, and often itchy. They result from an overproduction of collagen during the healing process and usually improve over time. |
| Atrophic scars | These scars are characterized by depressions or indentations on the skin surface. They occur when there is a loss of collagen during the healing process and can be more challenging to treat. |
| Hyperpigmentation | Hyperpigmentation refers to dark patches or discoloration that occur after mosquito bites. They are caused by the overproduction of melanin in response to inflammation. |
| Post-inflammatory erythema | This type of scar appears as persistent redness or pinkish discoloration and can last for several weeks or even months after the mosquito bite. |
By understanding the anatomy of mosquito bites, the factors influencing scarring, and the different types of mosquito scars, you are equipped with valuable knowledge to address and mitigate the appearance of mosquito scars successfully.
In the upcoming sections, we will explore effective remedies and treatments that can help you get rid of these scars and regain smooth, blemish-free skin.
Tip 1: Treating Mosquito Bites Properly
Mosquito bites can be irritating and, if not treated properly, can leave behind scars.
Taking immediate steps to address the bites, effectively reducing inflammation and itching, as well as preventing infection, are essential to minimize scarring and promote faster healing.
In this step, we'll discuss the necessary actions to take after getting bitten, effective remedies for reducing inflammation and itching, and practical tips to prevent infection and scarring.
Immediate Steps To Take After Getting Bitten
Wash the bitten area with mild soap and water to remove any dirt or potential irritants. This helps prevent infection and reduces the risk of scarring.
Apply a cold compress or ice pack wrapped in a clean cloth to the affected area for about 10 minutes. This can help reduce swelling and relieve itching.
Avoid scratching the bite. Scratching can lead to further irritation, break the skin, and increase the risk of infection and scarring. Consider applying an over-the-counter anti-itch cream or ointment to alleviate the urge to scratch.
Keep the bite clean and dry. Avoid applying excessive creams, oils, or lotions, as they can trap dirt and bacteria, potentially leading to infection and scarring.
Effective Remedies For Reducing Inflammation And Itching
Reducing inflammation and relieving itching are crucial aspects of treating mosquito bites to minimize scarring. Here are some effective remedies to consider:
Apply a topical corticosteroid cream or ointment to reduce inflammation and itching. These products are available over the counter and can help alleviate discomfort.
Use a cold compress or an ice pack wrapped in a cloth several times a day to reduce swelling and itching. Remember to limit the application to 10 minutes at a time to avoid any potential skin damage.
Take an over-the-counter oral antihistamine to alleviate itching and reduce the body's allergic response to mosquito bites. Always follow the instructions on the packaging and consult with a healthcare professional if you have any concerns or medical conditions.
Natural remedies like aloe vera gel, tea tree oil, or witch hazel can also provide relief from itching and inflammation. Apply small amounts to the affected area, and discontinue use if you experience any adverse reactions.
Preventing Infection To Minimize Scarring
Infections can lead to more severe scarring and prolonged healing time. Taking precautions to prevent infection is essential. Here are some practical tips to keep in mind:
Avoid excessive touching or picking at the mosquito bite. Keep your hands clean to minimize the risk of introducing bacteria to the wound.
Consider applying an over-the-counter antibiotic ointment to the bite, especially if it has been scratched and appears to be at risk of infection.
Cover the bite with a clean and breathable bandage if it is in an area prone to rubbing against clothing or potential contamination.
Avoid swimming in pools, hot tubs, or other bodies of water until the bite has fully healed. Prolonged exposure to water can increase the likelihood of infection.
By taking immediate action after getting bitten, using effective remedies to reduce inflammation and itching, and preventing infection, you can significantly minimize the chances of scarring from mosquito bites.
Remember, if you have concerns about a bite or notice any signs of infection or prolonged healing, it's always best to consult with a medical professional for personalized advice and treatment.
Tip 2: Speeding Up The Healing Process
When it comes to getting rid of mosquito scars, speeding up the healing process is crucial.
By promoting faster healing, you can minimize the appearance of scars and help your skin regain its smooth and even texture.
In this step, we will explore some natural methods, the role of good nutrition, and topical treatments that can accelerate the healing process and reduce the visibility of mosquito scars.
Natural Methods To Promote Faster Healing
If you prefer natural remedies, there are several options available that can help your skin heal faster.
These methods harness the power of natural ingredients to facilitate cell regeneration and reduce inflammation.
Apply aloe vera gel: Aloe vera is known for its soothing and healing properties. Applying fresh aloe vera gel directly to your mosquito scars can help speed up healing and reduce redness and inflammation.
Use honey: Honey is a powerful antibacterial agent that can help prevent infections and promote faster healing. Apply a thin layer of raw honey to your scars and leave it on for at least 30 minutes before rinsing off.
Try tea tree oil: Tea tree oil has anti-inflammatory and antiseptic properties that can aid in scar healing. Dilute a few drops of tea tree oil with a carrier oil such as coconut oil and apply it to your scars using a cotton ball.
The Role Of Good Nutrition In Scar Healing
Good nutrition plays a vital role in the healing process, including scar healing. By consuming a well-balanced diet rich in essential nutrients, you can provide your body with the building blocks it needs to repair and regenerate damaged tissues.
Here are some key nutrients that can promote scar healing:
| Nutrient | Food Sources |
| --- | --- |
| Vitamin C | Citrus fruits, bell peppers, strawberries, kiwi |
| Vitamin E | Almonds, spinach, sunflower seeds, avocado |
| Zinc | Lean meats, poultry, seafood, legumes |
By including these nutrient-rich foods in your diet, you can support the healing process and improve the overall appearance of your mosquito scars.
Topical Treatments That Encourage Skin Regeneration
In addition to natural methods and good nutrition, topical treatments can also aid in the healing process and promote skin regeneration.
These treatments often contain ingredients that stimulate collagen production, increase cell turnover, and improve the texture and elasticity of the skin.
Scar creams and gels: Look for scar creams or gels that contain ingredients such as silicone, vitamin E, and onion extract. These ingredients have been shown to help minimize scar formation and improve skin texture.
Retinol serums: Retinol, a derivative of vitamin A, is known for its skin-regenerating properties. Applying a retinol serum to your mosquito scars can promote cell turnover and reduce the appearance of scars over time.
Chemical peels: Chemical peels involve the application of a chemical solution to the skin, which exfoliates the top layer and encourages skin regeneration. This can help fade mosquito scars and reveal smoother, more even skin.
Remember to consult a dermatologist before starting any new topical treatment to ensure it is suitable for your skin type and condition.
Tip 3: Using Over-the-counter Scar Treatments
When it comes to eliminating mosquito scars, using over-the-counter scar treatments is a helpful tip to consider.
These treatments are readily available and can be effective in reducing the appearance of scars caused by mosquito bites.
Key Ingredients To Look For In Scar Creams Or Gels
When it comes to using over-the-counter scar treatments, it's important to know what to look for in the products you choose.
While many scar creams and gels on the market claim to lighten and flatten scars, not all of them are equally effective.
To ensure you're getting the most out of your OTC scar treatment, keep an eye out for these key ingredients:
Silicone: This ingredient is commonly found in scar creams and gels due to its ability to create a protective barrier over the scar. Silicone helps hydrate the skin and regulate collagen production, resulting in improved skin texture and a reduction in scar appearance.
Hydroquinone: Hydroquinone is a popular ingredient in scar treatments for its ability to lighten dark spots and hyperpigmentation. It inhibits melanin production, which can help fade the appearance of mosquito scars and other skin discolorations.
Vitamin E: Known for its antioxidant properties, vitamin E helps promote skin healing and regeneration. It can also moisturize the scar tissue and reduce itching, making it an excellent choice for scar creams.
Allium cepa: Derived from onion extract, allium cepa has been found to have scar-reducing properties. It can improve scar texture and color, making it an ingredient to look for in scar creams or gels.
How Otc Treatments Can Lighten And Flatten Scars
Over-the-counter scar treatments can be an effective solution for lightening and flattening mosquito scars.
These products work by targeting specific aspects of scar formation and promoting healthier skin.
Here's how OTC treatments can help improve the appearance of mosquito scars:
Collagen production: Many scar treatments contain ingredients like silicone and vitamin E, which help regulate collagen production. Collagen is essential for skin repair and can impact the overall appearance of scars.
Moisturization: Scar creams and gels often provide moisturizing benefits, which help soften the skin and minimize scar visibility. Keeping the scar tissue moisturized can also prevent itching and discomfort.
Discoloration reduction: Scar treatments containing hydroquinone or other lightening agents can fade dark spots and hyperpigmentation, making the mosquito scars less noticeable.
Texture improvement: By hydrating the scar tissue and promoting cell turnover, scar treatments can improve the texture of mosquito scars. This can result in smoother and more even-looking skin.
Risks And Considerations For Using Otc Products
Allergic reactions: It's possible to have an allergic reaction to certain ingredients found in scar creams or gels. Before applying a new product, it's wise to perform a patch test on a small area of skin to check for any adverse reactions.
Slow results: OTC scar treatments may take some time to show noticeable results. Patience and consistent application are key when using these products.
Effectiveness may vary: Not all OTC scar treatments provide the same results. What works for one person might not work for another. It may be necessary to try different products or consult with a dermatologist for personalized suggestions.
Pre-existing skin conditions: If you have any pre-existing skin conditions or wounds, it's important to consult with a healthcare professional before using scar treatments. They can provide guidance on whether OTC products are suitable for your specific situation.
When using over-the-counter scar treatments for mosquito scars, be sure to read and follow the instructions provided with the product.
If you have any concerns or questions, don't hesitate to consult with a healthcare professional or dermatologist for personalized advice.
Remember, consistency and patience are key when it comes to reducing the appearance of scars.
Tip 4: Professional Scar Treatment Options
If you've tried various remedies to get rid of mosquito scars but haven't had much success, it might be time to consider professional scar treatment options.
These procedures are specifically designed to address more stubborn or severe scars, providing you with effective solutions for scar removal.
In this step, we will explore dermatological treatments that can help speed up the scar removal process, as well as the benefits and drawbacks of opting for professional scar treatments.
Procedures Available For More Stubborn Or Severe Scars
When it comes to dealing with persistent mosquito scars, there are several procedures available that can help significantly reduce their appearance.
These procedures are usually recommended for scars that have not responded well to home remedies or over-the-counter treatments.
Let's take a look at some of the most popular options:
| Procedure | Description |
| --- | --- |
| Laser resurfacing | This procedure uses laser technology to remove the outer layer of the skin, promoting the growth of new, healthy skin cells. It can be effective in reducing the visibility of mosquito scars. |
| Chemical peels | A chemical solution is applied to the skin to exfoliate the top layers, revealing smoother and rejuvenated skin. Chemical peels can help diminish the appearance of scars over time. |
| Microneedling | This minimally invasive procedure involves using tiny needles to create controlled micro-injuries in the skin. This stimulates collagen production and helps improve the texture and appearance of scars. |
Dermatological Treatments For Speeding Up Scar Removal
In addition to the procedures mentioned above, dermatologists may also recommend specific treatments to accelerate the scar removal process.
These treatments are performed by professionals and can help fade scars more quickly.
Some common dermatological treatments for scar removal include:
Corticosteroid injections: These injections can help reduce inflammation and flatten raised scars.
Silicone gel or sheets: Applying silicone gel or using silicone sheets can help soften and flatten scars over time.
Cryotherapy: This treatment involves freezing the scar tissue, which can help diminish its appearance.
The Benefits And Drawbacks Of Professional Scar Treatments
Like any other treatment, professional scar treatments come with their own set of advantages and disadvantages.
Understanding these can help you make an informed decision when considering professional scar treatment options:
Benefits:
Effective in reducing the visibility of more stubborn scars that haven't responded well to other treatments
Performed by professionals who have expertise in scar removal
Can provide faster and more noticeable results compared to home remedies
Drawbacks:
May require multiple sessions or treatments to achieve desired results
Can be more expensive than over-the-counter remedies
Some treatments may involve minor discomfort or downtime for recovery
Taking all these factors into consideration, professional scar treatments offer a potential solution for individuals struggling with stubborn or severe mosquito scars.
Consult with a dermatologist to determine the most suitable treatment option based on the type and severity of your scars.
With proper guidance and care, you can significantly improve the appearance of your scars and regain smoother, more even-toned skin.
Tip 5: Home Remedies To Fade Mosquito Scars
Mosquito bites can leave behind unpleasant scars that can take a long time to fade.
However, there are several home remedies that can help in fading these mosquito scars naturally.
These remedies are not only effective but also cost-effective, allowing you to achieve smooth and scar-free skin without breaking the bank.
Here are some natural ingredients, homemade recipes, and precautions that you can consider when using home remedies for fading mosquito scars.
Natural Ingredients With Scar-reducing Properties
When it comes to fading mosquito scars naturally, there are several natural ingredients that have shown promise due to their scar-reducing properties.
These ingredients help to promote skin cell regeneration and diminish the appearance of scars. Some effective natural ingredients for fading mosquito scars include:
Aloe Vera: Known for its soothing and healing properties, aloe vera gel can help reduce inflammation and improve the healing process of scars. Apply fresh aloe vera gel to your mosquito scars and leave it on for about 30 minutes before rinsing it off.
Rosehip Seed Oil: Rich in vitamins A and C, rosehip seed oil is known to boost collagen production and improve skin elasticity. It can be applied directly to the mosquito scars twice a day for best results.
Lemon Juice: The natural bleaching properties of lemon juice can help lighten the appearance of scars. Simply apply fresh lemon juice to the affected areas and leave it on for 10-15 minutes before rinsing it off.
Diy Recipes For Homemade Scar Treatments
If you prefer a more hands-on approach, you can try making your own homemade scar treatments using simple ingredients found in your kitchen.
These DIY recipes can be an effective way to fade mosquito scars without the use of harsh chemicals.
Here are a few easy-to-make homemade scar treatments:
| Name | Ingredients | Instructions |
| --- | --- | --- |
| Honey and Turmeric Paste | Honey, Turmeric powder | Mix equal amounts of honey and turmeric powder to form a paste. Apply the paste to your mosquito scars and leave it on for 20 minutes before rinsing it off. |
| Coconut oil and Sugar Scrub | Coconut oil, Sugar | Mix coconut oil and sugar to create a scrub. Gently massage the scrub onto your mosquito scars in circular motions for a few minutes before rinsing it off. |
| Tomato and Cucumber Slices | Tomato, Cucumber | Cut a tomato and cucumber into slices. Place the slices on your mosquito scars and leave them on for 15-20 minutes. Rinse off with water. |
Precautions To Take When Using Home Remedies
While home remedies can be effective in fading mosquito scars, it is important to take certain precautions to ensure safe and optimal results.
These precautions include:
Perform a patch test before applying any new ingredient or homemade remedy to check for any allergic reactions.
Avoid applying home remedies on open wounds, as they can cause irritation or infection.
Moisturize your skin regularly to keep it hydrated and prevent the formation of new scars.
Be consistent with your chosen home remedy and give it time to show results, as scar fading is a gradual process.
If you experience any skin irritation or discomfort, discontinue the use of the home remedy and consult a dermatologist.
By incorporating natural ingredients, trying DIY recipes for homemade scar treatments, and following the necessary precautions, you can effectively fade mosquito scars and achieve smoother-looking skin.
With a little patience and consistency, you'll be able to say goodbye to those pesky reminders of mosquito bites in no time.
Tip 6: Lifestyle Changes For Scar Prevention
Preventing mosquito bites is the first step towards avoiding the dreaded scars they leave behind.
By taking protective measures to keep these pesky insects at bay, you can significantly reduce your chances of developing scars.
Additionally, cultivating healthy habits for your skin and establishing consistent skincare routines are vital in minimizing mosquito bite scars.
In this step, we will delve into the various lifestyle changes you can incorporate to prevent future bites and promote skin healing.
Let's explore these crucial factors in scar prevention.
Protective Measures To Avoid Future Mosquito Bites
Mosquitoes are primarily active during dawn and dusk, so it's crucial to be mindful of your outdoor activities during these times.
To protect yourself from mosquito bites, consider the following measures:
Wear long-sleeved shirts and long pants to minimize exposed skin.
Apply an EPA-approved insect repellent containing DEET or picaridin to exposed skin, following the instructions on the product label.
Consider using mosquito nets or screens on windows and doors to prevent these insects from entering your home.
Eliminate standing water sources around your living area, as they serve as breeding grounds for mosquitoes.
When spending time outdoors, especially in wooded areas or near water, use outdoor fans or citronella candles to create air movement and deter mosquitoes.
Habits To Cultivate For Healthier Skin And Reduced Scarring
Adopting healthy habits for your skin can play a significant role in minimizing scars caused by mosquito bites.
Consider the following practices:
Avoid scratching mosquito bites, as it can lead to excessive inflammation and increased scarring.
Keep the affected areas clean and dry to prevent infection and promote healing.
Apply over-the-counter hydrocortisone creams or calamine lotion to alleviate itching and reduce inflammation.
Avoid exposing healing mosquito bites to excessive sunlight, as it can exacerbate scarring.
Stay hydrated by drinking an adequate amount of water daily. Hydration is essential for overall skin health.
The Importance Of Consistent Skincare Routines
When it comes to scar prevention, establishing a consistent skincare routine is crucial. Your skin requires proper care and nourishment to heal effectively.
Here are some essential steps to incorporate into your daily skincare regimen:
| | |
| --- | --- |
| 1. | Cleanse your face and body with a gentle, pH-balanced cleanser to remove impurities. |
| 2. | Use an alcohol-free toner to remove any residual dirt or oil. |
| 3. | Apply a moisturizer suitable for your skin type to keep it hydrated and protected. |
| 4. | Don't forget to apply sunscreen with a minimum SPF of 30 to shield your skin from harmful UV rays. |
| 5. | If applicable, use scar-minimizing creams or ointments recommended by a dermatologist to aid in the healing process. |
By incorporating these steps into your skincare routine, you provide your skin with the necessary care and attention it needs to heal properly, reducing the likelihood of mosquito bite scars.
Tip 7: Mindset And Confidence Boosting
Dealing with mosquito scars can sometimes take a toll on our self-esteem and confidence.
The visible marks left behind by mosquito bites can make us feel self-conscious and uncomfortable in our own skin.
However, it's important to remember that our mindset plays a crucial role in our healing process.
By adopting a positive and confident mindset, we can not only accelerate the healing of these scars but also embrace our natural beauty.
In this step, we will explore self-care practices, coping strategies, and the importance of self-acceptance in boosting our mindset and confidence during the healing process.
Self-care Practices To Improve Self-esteem During The Healing Process
During the healing process of mosquito scars, it's important to prioritize self-care practices that can boost our self-esteem and promote a positive mindset.
Here are some effective self-care practices:
Moisturize: Keeping the affected area moisturized can help reduce itching and minimize the appearance of scars. Opt for a moisturizer enriched with ingredients like aloe vera or vitamin E, known for their soothing and healing properties.
Practice mindfulness: Engaging in mindfulness activities such as meditation or deep breathing exercises can help reduce anxiety and increase self-awareness. This can help shift our focus from the scars to our overall well-being, promoting a healthier mindset.
Nourish your body: Eating a balanced diet rich in fruits, vegetables, and nutrient-dense foods can support the healing process. When our bodies are nourished from within, it reflect on our skin, setting the stage for improved self-esteem.
Coping Strategies For Dealing With Scars Emotionally
Emotional well-being is just as important as physical healing when it comes to dealing with mosquito scars.
Here are some coping strategies to help you navigate the emotional journey:
Seek support: Reach out to friends, family, or support groups who may have experienced similar scars. Sharing your feelings and experiences can provide a sense of relief and remind you that you're not alone.
Practice self-compassion: Be kind to yourself and practice self-compassion during the healing process. Treat yourself with patience and understanding, acknowledging that healing takes time.
Engage in positive self-talk: Replace negative self-talk with positive affirmations. Remind yourself of your worth and inner beauty, focusing on your strengths rather than the scars.
Embracing Your Natural Beauty And Self-acceptance
Embracing your natural beauty and cultivating self-acceptance is a powerful way to boost your confidence and mindset during the healing process.
Here are a few strategies to help you embrace your natural beauty:
Focus on what makes you unique: Celebrate your individuality and the qualities that make you special. Recognize that scars are a part of your story, a mark of resilience and strength.
Practice gratitude: Shift your focus onto the things you are grateful for in life. Developing an attitude of gratitude can help you appreciate your body and all its amazing capabilities.
Look beyond physical appearances: Remind yourself that true beauty emanates from within. Your scars do not define you; it's your character, kindness, and compassion that truly matter.
FAQs Of How To Get Rid Of Mosquitoes Scars
Do Mosquito Scars Go Away?
Mosquito scars typically fade over time as the skin regenerates, but the duration varies for each person. Regular application of scar-healing creams and keeping the area moisturized can help speed up the healing process.
How Do You Get Rid Of Dark Spots From Mosquitoes?
To get rid of dark spots from mosquito bites, apply lemon juice or apple cider vinegar to the affected area. These natural remedies contain acids that help lighten the spots. Additionally, wearing insect repellent and avoiding scratching can prevent future dark spots.
How Long Does It Take For A Mosquito Bite To Fade?
A mosquito bite typically takes 1-2 days to fade completely.
Does Vaseline Help With Mosquito Scars?
Yes, Vaseline can help with mosquito scars by moisturizing the skin and promoting healing.
Final Thoughts
Getting rid of mosquito scars requires a combination of preventive measures and effective treatments.
By keeping mosquitoes at bay and properly caring for mosquito bites, you can minimize the chances of scarring.
Utilizing natural remedies, over-the-counter products, or seeking professional advice can also aid in reducing the appearance of existing scars.
Remember, consistency and patience are key to achieving smooth, scar-free skin. Take control of your skin health and bid farewell to those pesky mosquito scars for good.