Mosquito bites bruise because when a mosquito pierces the skin, it releases saliva that contains anticoagulants, which prevent blood from clotting. This causes the blood vessels near the bite to leak and result in bruising.
The immune system also responds to the mosquito's saliva, triggering inflammation and swelling in the area surrounding the bite.
Consequently, the combination of blood vessel leakage and inflammation leads to the appearance of a bruise.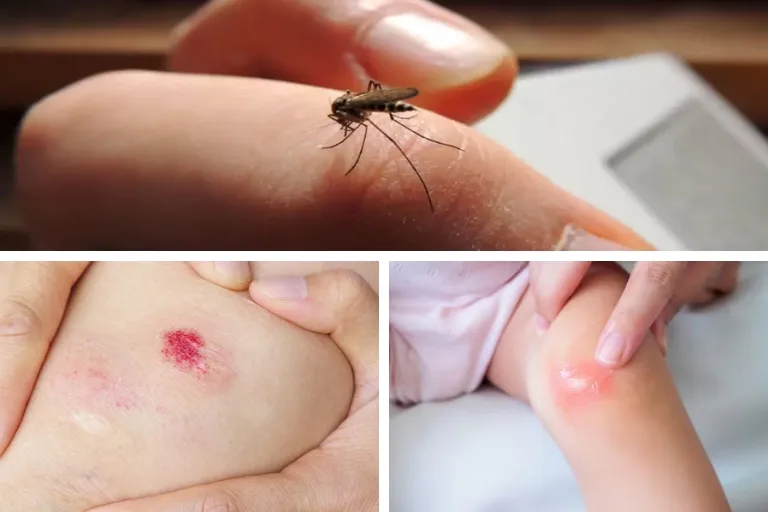 The Science Behind Mosquito Bite Bruises
Mosquito bites are not only itchy and bothersome, but they can also leave behind unsightly bruises.
Have you ever wondered why some mosquito bites seem to turn into bruises?
There is actually a scientific explanation behind this phenomenon. In this article, we will delve into the science behind mosquito bite bruises and explore the factors that contribute to their formation.
What Causes Mosquito Bites To Bruise?
Mosquito bites can sometimes result in a bruise-like discoloration on the skin, leaving you puzzled about the cause.
Bruising after a mosquito bite can be attributed to a combination of factors, including the body's immune response and the release of certain chemicals.
Exploring The Role Of Histamine In Bruising
One significant factor contributing to mosquito bite bruises is the release of histamine. When a mosquito bites, it pierces the skin and deposits its saliva into the wound.
The saliva contains various proteins and substances that help the mosquito feed on your blood without interruption.
However, these substances can trigger an immune response in your body.
As part of this immune response, histamine is released from specialized cells called mast cells.
Histamine works by dilating blood vessels and increasing blood flow to the affected area.
While this response is intended to help the body fight off any potential pathogens introduced by the mosquito, it can also lead to localized inflammation, swelling, and bruising.
Understanding The Body's Immune Response To Mosquito Bites
Mosquito bites are essentially minor wounds that trigger the body's immune system to react.
When a mosquito pierces the skin, the body identifies the mosquito's saliva as foreign and mounts an immune response to neutralize any potential threats.
This immune response involves the recruitment of immune cells and the release of various chemical mediators, including histamine.
The body's immune system recognizes the mosquito saliva as an invader, and in response, it dispatches white blood cells known as leukocytes to the site of the bite.
These cells help defend against infection and initiate the healing process. The immune system also activates other defense mechanisms, such as the release of pro-inflammatory substances, to combat the intrusion.
The Relationship Between Bruising And Inflammation
Inflammation and bruising often go hand in hand. When the immune system detects an injury, it triggers an inflammatory response, leading to swelling, redness, and heat in the affected area.
This inflammation can cause blood vessels to leak, resulting in a pool of blood beneath the skin, which eventually manifests as a bruise.
Although bruising is a common occurrence after a mosquito bite, the severity of the bruise may vary from person to person.
Factors like an individual's skin type, immune response, and underlying health conditions can influence the extent of bruising.
Factors That Influence Mosquito Bite Bruising
Mosquito bites are often more than just an itchy annoyance. If you've ever noticed that your mosquito bites tend to bruise, you may be wondering why some people experience bruising while others do not.
The truth is, that several factors can influence the degree of bruising that occurs after a mosquito bite.
Understanding these factors can shed light on why mosquito bites bruise and help you find ways to alleviate the discomfort.
The Importance Of Individual Variation
When it comes to mosquito bite bruising, individual variation plays a significant role.
Some individuals naturally have more sensitive skin, which may increase the likelihood of bruising after a mosquito bite.
Factors such as skin thickness, blood vessel structure, and overall skin health can vary greatly among individuals, affecting the bruising response.
It's important to note that while some people may rarely experience bruising, others may bruise frequently due to their unique biological makeup.
How Genetics Play A Role In Bruising
Genetics also contribute to why some people bruise more easily than others. Certain genetic variations affect blood clotting factors, making it easier for bruises to form.
Additionally, some individuals may have a genetic predisposition to inflammation, which can intensify the bruising response after a mosquito bite.
While genetics cannot be altered, understanding your own genetic makeup can help you manage and mitigate the bruising associated with mosquito bites.
Environmental Factors That Affect Bruising
Mosquito bite bruising can also be influenced by external factors. The environment in which you encounter mosquitoes can impact the severity of bruising.
For instance, if you are exposed to mosquitoes in areas with high humidity or extreme heat, your blood vessels may be more prone to dilation, leading to increased bruising.
Additionally, certain skin care products, such as perfumes or lotions, may make your skin more susceptible to bruising when bitten by a mosquito.
Being mindful of your surroundings and avoiding potential triggers can help minimize bruising.
Impact Of Pre-existing Medical Conditions On Bruising
In some cases, pre-existing medical conditions can enhance the bruising response to mosquito bites.
Medical conditions like diabetes, hematological disorders, or autoimmune diseases may interfere with normal blood clotting mechanisms, making bruising more likely and the healing process slower.
Similarly, individuals on blood-thinning medications or supplements may experience increased bruising due to the medications' effects.
If you have a medical condition or are taking any medications, it's crucial to monitor your mosquito bite reactions carefully and consult with a healthcare professional if necessary.
Tips For Preventing Mosquito Bite Bruising
When those pesky mosquitoes bite, it's not just the itchiness that can be a pain. Many of us have experienced mosquito bites that leave behind unsightly bruises.
But why do mosquito bites bruise, and more importantly, how can you prevent it from happening?
Proper Mosquito Bite Prevention Techniques
Mosquitoes are attracted to certain scents and temperatures, so one of the most effective ways to prevent mosquito bites is to avoid activities that can entice them.
Here are some essential techniques to keep those buzzing nuisances away:
Stay indoors during peak mosquito activity, usually at dawn and dusk.
Remove any standing water in your surroundings, as mosquitoes breed in stagnant water.
Cover your body with lightweight, long-sleeved clothing and long pants.
Use screens on windows and doors to prevent mosquitoes from entering your home.
Using Insect Repellents Effectively
Insect repellents can be your best defense against mosquito bites. However, it's important to use them correctly to maximize their effectiveness.
Here's what you need to know:
Choose a repellent that contains active ingredients like DEET or picaridin.
Apply the repellent evenly on all exposed areas of your skin.
Reapply the repellent according to the instructions, especially if you are sweating or swimming.
Avoid applying repellent on cuts, wounds, or irritated skin.
Dressing For Protection Against Mosquito Bites
Your choice of clothing can play a significant role in preventing mosquito bites:
Wear light-colored clothing, which is less attractive to mosquitoes.
Opt for loose-fitting garments that cover as much of your skin as possible.
Tuck your shirt and pants into your socks or shoes to create a barrier.
Consider treating your clothing with permethrin, an insect repellent specifically designed for fabrics.
Managing Bite Itchiness To Prevent Excessive Scratching
When a mosquito bite itches, it can be tough to resist scratching. However, excessive scratching can lead to further irritation and bruising.
Here are some methods to manage the itchiness:
Apply over-the-counter hydrocortisone cream or calamine lotion to reduce itching.
Place a cold compress or ice pack on the bite to alleviate discomfort.
Avoid scratching the bite, as it can break the skin and increase the risk of bruising and infection.
Consider taking antihistamine medications, but only after consulting your healthcare professional.
By following these tips and implementing these precautions, you can minimize the chances of bruising from mosquito bites.
Remember to be proactive in mosquito bite prevention, and enjoy the outdoors without unsightly marks!
Treating Mosquito Bite Bruises
When mosquitos bite, they inject their saliva into our skin, and our body's immune response to the saliva can cause itching, redness, and swelling.
Sometimes, mosquito bites can also lead to bruising. If you find that your mosquito bites often result in bruises, it's important to know how to treat them effectively.
First Aid Remedies For Mosquito Bite Bruising
When you notice a mosquito bite that has bruised, immediate first aid can help alleviate discomfort and reduce the severity of the bruise.
Here are some first-aid remedies to try:
Elevate the affected area above your heart level to reduce blood flow and swelling.
Apply a cold compress or ice pack wrapped in a cloth to the bite to decrease inflammation and constrict blood vessels.
Take an over-the-counter pain reliever, such as acetaminophen or ibuprofen, to help manage any pain or swelling.
Over-the-counter Options For Bruise Relief
If the bruising from mosquito bites is causing significant discomfort, there are various over-the-counter products you can consider:
| Product | Description |
| --- | --- |
| Arnica gel or cream | Contains natural ingredients that can reduce bruising and inflammation. |
| Vitamin K cream | Helps promote healing of bruises and reduces their appearance. |
| Hydrocortisone cream | Can help alleviate itching and inflammation associated with mosquito bites. |
Natural Remedies To Reduce Bruising And Inflammation
If you prefer natural remedies, here are some options that can help reduce mosquito bite bruising:
Applying aloe vera gel, which has soothing and anti-inflammatory properties.
Using witch hazel acts as an astringent and can reduce swelling and inflammation.
Use a cold tea bag (green or black tea) as a compress, as the tannins in tea can help constrict blood vessels.
When To Seek Medical Attention For Severe Bruising
In most cases, mosquito bite bruises are harmless and will heal on their own. However, if you experience severe bruising accompanied by other concerning symptoms, it's essential to seek medical attention.
The following signs warrant medical evaluation:
Excessive pain that does not improve with over-the-counter pain relievers.
Swelling that spreads beyond the bite site.
Development of pus, increased redness, or warmth around the bite area.
Bruises that do not fade or heal after a few weeks.
While mosquito bite bruises can be bothersome, they are usually temporary and can be effectively managed with the right remedies.
Myth Busting: Common Misconceptions About Mosquito Bite Bruises
Mosquitoes are pesky little insects that can leave behind more than just an itchy bite.
Many people have experienced the frustration of mosquito bite bruises, but there are several common misconceptions surrounding this phenomenon.
Debunking The Belief That Only Some People Bruise From Mosquito Bites
There is a common belief that only certain individuals are prone to bruising from mosquito bites, while others seem to be unaffected.
However, this notion is simply not true. Mosquito bite bruises can occur in anyone, regardless of their susceptibility to bruising.
The appearance of bruises may vary depending on factors such as the individual's skin sensitivity and the severity of the mosquito bite.
Bruising occurs when the mosquito's saliva, which contains anticoagulant compounds, causes blood vessels near the bite site to leak.
This leakage leads to the pooling of blood beneath the skin, resulting in a bruise.
So, if you've ever wondered why some mosquito bites leave you with a bruise while others don't, it's all about the interaction between your body's response and the specific mosquito.
Exploring Misconceptions About Mosquito Bite Prevention And Bruising
Many misconceptions surround the prevention of mosquito bites and the subsequent bruising.
Firstly, the idea that applying insect repellents can prevent bruises is not entirely accurate. While repellents can indeed help keep mosquitoes at bay, they do not directly impact the bruising process.
The key to preventing mosquito bite bruises lies in avoiding scratching the bites. Scratching can further irritate the skin, increase inflammation, and exacerbate the bruising.
Therefore, focus on resisting the urge to scratch and instead opt for over-the-counter anti-itch creams or natural remedies like aloe vera or chamomile to alleviate discomfort.
Another common misconception is that wearing dark-colored clothing can attract more mosquitoes.
However, the color of your clothing has no direct influence on mosquito attraction. Instead, mosquitoes are drawn to body heat, sweat, and certain scents.
Therefore, it is more effective to focus on using repellents and taking other preventive measures such as avoiding mosquito-infested areas during peak activity times.
Addressing Popular Home Remedies That Claim To Prevent Bruising
Various home remedies claim to prevent mosquito bite bruises. However, it's important to distinguish fact from fiction when it comes to these remedies.
One popular belief is that applying vinegar or lemon juice to mosquito bites can prevent bruising.
While these acidic substances may provide temporary relief from itching, there is no scientific evidence to support the claim that they can prevent bruises.
Instead, it's best to focus on not scratching the bites and using appropriate anti-itch remedies to minimize the risk of bruising.
Additionally, another home remedy suggests applying a cold compress or ice pack to the bite area to prevent bruising.
While cold compresses can provide temporary relief by numbing the area and reducing inflammation, they do not directly prevent bruising.
Similarly, applying heat to a mosquito bite does not aid in preventing bruising either. Both heat and cold therapies can be used for soothing purposes, but their impact on bruising is minimal.
Dispelling Myths About Using Heat Or Cold To Treat Mosquito Bite Bruises
When it comes to treating mosquito bite bruises, the use of heat or cold is a common misconception.
Some people believe that applying heat can help the bruise heal faster, while others advocate for using cold to reduce swelling.
However, neither of these approaches has a significant impact on the healing process or the duration of the bruise.
The best course of action for treating mosquito bite bruises is to allow them to heal naturally over time.
The body's natural healing mechanisms will gradually absorb the pooled blood, and the bruise will fade away.
In the meantime, you can manage discomfort by using over-the-counter pain relievers, applying topical creams, or using cold compresses for short-term relief.
Remember, patience is key when it comes to healing mosquito bite bruises.
FAQs For Why Do My Mosquito Bites Bruise
Is It Normal For A Mosquito Bite To Bruise?
Yes, it is normal for a mosquito bite to bruise. The mosquito's saliva can cause an allergic reaction, leading to inflammation and blood vessels leaking, resulting in a bruise.
Why Do All My Mosquito Bites Turn Purple?
Mosquito bites turn purple due to the body's immune response to their saliva, releasing histamine and causing inflammation. This can lead to blood vessels leaking and giving the bite a purple appearance.
Why Do My Mosquito Bites Leave Dark Marks?
Mosquito bites leave dark marks because the insect injects saliva while biting, causing an immune reaction. This leads to an increase in melanin production, which results in a darkened appearance.
What Does Skeeter Syndrome Look Like?
Skeeter syndrome causes severe allergic reactions to mosquito bites. Symptoms include redness, swelling, itching, and pain.
Final Thought
Understanding why mosquito bites bruise is essential in dealing with the aftermath of these pesky bites.
By knowing the underlying factors that contribute to bruising, such as the body's immune response and the mosquito's saliva, we can find ways to alleviate the discomfort and reduce the appearance of bruises.
With proper care and preventive measures, we can better protect ourselves from the annoyance and potential health risks associated with mosquito bites.
Stay informed and take action to keep those bruises at bay.