To repel mosquitoes in your yard, eliminate standing water and use mosquito repellent products. Welcome to our comprehensive guide on repelling mosquitoes in your yard.
Mosquitoes can be a real nuisance and even a health concern, so it's important to take measures to keep them away from your outdoor spaces.
We'll discuss effective methods to repel mosquitoes, from eliminating their breeding grounds to using natural repellents.
By following these tips, you'll be able to create a mosquito-free zone in your yard and enjoy your time outdoors without the constant buzzing and itchy bites. Let's get started!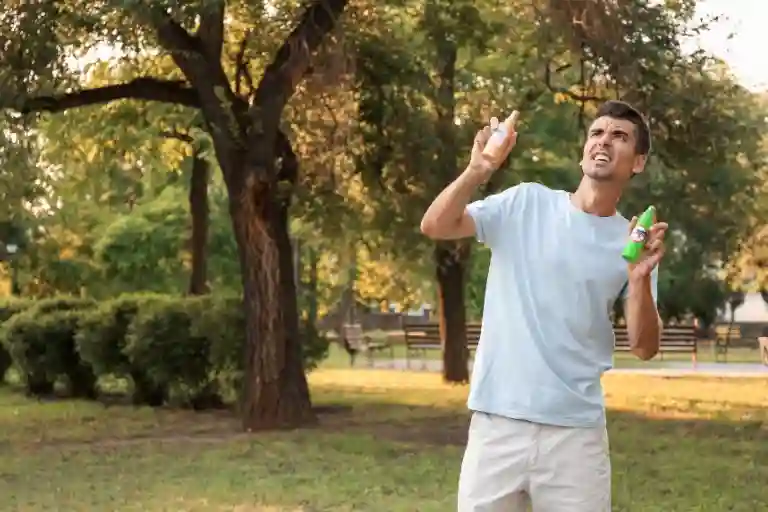 Understanding The Mosquito Problem
Reduce the mosquito problem in your yard with these effective repellent methods.
Keep your outdoor space mosquito-free and enjoy the outdoors without the annoying buzzing and bites.
The Importance Of Mosquito Control In The Yard
When it comes to enjoying the great outdoors, nothing ruins the experience faster than a swarm of pesky mosquitoes.
These blood-sucking insects not only cause itchy bites, but they can also transmit dangerous diseases such as malaria, dengue fever, and Zika virus.
To keep your yard a safe and pleasant place to be, it is crucial to understand the mosquito problem and take necessary measures to repel it.
The Dangers Of Mosquito Bites
Mosquito bites are not just a nuisance, they can pose serious threats to both humans and pets.
Mosquitoes are known to carry and transmit various diseases, infecting their victims with bacteria, viruses, or parasites.
These diseases can range from mild discomfort to life-threatening conditions. It's not a risk worth taking, especially if you live in an area where mosquitoes are prevalent.
Protecting yourself and your loved ones from mosquito bites should be a top priority.
Exploring The Life Cycle Of Mosquitoes
Understanding the life cycle of mosquitoes can aid in effective mosquito control. Mosquitoes go through four distinct stages in their life cycle: eggs, larvae, pupae, and adults.
Each stage has its own characteristics and vulnerabilities that can be targeted to prevent the population from growing.
By interrupting their life cycle and eliminating breeding sites, you can significantly reduce the number of mosquitoes in your yard.
Eggs: Female mosquitoes lay their eggs in stagnant water, which can be as small as a bottle cap. Eliminating any standing water around your yard can greatly reduce the number of eggs hatching into larvae.
Larvae: The larvae live in the water, feeding on organic matter and developing into pupae. Regularly emptying and cleaning any water containers or areas that collect rainwater, such as flower pots, bird baths, or clogged gutters, can disrupt the larval stage and prevent them from maturing into mosquitoes.
Pupae: During the pupal stage, mosquitoes do not feed. They develop inside cocoons, becoming fully formed mosquitoes. Even though they are not actively feeding during this stage, it is crucial to remove any water sources to prevent their emergence as adult mosquitoes.
Adults: Once the mosquitoes emerge from the pupal stage, they are ready to take flight and start biting. This is the stage where they become a nuisance and a threat to your yard. Using mosquito repellents, installing screens on windows and doors, and maintaining a well-trimmed yard can help keep adult mosquitoes at bay.
By understanding the importance of mosquito control in your yard, the dangers of mosquito bites, and the life cycle of mosquitoes, you can take the necessary steps to repel these blood-thirsty pests effectively.
With a few proactive measures, you can create a safe and enjoyable outdoor environment for yourself, your family, and your friends to relax and enjoy without the constant annoyance of mosquitoes.
Eliminating Breeding Sites
Mosquitoes can quickly turn your yard into an annoying breeding ground, making it unbearable to enjoy your outdoor spaces.
The key to reducing the mosquito population in your yard is to eliminate their breeding sites.
By identifying and targeting these areas, you can significantly reduce mosquito activity and reclaim your yard.
Let's explore some effective strategies for eliminating mosquito breeding sites.
Identifying And Eliminating Standing Water Sources
Standing water is a prime breeding ground for mosquitoes. These pesky insects can lay their eggs in even the tiniest amount of stagnant water, including flower pots, buckets, and birdbaths.
It's crucial to identify and eliminate these water sources to prevent mosquitoes from multiplying.
Here are some effective ways to address standing water:
Empty and clean any containers that collect water on a regular basis, such as plant saucers, old tires, and pet dishes.
Store outdoor toys, gardening tools, and unused pots upside down to prevent water accumulation.
Keep your gutters clean and free from debris to avoid water buildup. Let's delve deeper into this important step.
Clearing Gutters And Drains
Gutters and drains are often overlooked when it comes to mosquito prevention.
These areas can easily become clogged with leaves and other debris, creating stagnant water pools that attract mosquitoes.
Proper maintenance of gutters and drains is essential in preventing mosquito breeding.
Follow these steps to keep your gutters and drains clear:
Frequently inspect your gutters and remove any leaves, twigs, or other debris that could impede proper water flow.
Ensure downspouts are directing water away from your home's foundation and not creating puddles near the yard.
For areas with outdoor drains, periodically flush them with water to remove any potential blockages.
Properly Maintaining Ponds And Bird Baths
Ponds and bird baths can provide a refreshing oasis for your yard, but if not maintained properly, they can become breeding grounds for mosquitoes.
Here's how to keep these water features mosquito-free:
Keep your pond clean by removing debris, such as fallen leaves and algae, which can create standing water.
Add mosquito-eating fish, such as goldfish or guppies, to your pond. These natural predators can help control the mosquito population.
Change the water in bird baths frequently, ideally once a week, to prevent mosquito eggs from hatching. Scrub the basin with a brush to remove any residue.
By following these strategies, you can effectively eliminate mosquito breeding sites in your yard, reducing the mosquito population and making your outdoor spaces more enjoyable.
Remember to be diligent in your efforts and repeat these preventative measures regularly to maintain a mosquito-free environment.
Natural Repellents For Mosquitoes
Create a mosquito-free yard with effective natural repellents. Keep these pesky insects away without harmful chemicals and enjoy your outdoor space.
Using Essential Oils As A Mosquito Repellent
Mosquitoes can turn a peaceful evening in your yard into a nightmare. Luckily, there are natural ways to keep those pesky bugs at bay.
Essential oils are highly effective in repelling mosquitoes and are safe for the environment, unlike chemical-based repellents.
Here are some popular essential oils that can help you keep mosquitoes away:
Lemon Eucalyptus Oil: This oil is known for its strong mosquito-repelling properties. The active ingredient, citronellal, masks the scents that attract mosquitoes.
Lavender Oil: Apart from its calming fragrance, lavender oil also acts as a natural mosquito repellent. Its scent is pleasing to humans but repels mosquitoes.
Peppermint Oil: The strong aroma of peppermint oil is unbearable for mosquitoes. You can mix it with water and spray it around your yard to keep these bugs away.
Using essential oils as a mosquito repellent is simple and effective. Add a few drops of your preferred essential oil to a carrier oil like coconut oil or olive oil.
Apply the mixture to your exposed skin or clothing before heading outside. Not only will you repel mosquitoes, but you'll also smell great!
Creating Homemade Mosquito Repellent Sprays
If you prefer to have a spray-on repellent, you can easily make your own at home. Homemade mosquito repellent sprays are not only cost-effective but also customizable.
Here's a simple recipe to create your own homemade spray:
| | |
| --- | --- |
| Ingredients: | Instructions: |
| – Witch hazel or vodka | 1. Fill a spray bottle halfway with either witch hazel or vodka. |
| – Distilled water | 2. Fill the remaining half with distilled water. |
| – Essential oils of your choice | 3. Add 10-20 drops of essential oils such as lemon eucalyptus, lavender, or peppermint. |
| – Optional: Vegetable glycerin | 4. If you want a moisturizing effect, add a teaspoon of vegetable glycerin. |
| | 5. Shake the bottle well to combine all the ingredients. |
With your homemade mosquito repellent spray ready, apply it to your skin, clothing, and any areas of your yard where mosquitoes tend to gather.
Feel free to experiment with different essential oils to find the scent you enjoy the most.
Cultivating Mosquito-repelling Plants
Another effective way to repel mosquitoes naturally is by cultivating mosquito-repelling plants in your yard.
These plants emit fragrances that mosquitoes find repulsive, keeping them at bay.
Here are a few mosquito-repelling plants you can consider:
Citronella: This classic mosquito-repelling plant is available in candle form and as a perennial plant. Its strong lemon-like scent masks the scents that attract mosquitoes.
Lemon Balm: With its calming fragrance, lemon balm is not only great for repelling mosquitoes but also for adding a refreshing atmosphere to your outdoor space.
Lavender: Apart from its repellent properties, lavender plants are a beautiful addition to any garden. Their vibrant purple flowers add color while keeping mosquitoes away.
By strategically planting these mosquito-repelling plants around your yard, you can create a natural barrier against mosquitoes.
Not only will you enjoy a mosquito-free environment, but you'll also have a garden filled with wonderful scents and beauty.
With these natural repellents, you can enjoy your time in the yard without constantly swatting away mosquitoes.
Whether you choose to use essential oils, create homemade sprays, or cultivate mosquito-repelling plants, these methods are effective, eco-friendly, and safe for you and your environment.
Mechanical Barriers For Mosquito Control
Mechanical barriers offer an effective and eco-friendly way to repel mosquitoes in your yard.
By implementing simple measures, you can create barriers that prevent these pesky insects from entering your living spaces and outdoor areas.
We will explore three effective mechanical barriers for mosquito control.
Installing Screens On Doors And Windows
One of the simplest and most effective ways to prevent mosquitoes from entering your home is by installing screens on doors and windows. Mesh screens act as a physical barrier, allowing fresh air to flow while keeping mosquitoes out.
Measure your doors and windows to determine the appropriate screen size.
Purchase high-quality mesh screens that are specifically designed to repel mosquitoes.
Use a staple gun or adhesive strips to secure the screens onto the frames of your doors and windows.
Regularly inspect the screens for tears or damages and repair them as needed to maintain their effectiveness.
Make sure to keep your doors and windows closed when the screens are not in use.
Using Mosquito Nets Or Tents Outdoors
When spending time outdoors, particularly during mosquito-prone times, it's essential to create a protective barrier using mosquito nets or tents.
These allow you to enjoy the fresh air and the beauty of nature while keeping mosquitoes at bay.
Here's how you can use mosquito nets or tents:
Choose a mosquito net or tent that fits your specific needs, whether for lounging in the yard, camping, or picnics.
Securely set up the net or tent in the desired area, ensuring it covers the entire space you'll be occupying.
Tightly seal any openings or gaps to prevent mosquitoes from getting inside.
When using a mosquito net for sleeping, make sure it is securely attached to the bed or hung from the ceiling.
Regularly inspect the nets and tents for any damages and repair or replace them as needed.
Creating A Barrier With Fans Or Air Circulation
Another effective method for repelling mosquitoes in your yard is by creating a barrier of airflow using fans or maximizing natural air circulation.
Mosquitoes are weak fliers, and strong winds or air currents make it difficult for them to approach.
Strategically place fans in key areas of your outdoor living spaces, such as the patio or deck, to create a continuous airflow.
If you have a covered porch, make use of natural breezes by strategically positioning furniture to take advantage of wind currents.
Trim shrubs and trees near your seating areas to allow for better airflow and prevent stagnant areas where mosquitoes can thrive.
For larger yards, consider investing in oscillating fans or portable misting systems designed to repel mosquitoes.
Implementing these mechanical barriers not only helps protect you and your family from mosquito-borne diseases but also enhances your outdoor experience.
By taking proactive measures, you can enjoy your yard without the nuisance and discomfort of mosquitoes.
Chemical Measures For Mosquito Control
Mosquitoes are not just annoying pests that ruin outdoor activities. They can also pose serious health risks as carriers of deadly diseases such as malaria, dengue fever, and Zika virus.
While natural methods of mosquito control are effective to some extent, chemical measures can provide a more reliable and targeted approach to repelling these pests.
We will discuss the use of insecticides for mosquito control, how to choose the right products and the safe and effective application of these chemicals.
Understanding The Use Of Insecticides For Mosquito Control
Insecticides are chemical substances specifically designed to kill or repel insects.
When it comes to mosquito control in the yard, insecticides play a vital role in reducing the mosquito population and preventing their breeding.
These chemical products work by attacking the nervous system of mosquitoes, effectively eliminating them or deterring their presence.
It is important to note that while insecticides can be highly effective in controlling mosquitoes, they also come with certain risks.
When used improperly, they may harm beneficial insects, animals, or even humans.
Therefore, it is crucial to follow the recommended guidelines and safety precautions while using insecticides in your yard.
Choosing Mosquito Control Products
With an overwhelming variety of mosquito control products available on the market, choosing the right one can be quite challenging.
To make an informed decision, consider the following factors:
Efficacy: Look for products that have been proven to be effective in repelling mosquitoes. Check for reviews and recommendations from trusted sources.
Targeted Action: Different insecticides have different modes of action. Some kill mosquitoes on contact, while others repel them. Consider your specific needs and preferences before making a purchase.
Longevity: Mosquito control products should provide long-lasting protection to ensure continuous relief without frequent reapplication.
Safety: Choose products that are labeled safe for the environment and follow the specified application and dosage instructions. Avoid using insecticides near water bodies or edible plants to minimize the risk of contamination.
By evaluating these factors, you can effectively narrow down your options and select the most suitable mosquito control product for your yard.
Safe And Effective Application Of Insecticides
Proper application of insecticides is crucial to ensure their effectiveness and minimize potential risks.
Follow these guidelines for safe and effective use:
Read the Label: Carefully read and understand the product label instructions before application. This includes dosage, application frequency, and any specific precautions or restrictions.
Protective Gear: Wear appropriate protective clothing, such as gloves and goggles, while handling and applying insecticides.
Timing: Apply insecticides during calm and windless periods to prevent drift and maximize coverage. Avoid applying during peak mosquito activity to minimize your exposure to the chemicals.
Proper Mixing and Dilution: Follow the instructions for mixing and diluting the insecticide with water. Use clean equipment and ensure accurate measurements to avoid over- or under-dilution.
Targeted Application: Apply the insecticide directly to mosquito breeding sites, resting areas, or vegetation where mosquitoes tend to hide. Avoid spraying open spaces unnecessarily.
Cleanup: After application, clean and properly store all equipment used. Dispose of any leftover insecticide or empty containers following local regulations.
By adhering to these application guidelines, you can effectively use insecticides to control mosquitoes in your yard while minimizing potential risks to yourself, others, and the surrounding environment.
Maintenance And Upkeep For Long-term Mosquito Repellent
When it comes to creating a mosquito-free environment in your yard, regular maintenance and upkeep are crucial.
By implementing these practices, you can ensure long-term mosquito repellent and enjoy a peaceful outdoor space for years to come.
Regular Yard Maintenance Practices
Proper yard maintenance plays a key role in repelling mosquitoes. By taking a proactive approach, you can eliminate their breeding grounds and reduce their presence significantly.
Here are some essential maintenance practices to incorporate into your routine:
Keep the lawn trimmed and well-maintained: Mosquitoes thrive in tall grass and dense foliage. Regularly mow your lawn and trim vegetation to discourage mosquito populations. Remember to dispose of the clippings properly to avoid creating additional breeding sites.
Clean up debris: Mosquitoes are attracted to areas with stagnant water and hidden nooks. Remove any unused items or debris that could collect water, such as old tires, buckets, or overturned furniture. This simple step eliminates potential breeding grounds and reduces mosquito activity.
Clear gutters and drains: Clogged gutters and drains can retain water, providing an ideal environment for mosquitoes to lay their eggs. Regularly clean and maintain them to prevent the accumulation of stagnant water.
Manage plant pots and water features: If you have plant pots or water features in your yard, check them regularly for stagnant water. Empty and refill them to avoid becoming mosquito breeding sites.
Monitoring And Addressing Potential Mosquito Breeding Sites
To maintain long-term mosquito repellent, it is crucial to monitor your yard and actively address potential breeding sites.
By being vigilant, you can prevent mosquito populations from establishing themselves. Consider the following steps:
Check for standing water: Regularly inspect your yard for any areas with standing water, such as neglected bird baths, puddles, or poorly drained areas. Eliminate or treat these sites to interrupt the mosquito life cycle.
Install proper drainage: If you have areas in your yard prone to water accumulation, consider installing proper drainage systems. By ensuring proper water flow, you can reduce the risk of stagnant water and limit mosquito breeding opportunities.
Use larvicides: In cases where you cannot eliminate standing water entirely, consider using larvicides. These products target mosquito larvae, preventing them from developing into adults. Always follow the manufacturer's instructions and use larvicides safely and responsibly.
By implementing regular maintenance practices and addressing potential mosquito breeding sites, you can establish long-term mosquito repellent in your yard.
Remember, consistency is key, so make these practices a part of your routine to enjoy a mosquito-free outdoor space.
Expert Tips And Additional Techniques
Mosquitoes buzzing around your yard can quickly turn a pleasant evening into an itchy nightmare.
While basic preventive measures like removing standing water and using repellents are effective, there are additional expert tips and techniques you can employ to repel mosquitoes and enjoy your outdoor space.
We will explore three advanced strategies to keep these pesky insects at bay:
Using Mosquito Traps And Zappers
Mosquito traps and zappers are excellent additions to your mosquito control arsenal. These devices work by attracting mosquitoes with an artificial light or a combination of light and heat.
Once lured in, they are either trapped or electrocuted, ensuring they can no longer bother you and your loved ones.
Here are some key points to consider when using mosquito traps and zappers:
Place the traps strategically around your yard, especially near common mosquito breeding areas.
Ensure the traps and zappers are regularly maintained and cleaned to maximize their effectiveness.
Opt for traps that use attractants such as carbon dioxide to mimic human breath and increase their efficiency.
Consider installing zappers near outdoor gathering areas to provide immediate relief from mosquitoes.
Attracting Mosquito Predators To The Yard
One effective and natural way to control mosquito populations in your yard is by attracting their natural predators.
By inviting these mosquito hunters to your outdoor space, you can create a balanced ecosystem that keeps mosquitoes in check.
Here are some tactics for attracting mosquito predators:
Plant mosquito-repelling plants like citronella, lavender, and marigolds that attract birds, bats, and dragonflies. These creatures feast on mosquitoes and their larvae.
Install birdhouses, bat houses, or hummingbird feeders to encourage these natural predators to stay in your yard.
Create a water source such as a small pond or birdbath for dragonflies and birds to drink from while also providing a breeding ground for mosquito predators.
Avoid using broad-spectrum insecticides that can harm mosquito predators and disrupt the natural balance of your yard.
Seeking Professional Mosquito Control Services
In situations where mosquitoes prove to be a persistent problem despite your best efforts, seeking professional mosquito control services can provide the expertise and comprehensive solutions needed.
Consider the following factors when choosing a professional service:
| Key Considerations | Benefits |
| --- | --- |
| Experience and Expertise | Professionals have in-depth knowledge of mosquito behavior and effective control strategies. |
| Customized Solutions | They can tailor the treatment plan to your specific yard, considering factors like vegetation, water sources, and mosquito breeding areas. |
| Long-term Results | Professional services often provide ongoing treatments to ensure mosquito populations remain low throughout the season. |
| Environmentally Friendly | Many professional services offer eco-friendly options that minimize harm to beneficial insects and wildlife. |
Utilizing mosquito traps, attracting mosquito predators, and seeking professional mosquito control services undeniably enhance your efforts in repelling mosquitoes from your yard.
By implementing these expert tips and techniques, you can reclaim your outdoor space and enjoy summer evenings without the irritating buzz of these blood-thirsty pests.
Enjoy Your Mosquito-free Yard
Congratulations! By implementing these powerful techniques, you are now well on your way to enjoying a mosquito-free yard.
Let's recap the 9 powerful techniques that we have discussed throughout this blog post.
Recap Of The 9 Powerful Techniques
Eliminate stagnant water sources in your yard: By removing standing water where mosquitoes breed, you are taking a significant step towards reducing their population.
Trim and maintain your yard regularly: Regularly mowing your lawn, trimming bushes, and removing overgrown vegetation not only enhances the appearance of your yard but also eliminates potential mosquito hiding spots.
Install mosquito-repellent plants: Adding plants such as citronella, lavender, and marigold to your yard not only adds beauty but also helps repel mosquitoes naturally.
Use mosquito repellents and sprays: Applying mosquito repellents on your body and using mosquito sprays in your yard provides an effective barrier against these pesky insects.
Utilize mosquito nets and screens: Installing mosquito nets over outdoor seating areas and using screens on windows and doors can prevent mosquitoes from entering your living spaces.
Create mosquito-unfriendly conditions: Mosquitoes are less active during windy and cooler times. Utilize fans to create a breeze and keep your outdoor spaces cool to discourage their presence.
Consider mosquito-repellent clothing and accessories: Wearing long-sleeved shirts, long pants, and mosquito-repellent bracelets or patches can provide additional protection against mosquito bites.
Use mosquito-repellent candles and torches: Lighting citronella candles and torches in your yard can provide both ambient lighting and help keep mosquitoes away.
Invest in professional mosquito control services: If you want guaranteed results and long-term relief from mosquitoes, hiring professional mosquito control services can be a wise investment.
Importance Of Consistent Mosquito Control Practices
Consistency is key when it comes to repelling mosquitoes from your yard. By adopting these powerful techniques as part of your routine, you ensure a continuous barrier against these blood-sucking pests.
Achieving and maintaining a mosquito-free yard requires a proactive and consistent effort from homeowners.
Neglecting these practices may lead to a resurgence in mosquito activity, undoing the progress you have made.
Moreover, consistent mosquito control practices not only prevent the annoyance of mosquito bites but also protect you and your family from potential health risks.
Mosquitoes are known carriers of diseases such as West Nile virus and dengue fever.
By diligently implementing these techniques, you are safeguarding the well-being of your loved ones.
Emphasizing The Benefits Of A Mosquito-free Yard
Imagine stepping into your yard without the constant buzzing of mosquitoes in your ears, without swatting away these bothersome insects every few seconds.
A mosquito-free yard not only allows you to enjoy outdoor activities without interruption but also provides peace of mind.
You can relax, entertain guests, or simply bask in the beauty of your surroundings without worrying about itchy bites and potential health risks.
By implementing consistent mosquito control practices and utilizing the powerful techniques we have discussed, you can truly enjoy your yard to the fullest, mosquito-free.
Don't let these tiny insects dictate your outdoor experiences – take control, reclaim your yard, and relish in the joy of a mosquito-free environment.
FAQs For How To Repel Mosquitoes In Yard
What Can I Put In My Yard To Keep Mosquitoes Away?
To keep mosquitoes away from your yard, you can plant natural repellents like citronella, lavender, and marigolds. Remove any standing water, use a fan or mosquito repellent candles, and consider installing a mesh screen on windows and doors. Regular maintenance and cleanliness are also essential.
What Is The Best Homemade Mosquito Repellent For Your Yard?
The best homemade mosquito repellent for your yard is a mixture of water, lemon eucalyptus oil, and witch hazel. It is effective, natural, and easy to make at home.
Is There A Mosquito Repellent That Actually Works For Yard?
Yes, there are mosquito repellents for yards that actually work. These repellents can effectively keep mosquitoes away from your outdoor space.
What Smell Do Mosquitoes Hate?
Mosquitoes hate the smell of citronella, lavender, peppermint, and eucalyptus. Using these scents as repellents can help keep mosquitoes away.
Final Thoughts
Keeping mosquitoes out of your yard doesn't have to be a daunting task. By following the tips mentioned in this blog, such as removing standing water, using natural repellents, and maintaining your landscaping, you can effectively repel these pesky insects.
Remember, a mosquito-free yard not only enhances your outdoor experience but also helps protect you and your loved ones from potential disease-carrying bites.
So, take action today and enjoy a mosquito-free yard this summer!