Female mosquitoes are the gender that bites humans for blood. They require the protein found in the blood to develop their eggs.
Therefore, female mosquitoes are the culprits behind those itchy mosquito bites we all dread during the summer months.
Mosquitoes are one of the most familiar and annoying pests that can ruin a pleasant outdoor experience.
They not only cause discomfort but can also transmit diseases such as malaria, dengue fever, and Zika virus.
Understanding the behavior and characteristics of mosquitoes can help in devising effective strategies for their control.
One fundamental aspect to grasp is the gender difference among mosquitoes and their biting habits.
This article aims to shed light on the question of which gender of mosquito bites. So, let's dive in and explore the fascinating world of these bloodsucking insects.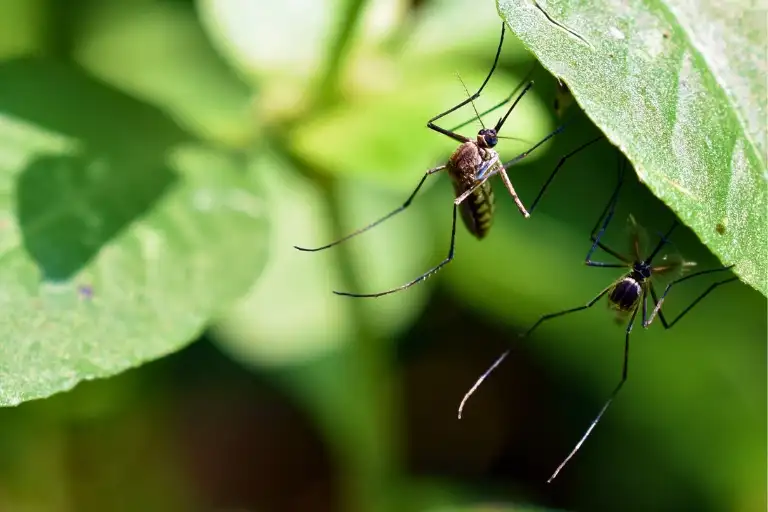 Factors Influencing Mosquito Behavior
The behavior of mosquitoes is influenced by various factors, including environmental conditions.
Understanding these factors can help us better comprehend mosquito activity and develop effective strategies for mosquito control.
We will explore some of the key environmental factors that affect mosquito behavior.
Specifically, we will delve into the role of temperature and the impact of humidity on mosquito biting patterns.
Environmental Factors Affecting Mosquito Activity
Several environmental factors play a significant role in determining the activity level of mosquitoes.
Understanding these factors can help us predict their behavior and take necessary precautions.
Two crucial factors that influence mosquito activity are temperature and humidity.
Role Of Temperature In Mosquito Behavior
Temperature has a profound impact on the behavior of mosquitoes. As ectothermic organisms, mosquitoes rely on external sources of heat to regulate their body temperature.
A warmer environment accelerates their metabolism, leading to increased activity and higher biting rates.
Conversely, cooler temperatures slow down their metabolic processes, causing mosquitoes to be less active.
Impact Of Humidity On Mosquito Biting Patterns
Humidity levels also influence mosquito behavior, specifically their biting patterns.
Mosquitoes are highly sensitive to changes in humidity, with high levels of humidity being conducive to their biting activities.
Increased humidity helps mosquitoes maintain the necessary moisture levels, allowing them to survive and reproduce more efficiently.
Moreover, humidity affects mosquito flight patterns. High humidity provides ideal conditions for mosquitoes to fly and locate their blood hosts.
They can easily navigate through the air due to the moisture content, increasing their chances of finding suitable hosts.
Understanding Mosquito Reproduction
Understanding mosquito reproduction helps us determine which gender of mosquito bites.
Male mosquitoes feed on nectar, while females require a blood meal for their reproductive cycle.
Overview Of Mosquito Life Cycle
Mosquitoes, those pesky bloodsuckers that seem to appear out of nowhere, have a fascinating life cycle.
Understanding the different stages of their life cycle is essential in comprehending their reproduction and feeding habits.
Mosquitoes undergo complete metamorphosis, which means they go through four distinct stages: egg, larva, pupa, and adult. Let's take a closer look at each stage:
Egg: Female mosquitoes lay their eggs on the surface of stagnant water, where they float until they hatch. Depending on the species, a female mosquito can lay anywhere from 50 to 500 eggs at a time.
Larva: Once the mosquito eggs hatch, the larvae (also known as wigglers) emerge. These larvae live in the water and feed on microorganisms and organic matter. They go through several molting stages, shedding their skin as they grow.
Pupa: After the larval stage, the mosquito enters the pupal stage. During this stage, the mosquito does not feed. Instead, it undergoes a transformation within a protective cocoon-like structure called a pupa.
Adult: Once the transformation is complete, the adult mosquito emerges from the pupa. Female mosquitoes are ready to reproduce immediately, while male mosquitoes focus on finding a mate. The lifespan of an adult mosquito varies depending on the species and environmental conditions.
Distinction Between Male And Female Mosquitoes
Male and female mosquitoes can be distinguished by certain characteristics:
| Characteristics | Male Mosquitoes | Female Mosquitoes |
| --- | --- | --- |
| Size | Generally smaller | Generally larger |
| Proboscis | Less developed, used for feeding on plant nectar | Longer and more prominent, used for feeding on blood |
| Feeding Behavior | Primarily feed on plant nectar and other sugary substances | Feed on blood to acquire necessary proteins for reproduction |
| Sound | Do not produce the characteristic buzzing sound | Produce a buzzing sound to attract males and locate hosts |
Female Mosquito Feeding Behavior
The biting nuisance we often associate with mosquitoes is mainly caused by female mosquitoes, which require blood for successful reproduction.
After mating, female mosquitoes search for a suitable host to obtain the blood they need.
When a female mosquito lands on the skin, it uses its elongated, needle-like proboscis to pierce the skin and locate a blood vessel.
Mosquitoes are equipped with specialized mouthparts that make it possible for them to extract blood without causing substantial pain.
These mouthparts contain a combination of sharp needle-like structures and tiny sensory organs that help them locate blood vessels quickly and feed efficiently.
But why do female mosquitoes need blood to reproduce?
The answer lies in the nutritional composition of blood, which is rich in proteins necessary for egg production.
Once a female mosquito has fed on blood, she will proceed to lay eggs, repeating the reproductive cycle.
Female Mosquito Feeding And Reproduction
The feeding and reproduction habits of female mosquitoes play a crucial role in their life cycle and the transmission of diseases.
Understanding these habits can help us develop effective strategies for mosquito control. Female mosquitoes, unlike males, require a blood meal to reproduce.
We will explore the feeding habits of female mosquitoes, the necessity of a blood meal for their reproduction, the impact of blood types on mosquito attraction, and their feeding preferences based on gender.
Female Mosquito Feeding Habits
Female mosquitoes feed on the blood of humans and animals to obtain the nutrients necessary for their egg production.
They have specialized mouthparts, known as proboscis, which they use to pierce the skin and extract blood from their hosts.
Female mosquitoes are attracted to the carbon dioxide, body heat, and various chemical cues emitted by their hosts.
Blood Meal Necessity For Mosquito Reproduction
For female mosquitoes to reproduce, they need a blood meal. After ingesting the blood, the female mosquito uses the nutrients to develop her eggs.
The blood proteins are broken down and used as building blocks for the eggs. Once the eggs are mature, the female mosquito lays them in water, and the life cycle continues.
Impact Of Blood Types On Mosquito Attraction
Research suggests that different blood types may influence mosquito attraction.
Some studies have shown that mosquitoes are more attracted to individuals with certain blood types, such as type O, while being less attracted to those with type A.
The exact reasons behind this attraction are still being studied, but certain components in blood, such as secretor status and the presence of certain chemicals, may play a role.
Mosquito Feeding Preferences Based On Gender
Interestingly, female mosquitoes are more likely to bite and feed on humans compared to males.
This is because female mosquitoes require the nutrients found in blood for their egg production, while males primarily feed on nectar from flowers.
Female mosquitoes have evolved a preference for human blood due to its availability and the close proximity of human hosts.
Meanwhile, male mosquitoes feed only on plant nectar and do not require blood for reproduction. Therefore, they do not have the same feeding preferences as females.
Factors Influencing Female Mosquito Biting Preferences
Mosquitoes are notorious creatures that can cause annoyance and spread diseases.
While both male and female mosquitoes rely on nectar and sugars for sustenance, it is the female mosquito that requires a blood meal to reproduce.
However, not all mosquitoes have the same biting preferences. Various factors influence the biting preferences of female mosquitoes, including mosquito attraction to human scent, chemical compounds attracting mosquitoes, factors determining mosquito host preference, and the host-seeking behavior of female mosquitoes.
We will explore these factors in detail to gain a better understanding of why female mosquitoes seem to have a preference for certain individuals over others.
Mosquito Attraction To Human Scent
Female mosquitoes are attracted to human scent, which plays a significant role in their biting preferences.
People produce a combination of chemicals through their breath, body odor, and sweat, which act as attractants for female mosquitoes.
These scents can vary from person to person, influenced by various factors such as genetics, diet, and overall health.
When mosquitoes detect these scents, they are more likely to approach and bite individuals who emit certain chemical compounds that align with their preferences.
Chemical Compounds Attracting Mosquitoes
Several chemical compounds have been identified as potent attractants for mosquitoes. These compounds include lactic acid, ammonia, uric acid, and carbon dioxide.
Female mosquitoes have receptors that allow them to sense and home in on these chemicals, enabling them to locate potential hosts.
Additionally, research has shown that certain compounds found in human skin microbiota, such as specific bacteria and volatile organic compounds (VOCs), can also attract mosquitoes.
While each mosquito species may have varying preferences for these chemical compounds, they collectively influence the biting preferences of female mosquitoes.
Factors Determining Mosquito Host Preference
Mosquitoes have evolved to exhibit host preferences based on various factors.
One crucial factor is the presence of certain blood groups or antigens on an individual's skin that may be more appealing to mosquitoes.
Research suggests that mosquitoes may be more attracted to individuals with blood type O or certain secretor status due to the characteristic odor associated with these blood types.
Other factors that may influence host preference include the concentration of chemical compounds in an individual's scent, body temperature, and even the presence of certain skin-associated microbiota.
Host-seeking Behavior Of Female Mosquitoes
Female mosquitoes exhibit distinct host-seeking behavior that aids them in finding a suitable blood meal.
Upon sensing human scents and chemical attractants, female mosquitoes engage in a series of behaviors to locate a host.
These behaviors include flying in zigzag patterns, flying closer to the ground to follow the contours of the environment, and using their acute vision to detect movement and color contrast.
Once in close proximity to a potential host, female mosquitoes rely on their ability to detect heat and the release of carbon dioxide to pinpoint the precise location to bite.
FAQs Of Which Gender Of Mosquito Bites
Which Mosquitoes Bite You Male Or Female?
Female mosquitoes are the ones that bite humans. Males do not bite as they primarily feed on nectar and other plant juices.
Do Male Mosquitoes Bite You Or Not?
Yes, male mosquitoes do not bite humans. Only female mosquitoes bite in order to obtain blood for reproduction.
Do Mosquitoes Bite Females More Than Males?
Mosquitoes do not differentiate between male and female mosquitoes when they bite. They bite both genders equally.
Why Do Mosquitoes Bite My Husband But Not Me?
Mosquitoes are attracted to certain scents given off by individuals, like sweat and body odor. Different people emit varying scents, making some individuals more appealing to mosquitoes than others.
Final Thoughts
It is worth noting that both male and female mosquitoes have the ability to bite humans, but it is typically the female mosquitoes that do so.
This is because female mosquitoes require blood meals to reproduce, while male mosquitoes primarily feed on nectar.
By understanding this distinction, we can better protect ourselves against mosquito bites and the potential diseases they may carry.
Stay informed and take the necessary precautions to keep yourself safe.