To treat infant mosquito bites, apply a natural remedy like aloe vera or calamine lotion to soothe and reduce swelling. Infants are susceptible to mosquito bites, which can cause discomfort and irritation.
As a parent, it is important to know how to provide relief for your little one.
One of the most effective ways to treat infant mosquito bites is by applying a natural remedy such as aloe vera or calamine lotion.
These remedies are known for their soothing properties and can help reduce itching and swelling.
Additionally, you can also use a cold compress or ice pack to provide temporary relief.
However, it is vital to consult a healthcare professional before applying any product to your baby's skin to ensure it is safe and suitable for their age.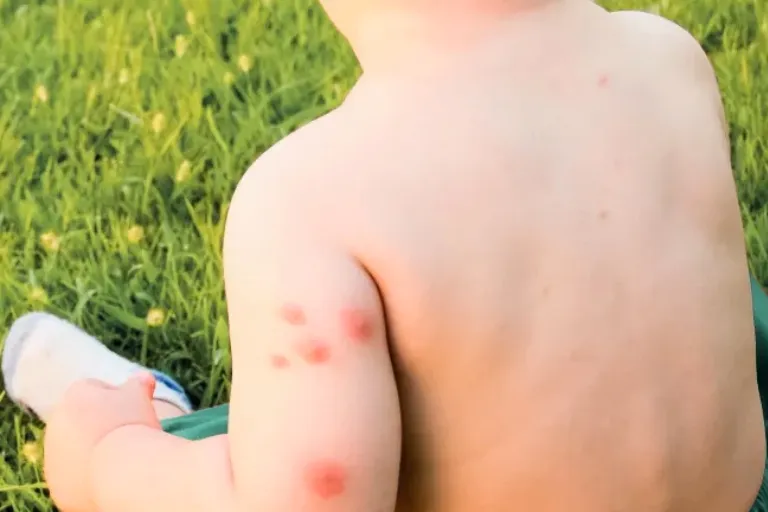 Understanding Infant Mosquito Bites
Mosquito bites can be an irritating part of summertime for everyone, but they can be particularly troublesome for infants.
Understanding why infants are more prone to mosquito bites and the impact it has on their delicate skin is essential for parents and caregivers.
Furthermore, knowing how to effectively treat and soothe these bites is crucial in providing relief to our little ones.
Common Reasons For Infants Getting Mosquito Bites
Infants are more susceptible to mosquito bites due to several reasons:
Delicate Skin: The skin of infants is thinner and more sensitive compared to older children and adults, making it easier for mosquitoes to penetrate and bite.
Higher Body Temperature: Infants tend to have slightly higher body temperatures than adults, which can attract mosquitoes.
Pheromones: Babies release specific smells or pheromones that mosquitoes find enticing, attracting them towards them.
Limited Mobility: Infants spend a significant amount of time lying or sitting in one place, providing mosquitoes with a stationary target.
Lack of Repellent Use: Young infants cannot use mosquito repellent products, putting them at a higher risk of mosquito bites.
Understanding these common reasons will help parents and caregivers take necessary precautions to protect their infants from mosquito bites.
The Impact Of Mosquito Bites On Infants' Skin
Mosquito bites can have various effects on infants' delicate skin:
Itchy Red Bumps: Mosquito bites typically appear as small, red bumps on the skin, causing discomfort and itchiness for the infant.
Swelling and Inflammation: The bites can lead to localized swelling and inflammation around the affected area, which can be distressing for infants.
Possible Infection: Scratching the bites can break the skin barrier and increase the risk of infection, making it crucial to prevent excessive scratching.
Allergic Reactions: Infants may exhibit allergic reactions to mosquito saliva, resulting in more severe symptoms such as hives, swelling in other parts of the body, or difficulty breathing.
Given the vulnerability of infants' skin, providing prompt treatment and soothing remedies for mosquito bites is essential.
Factors To Consider When Treating Mosquito Bites On Infants
When it comes to treating mosquito bites on infants, it is crucial to consider the following factors:
Gentle Cleaning: Use a mild baby soap and lukewarm water to gently cleanse the affected area. Avoid rubbing or scrubbing, as it can further irritate the skin.
Cool Compress: Applying a cool compress, such as a clean washcloth soaked in cold water, can help reduce itching and alleviate swelling.
Topical Remedies: Certain topical creams or ointments containing ingredients like calamine lotion or hydrocortisone can provide relief from itching and inflammation. However, it is vital to consult a pediatrician before using any over-the-counter products.
Prevent Scratching: Keep the infant's nails short and consider using soft, cotton mittens to prevent them from scratching excessively, reducing the risk of infection.
Protective Clothing: Dressing the infant in loose, long-sleeved clothing and using mosquito nets can help prevent further mosquito bites.
By taking these factors into account, parents and caregivers can effectively manage and treat mosquito bites on infants, providing them with much-needed comfort and relief.
Natural Remedies For Infant Mosquito Bites
When it comes to soothing your little one's mosquito bites, turning to natural remedies can be a safe and effective option.
Natural remedies not only provide relief from itching and discomfort but also help to reduce inflammation and soothe irritated skin.
Here are some powerful natural remedies that you can use to alleviate your infant's mosquito bites:
Aloe Vera: Soothing Properties And Application Methods
Aloe vera is renowned for its soothing properties, making it an excellent choice for treating mosquito bites on your baby's delicate skin.
Its cooling effect helps to reduce itchiness and inflammation, providing much-needed relief.
To apply aloe vera to your baby's mosquito bites, you can:
Gently extract the gel from an aloe vera leaf and apply it directly to the affected area.
Alternatively, you can use store-bought aloe vera gel.
Make sure to test a small patch on your baby's skin first to ensure there is no adverse reaction.
Chamomile: Anti-inflammatory Effects For Reducing Irritation
Chamomile is well-known for its anti-inflammatory properties, which can help to reduce irritation caused by mosquito bites.
It possesses natural calming and soothing effects, making it an ideal remedy for your little one's sensitive skin.
Here's how you can use chamomile to alleviate mosquito bites:
Prepare chamomile tea by steeping chamomile flowers in hot water.
Allow the tea to cool down and use a clean cloth to gently apply it to your baby's mosquito bites.
Do not apply the tea if your baby has any allergies to chamomile.
Calamine Lotion: How It Can Relieve Itching And Discomfort
Calamine lotion has long been trusted for its ability to relieve itching and discomfort caused by insect bites, including mosquito bites. It contains zinc oxide, which helps to soothe the skin and reduce inflammation.
To use calamine lotion on your baby's mosquito bites, follow these steps:
Shake the bottle of calamine lotion well before using it.
Dab a small amount of the lotion onto a cotton ball or clean cloth.
Gently apply the lotion to the affected area, covering the mosquito bite completely.
Repeat as needed, but avoid excessive application.
Baking Soda Paste: Its Effectiveness In Reducing Swelling And Itching
Baking soda can work wonders in reducing both swelling and itching associated with mosquito bites.
It has alkaline properties that help to neutralize the pH of the skin, providing instant relief.
Here's how you can make and use a baking soda paste:
In a small bowl, mix equal parts of baking soda and water to form a paste.
Gently apply the paste to your baby's mosquito bites using a clean fingertip or a cotton swab.
Leave the paste on for about 10 minutes before rinsing it off with lukewarm water.
Oatmeal Baths: Soothing Relief For Irritated Skin
An oatmeal bath can offer soothing relief for your baby's irritated skin caused by mosquito bites.
Oatmeal possesses anti-inflammatory properties that help to calm and moisturize the skin, reducing redness and itchiness.
Follow these steps to give your baby an oatmeal bath:
Grind plain oatmeal into a fine powder using a blender or food processor.
Add the oatmeal powder to warm bathwater and mix well until the water turns milky.
Place your baby in the oatmeal-infused bathwater and let them soak for about 10 to 15 minutes.
Gently pat dry your baby's skin with a soft towel, avoiding any rubbing that may further irritate the bites.
Over-the-counter Options For Infant Mosquito Bites
When pesky mosquito bites leave your little one uncomfortable and itchy, there are several over-the-counter options you can turn to for relief.
Understanding the role of each option is crucial in ensuring the safety and effectiveness of the treatment.
Antihistamine Creams: Understanding Their Role In Relieving Itching
Antihistamine creams are widely used to alleviate itching caused by mosquito bites.
These creams contain antihistamines, which work by counteracting the body's response to allergens, including mosquito saliva.
By blocking histamines, the substances responsible for triggering itching and inflammation, antihistamine creams provide quick relief for your little one.
Hydrocortisone Creams: When And How To Safely Apply Them To Infants
Hydrocortisone creams are another effective option for treating infant mosquito bites.
These creams contain a low concentration of corticosteroids, which help reduce inflammation and itching.
It is important to use hydrocortisone creams sparingly and only as directed by a healthcare professional.
Remember to avoid applying them on open wounds or broken skin and consult your pediatrician before using them on infants younger than two years old.
Topical Analgesics: Non-prescription Options For Pain Relief
Topical analgesics are non-prescription options that provide temporary relief from pain associated with mosquito bites.
These creams typically contain ingredients like benzocaine or lidocaine, which numb the skin and provide a soothing sensation.
While they can be effective for older infants, it is advisable to consult a healthcare professional before using them on younger infants.
Cold Packs: The Benefits Of Using Cold Therapy On Mosquito Bites
Cold packs are a simple and effective way to alleviate itching and reduce swelling caused by mosquito bites.
Applying a cold pack to the affected area constricts blood vessels, helping to reduce inflammation and numb the area, providing relief to your little one.
Remember to wrap the cold pack in a cloth or towel to prevent direct contact with the skin and avoid prolonged use to prevent frostbite.
Medicated Powders: Their Effectiveness And Safe Application
Medicated powders can also be a useful option for soothing mosquito bites.
These powders often contain ingredients like calamine or baking soda, which have a soothing and drying effect on the skin.
Gently dusting the powder onto the affected area can help relieve itching and keep the skin dry.
However, it is important to consult your pediatrician before using medicated powders on infants, as they may not be suitable for every situation.
When dealing with mosquito bites on your little one, it is always best to consult your healthcare professional before applying any over-the-counter remedies.
They can provide specific guidance based on your infant's age and any individual sensitivities or allergies.
With proper care and appropriate use of these over-the-counter options, your little one can find relief from the discomfort caused by mosquito bites.
Expert Advice For Treating Infant Mosquito Bites
When it comes to treating infant mosquito bites, it's important to seek expert advice to ensure proper care and minimize the risk of complications.
Consulting with a pediatrician is crucial to determine the best course of action for your baby's delicate skin.
Consultation With A Pediatrician: When To Seek Professional Help
If you notice that your baby's mosquito bite is causing severe discomfort or if it appears infected, it is advisable to seek medical help.
A pediatrician can assess the bite and provide appropriate treatment or recommend further steps to ensure your baby's well-being.
Besides severe discomfort and signs of infection, consider consulting a pediatrician if your baby experiences any of the following:
Persistent swelling or redness around the bite
Fever or unusual symptoms
Excessive scratching, leading to broken or irritated skin
Allergic reactions, such as hives or difficulty breathing
Precautions To Take When Using Home Remedies On Infants
Home remedies can provide relief for infant mosquito bites, but it's essential to take proper precautions to ensure your baby's safety.
Before using any home remedies, consider the following:
Consulting with a pediatrician to confirm the suitability of the remedy for your baby's age and skin condition.
Performing a patch test on a small area of your baby's skin to check for any allergic reactions before applying the remedy to the affected bite.
Avoiding harsh or irritating ingredients that may further irritate your baby's sensitive skin.
Using natural remedies and essential oils with caution, as some can be harmful if used incorrectly or in excessive amounts.
Recommendations For Preventing Mosquito Bites In Infants
Prevention is always better than cure. Protecting your baby from mosquito bites is the ideal way to avoid the discomfort and potential health risks they bring.
Here are some recommendations to help prevent mosquito bites in infants:
Keep the baby's skin covered with lightweight, loose-fitting clothing.
Use mosquito nets over the crib, stroller, or baby carrier when outside.
Avoid taking your baby outdoors during peak mosquito activity times, such as dawn and dusk.
Use mosquito repellents specifically formulated for infants, applying them sparingly to exposed skin.
Remove any standing water sources near your home, as they can attract mosquitoes.
Tips For Creating A Baby-friendly Mosquito-free Environment
In addition to preventive measures, creating a mosquito-free environment for your baby is vital.
By applying the following tips, you can minimize the presence of mosquitoes and reduce the risk of bites:
Install window and door screens to keep mosquitoes out of your home.
Use mosquito netting over cribs and playpens to protect your baby while they sleep or play.
Eliminate any sources of standing water near your home, such as flower pots or buckets, where mosquitoes breed.
Use electric fans indoors as mosquitoes are less likely to land on a moving target.
Consider using indoor mosquito traps or citronella candles, but make sure they are placed out of reach of your baby.
By following these recommendations, consulting with a pediatrician when necessary, and being proactive in mosquito prevention, you can take effective measures to protect your baby from mosquito bites and alleviate any discomfort they may cause.
Remember, the health and well-being of your little one should always be your top priority.
FAQs On What To Put On Infant Mosquito Bites
What Can I Put On A Mosquito Bite On A Baby?
Apply a cold compress or calamine lotion to soothe a mosquito bite on a baby.
What Can I Put On My 3 Month Old For Mosquitoes?
Use a baby-safe mosquito repellent with DEET-Free formula to protect your 3-month-old from mosquito bites.
Can I Put Diaper Rash Cream On Mosquito Bites?
Yes, you can use diaper rash cream on mosquito bites. It helps soothe the itchiness and inflammation caused by mosquito bites. Be sure to patch test it first and discontinue use if any irritation occurs.
Can You Give Babies Benadryl For Mosquito Bites?
No, it is not recommended to give babies Benadryl for mosquito bites. It is best to consult with a pediatrician for appropriate remedies.
Final Thoughts
Treating mosquito bites on infants requires gentle and safe remedies. From natural alternatives like aloe vera and oatmeal to over-the-counter creams, the key is to alleviate discomfort and prevent possible infections.
However, it's crucial to consult a healthcare professional before applying any products, keeping in mind the sensitivity of an infant's skin.
Always prioritize your baby's wellbeing and follow expert advice for optimal care.