States with the most mosquitoes include Florida, Texas, and Louisiana due to their warm climate and propensity for wetlands. These states offer optimal habitats for mosquitoes to breed and thrive, resulting in higher mosquito populations compared to other states.
These pests are not only irritating but also carry diseases such as West Nile virus and Zika virus, making mosquito control a priority in these regions.
Homeowners and authorities employ various methods like mosquito fogging, using repellents, and eliminating standing water to reduce the risk of mosquito-borne illnesses in these states.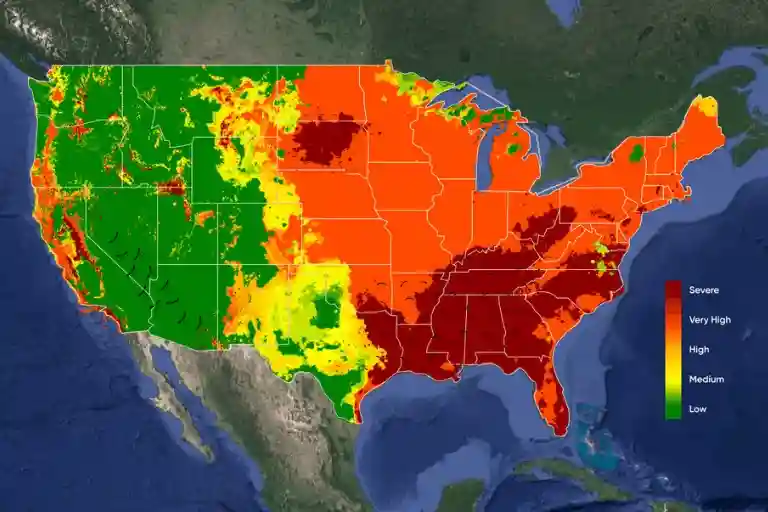 Understanding The Factors That Attract Mosquitoes
When it comes to understanding which states have the most mosquitoes, it is crucial to delve into the factors that attract these pesky insects.
By examining the climate and geographical conditions, the presence of standing water, and the vegetation and natural habitats, we can gain insight into why certain areas have higher mosquito populations than others.
Climate And Geographical Conditions
The climate and geographical conditions of a particular state play a significant role in determining the level of mosquito activity.
Mosquitoes thrive in warm and humid environments, where they can breed and reproduce successfully.
States with high temperatures and abundant rainfall, such as Florida and Louisiana, provide the ideal conditions for mosquitoes to flourish.
Additionally, the proximity to bodies of water, such as lakes, rivers, and swamps, can contribute to the prevalence of mosquitoes.
Presence Of Standing Water
Mosquitoes require standing water to lay their eggs, making the presence of stagnant water bodies a crucial factor in attracting these insects.
Pools of water that collect in various locations, such as puddles, rain barrels, bird baths, or even clogged gutters, serve as breeding grounds for mosquitoes.
States with a higher likelihood of experiencing rainfall or having areas prone to flooding, like Texas and Mississippi, often have a greater number of mosquitoes due to the availability of breeding sites.
Vegetation And Natural Habitats
The type of vegetation and natural habitats found in a state greatly influence the mosquito population.
Certain plants, such as dense shrubs and tall grasses, provide mosquitoes with shelter and shade during the day.
States with vast forests, wetlands, or marshy areas, like Alaska and Minnesota, offer ample breeding habitats for mosquitoes.
Additionally, areas with abundant vegetation attract other insects, which serve as a food source for mosquitoes, further enhancing their population.
Regions With The Highest Mosquito Activity
When it comes to mosquitoes, some regions in the United States experience higher activity levels than others.
Understanding these regions can help you better prepare and protect yourself from these pesky insects.
Southern States And The Gulf Coast
The Southern states and the Gulf Coast region are notorious for their high mosquito activity levels.
This region, characterized by its warm and humid climate, provides an ideal breeding ground for mosquitoes.
The combination of ample rainfall and standing water creates the perfect conditions for these insects to reproduce and thrive.
Moreover, the southern states have a vast network of swamps, marshes, and wetlands, which further contribute to the mosquito population.
Mosquitoes are attracted to these areas as they offer an abundance of resources for their survival, including stagnant water and ample sources of blood and meals.
In addition, the warmer temperatures in the southern states allow mosquitoes to remain active throughout much of the year.
This prolonged activity period increases the chances of mosquito bites and potential exposure to mosquito-borne diseases.
Midwestern States And The Great Lakes Region
The Midwestern states and the Great Lakes region also experience considerable mosquito activity.
With their mix of temperate climate and abundant lakes and rivers, mosquitoes find plenty of breeding sites in this area.
Many of the lakes and rivers in the Great Lakes region provide ideal conditions for mosquitoes to lay their eggs.
Mosquito larvae thrive in these freshwater habitats, leading to an increased population of adult mosquitoes.
Furthermore, the warm and humid summers in the Midwest promote mosquito breeding and activity.
The combination of standing water and favorable temperatures creates an environment that is highly conducive to mosquito proliferation.
Eastern States And The Atlantic Coast
The Eastern states and the Atlantic Coast region also face significant mosquito activity, particularly during the warmer months.
With its diverse landscape ranging from dense forests to coastal wetlands, this region offers ample breeding grounds for mosquitoes.
The high humidity levels and frequent rainfall in the Eastern states provide the necessary moisture for mosquitoes to lay their eggs.
Coupled with the availability of stagnant water in ditches, ponds, and marshes, mosquitoes thrive in this environment.
Additionally, the Atlantic Coast region experiences a higher mosquito population due to its proximity to the ocean.
Mosquitoes are often attracted to coastal areas as these serve as resting sites during their breeding cycles.
Breaking Down Mosquito Species By State
Discover which states in the US are plagued by the highest mosquito populations as we break down the mosquito species by state.
From the swamps of Louisiana to the waters of Florida, uncover the states most infested by these buzzing pests.
Common Mosquito Species And Their Distribution
When it comes to mosquitoes, not all species are created equal. Understanding which mosquito species inhabit different states can help us better prepare for the possibility of mosquito-borne diseases.
Let's break down the most common mosquito species and their distribution across the United States.
Culex mosquitoes:
Culex mosquitoes are one of the most widespread species in the United States.
They can be found in all 50 states, thriving in both urban and rural areas.
These mosquitoes are known carriers of West Nile virus, which can cause severe illness in humans.
Anopheles mosquitoes and the risk of malaria:
Anopheles mosquitoes are known as the primary carriers of malaria.
These mosquitoes are typically found in warmer states with suitable breeding habitats.
States such as Texas, Florida, and Louisiana have reported the highest number of Anopheles mosquito populations.
Malaria is an infectious disease that poses a significant health risk, especially to those traveling to or living in areas with high Anopheles mosquito populations.
Aedes mosquitoes and transmission of diseases like Zika and dengue:
Aedes mosquitoes are infamous for transmitting diseases like Zika virus and dengue fever.
These mosquitoes prefer warmer and humid climates.
States such as Florida, Texas, and California have witnessed outbreaks of Zika virus and dengue fever due to the presence of Aedes mosquitoes.
Preventive measures such as eliminating standing water and using insect repellents are essential in areas where Aedes mosquitoes are prevalent.
The Impact Of Mosquito-borne Diseases
Mosquito-borne diseases have a significant impact, with certain states experiencing higher mosquito populations.
These states include Texas, Florida, and California. Stay informed and take necessary precautions to protect yourself from these diseases.
Health Risks Associated With Mosquito Bites
Mosquitoes may be tiny, but their impact on human health can be significant. Mosquito bites not only cause temporary discomfort and itchiness but also pose various health risks.
When a mosquito bites, it injects saliva into the skin, and if the mosquito is carrying a disease-causing pathogen, it can be transmitted to the person being bitten.
This transmission of pathogens can lead to mosquito-borne diseases, some of which can have severe consequences.
Mosquito-borne diseases are a global concern, affecting millions of people each year. These diseases are caused by viruses, parasites, or bacteria carried by mosquitoes.
Mosquitoes act as vectors, transmitting the pathogens from an infected person or animal to a susceptible host.
In the United States, several mosquito-borne diseases have been identified, albeit with varying prevalence and distribution.
Mosquito-borne Diseases In The United States
The United States faces its share of mosquito-borne diseases, with some areas experiencing higher incidences than others.
Here are a few prominent mosquito-borne diseases found in the country:
West Nile virus (WNV): The most common mosquito-borne disease in the United States, WNV can cause flu-like symptoms and, in severe cases, lead to neurological complications.
Zika virus: Although primarily transmitted through sexual contact and from mother to child during pregnancy, mosquitoes can also spread the Zika virus. It can cause birth defects and other neurological complications.
Dengue fever: Though more prevalent in tropical regions, cases of dengue fever have been reported in parts of the United States, particularly in southern states. Symptoms include high fever, severe headache, joint and muscle pain, and rash.
Chikungunya fever: This viral disease causes symptoms similar to dengue fever, including joint pain, fever, and rash. While not typically life-threatening, it can be debilitating.
These are just a few examples, and it's crucial to note that mosquito-borne diseases can emerge or re-emerge due to various factors such as climate change, travel patterns, and mosquito control efforts.
The risk of contracting these diseases can vary based on geographical location and the presence of competent mosquito vectors.
Efforts In Disease Prevention And Control
The prevention and control of mosquito-borne diseases are essential to protect public health.
Efforts in disease prevention involve a multi-faceted approach, including:
Mosquito surveillance programs: Monitoring mosquito populations helps identify potential disease outbreaks or the presence of invasive mosquito species.
Mosquito control measures: Implementing strategies to reduce mosquito populations, such as using larvicides to target mosquito breeding sites and adulticides to control adult mosquitoes.
Public education: Raising awareness about mosquito-borne diseases, their prevention, and the importance of personal protection measures like using insect repellents, wearing protective clothing, and eliminating mosquito breeding sites around homes.
Vaccination: In some cases, vaccines are available for specific mosquito-borne diseases like the yellow fever vaccine.
By combining these efforts, health authorities and communities can mitigate the impact of mosquito-borne diseases and reduce the risk of transmission.
It is crucial to stay informed about disease risks in your area and take necessary precautions to safeguard your health and the health of your community.
Strategies For Mosquito Control And Prevention
Mosquitoes are not just pesky insects that make our outdoor activities unpleasant, but they also pose significant health risks by transmitting diseases.
To protect ourselves and our communities from the dangers of mosquitoes, it is essential to implement effective strategies for mosquito control and prevention.
By taking proactive measures, we can reduce mosquito populations and minimize the risk of mosquito-borne diseases.
Government Initiatives And Mosquito Abatement Programs
Mosquito control is a collective effort, and government initiatives play a vital role in combating mosquito populations.
Many states have established dedicated mosquito abatement programs to monitor, control, and prevent the spread of mosquito-borne diseases.
These programs focus on strategic pest management interventions, including pesticide application, larviciding, and adult mosquito control measures.
Government agencies often collaborate with local communities to educate the public about the importance of mosquito control and provide resources for effective prevention.
Through public outreach campaigns, they raise awareness about the risks associated with mosquitoes and offer guidance on mosquito-proofing homes and yards.
Additionally, these initiatives often involve partnerships with experts in entomology and public health to ensure scientifically-backed strategies are employed to tackle mosquito-related challenges.
Personal Protective Measures
While government initiatives play a crucial role in mosquito control, individuals should also take personal protective measures to minimize mosquito bites and reduce their exposure to mosquito-borne diseases.
Here are some practical steps you can take to protect yourself and your loved ones:
Wear long-sleeved shirts and long pants to cover exposed skin.
Apply a mosquito repellent containing DEET, picaridin, or oil of lemon eucalyptus.
Avoid outdoor activities during peak mosquito activity times, such as dawn and dusk.
Use physical barriers like screens or mosquito nets to keep mosquitoes out of living areas.
By following these personal protective measures, you can significantly reduce your risk of mosquito bites and the potential transmission of mosquito-borne diseases.
Environmental Management To Reduce Mosquito Breeding
One of the most effective ways to control mosquitoes is by managing their breeding habitats.
Mosquitoes lay their eggs in standing water, and by eliminating or treating these breeding grounds, we can disrupt their life cycle and reduce their numbers.
Here are some environmentally-friendly practices for mosquito control:
Eliminate standing water around your property, such as birdbaths, water containers, and clogged gutters.
Regularly clean and maintain swimming pools to prevent them from becoming mosquito breeding sites.
Stock ornamental ponds with fish that eat mosquito larvae.
Ensure proper drainage of outdoor containers or cover them when not in use.
By implementing these environmental management strategies, we can create an inhospitable environment for mosquitoes and significantly reduce their population.
FAQs Of What States Have The Most Mosquitoes
Which State Has More Mosquitoes?
Florida has more mosquitoes compared to any other state due to its warm and humid climate.
What US States Do Not Have Mosquitoes?
Certain US states, including Alaska, Montana, and North Dakota, have fewer mosquitoes compared to other states. These states experience colder climates, which are less favorable for mosquito breeding and survival.
What Is The Most Mosquito Infested City In The United States?
Florida is known for having the most mosquito-infested cities in the United States.
What Is The Mosquito Capital Of The US?
The mosquito capital of the US is Florida due to its warm, humid climate, which provides a perfect breeding ground for mosquitoes.
Final Words
Considering the abundance of stagnant water sources and humid climates, it's no surprise that certain states in the US have a higher mosquito population.
From our analysis, we've discovered that Texas, Florida, and California boast the most mosquitoes.
However, geographical factors, climate conditions, and local efforts to control mosquito breeding grounds play a vital role in determining the overall mosquito prevalence in each state.
Stay prepared and take necessary precautions to protect yourself from these buzzing pests.