To get rid of indoor mosquitoes, remove sources of stagnant water and use screens on windows and doors. Indoor mosquitoes can be a nuisance, especially during the warmer months.
Not only can their bites be itchy and irritating, but they can also carry diseases. Fortunately, there are several effective ways to get rid of these pesky insects.
We will discuss some simple yet effective methods to keep indoor mosquitoes at bay.
By following these tips, you can create a mosquito-free environment and enjoy a comfortable and bug-free space in your home or office.
From removing stagnant water sources to using screens on windows and doors, these methods will help you effectively control and eliminate indoor mosquitoes.
So let's dive in and learn how to make your indoor space mosquito-free!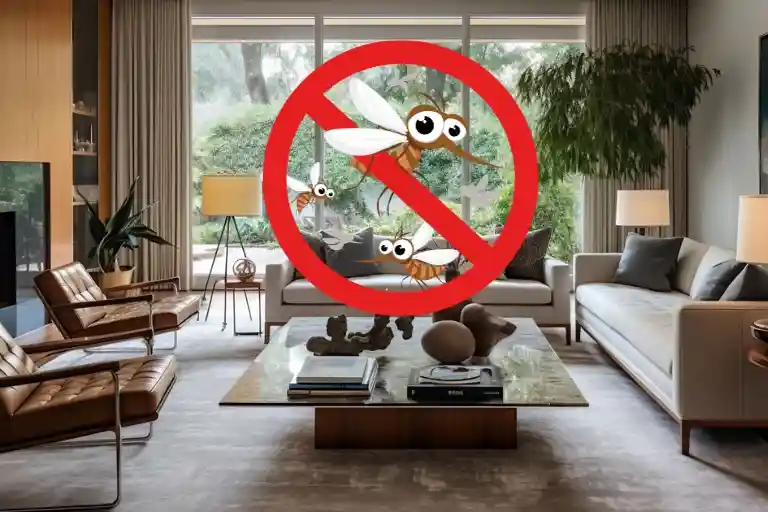 Understanding The Behavior Of Indoor Mosquitoes
Understanding the behavior of indoor mosquitoes is key to effectively getting rid of them. Learn how to eliminate these pesky insects from your home with these helpful tips.
Mosquito Breeding Habits And Life Cycle
Mosquitoes are irritating pests that not only cause itchy bites but also carry dangerous diseases such as dengue fever, Zika virus, and malaria.
Understanding the behavior of indoor mosquitoes is crucial in effectively getting rid of them from your home.
Mosquitoes have specific breeding habits and a life cycle that contributes to their presence indoors.
By knowing these details, you can target their breeding grounds and disrupt their life cycle to reduce their population.
One key aspect to grasp is the mosquito breeding habits and life cycle. Mosquitoes typically lay their eggs in stagnant water, which acts as a breeding ground for them.
Female mosquitoes lay eggs either singly or in small groups on or near the water's surface.
Once the eggs come into contact with water, they hatch into larvae, commonly known as wigglers.
The larvae then go through four stages, shedding their skin at each stage, before becoming pupae.
Finally, adult mosquitoes emerge from the pupae and begin their mission of buzzing around and biting you.
Why Mosquitoes Are Attracted To Indoor Spaces
When it comes to understanding why mosquitoes are attracted to indoor spaces, there are a few factors to consider.
These blood-sucking pests are guided by their innate ability to detect sources of carbon dioxide (CO2) in the environment.
Since humans and other animals exhale CO2 with every breath, it's no surprise that mosquitoes are drawn to our homes.
Furthermore, mosquitoes are highly sensitive to body heat, which is why they are often found hovering near warm bodies.
They can detect the slightest differences in temperature and are attracted to these warm spots.
No wonder we often find ourselves in a mosquito frenzy during warm summer nights!
Common Areas Where Mosquitoes Hide Indoors
To effectively combat indoor mosquitoes, we need to know where they like to hide.
Mosquitoes are stealthy creatures, seeking refuge in various areas of your home during the day.
Here are some common places where you might find mosquitoes lurking:
Dark and damp corners
Behind curtains and drapes
Under furniture and beds
In closets and wardrobes
Basements and crawl spaces
By targeting these hiding spots, you can disrupt the mosquitoes' resting areas and make it more difficult for them to bite you or breed.
Regular cleaning and decluttering help remove potential hiding spots and minimize their presence indoors.
Identifying Indoor Mosquito Infestations
Identifying indoor mosquito infestations can be crucial in getting rid of them.
By closely examining areas with stagnant water and using repellents and traps, you can effectively eliminate these pests from your home.
In order to effectively get rid of indoor mosquitoes, it is crucial to first identify the presence of a mosquito infestation.
By understanding the signs of an infestation, differentiating between mosquito species, and assessing the level of infestation, you can take targeted measures to eliminate these nuisances from your indoor space.
Signs Of A Mosquito Infestation Indoors
There are several signs that indicate the presence of a mosquito infestation indoors. By keeping an eye out for these signs, you can quickly identify the problem and take appropriate action.
Some common signs include:
Visible mosquitoes: If you frequently spot mosquitoes flying around indoors, it is a clear indication of an infestation.
Bites on your body: Mosquito bites, characterized by itchy red bumps, are a telltale sign that there are mosquitoes present in your living space.
Mosquito larvae: Mosquitoes lay their eggs in stagnant water. Look out for mosquito larvae in standing water sources such as buckets, flower pots, or even pet water bowls.
Mosquito breeding grounds: Mosquitoes require moisture to breed, so areas with high humidity and excess moisture, such as leaky pipes, areas with poor ventilation, or accumulated water in corners, can serve as breeding grounds.
Differentiating Between Mosquito Species
Not all mosquito species are the same, and different species have different habits and preferences.
By understanding the characteristics of different mosquito species, you can gain insight into their behavior and develop effective strategies for eliminating them.
Some common mosquito species include:
| Mosquito Species | Characteristics |
| --- | --- |
| Anopheles | Known for transmitting malaria, most active during the evening and night. |
| Aedes | Can transmit diseases like dengue, chikungunya, and Zika virus. Active during the day and prefer to bite outdoors but can also enter indoor spaces. |
| Culex | Carriers of diseases like West Nile virus and Japanese encephalitis. Most active during dawn and dusk. |
Assessing The Level Of Infestation
Once you have identified the signs of a mosquito infestation indoors, it is essential to assess the level of infestation to determine the appropriate course of action.
By understanding the severity of the problem, you can decide whether simple preventive measures will suffice or if professional intervention is necessary.
Consider the following factors when assessing the level of infestation:
The number of mosquitoes present: If you frequently encounter large numbers of mosquitoes indoors, it indicates a higher level of infestation.
The frequency of mosquito bites: If you and your family members are being constantly bitten by mosquitoes, it suggests a significant infestation.
The presence of mosquito breeding grounds: The more breeding grounds you identify, the higher the likelihood of a thriving mosquito population.
Any observed health risks: If you or anyone in your household experiences symptoms associated with mosquito-borne diseases, it is crucial to take immediate action.
By carefully observing these factors, you will be better equipped to determine the extent of the mosquito infestation and take appropriate measures to eliminate them effectively.
Effective Strategies For Preventing Indoor Mosquitoes
When it comes to dealing with pesky indoor mosquitoes, prevention is key. By implementing effective strategies, you can keep these annoying insects at bay and create a comfortable, mosquito-free environment in your home.
Removing Stagnant Water Sources
Mosquitoes breed in stagnant water, so eliminating these water sources is crucial in controlling their population.
Here are some steps you can take:
Regularly check your indoor plants for excess water in the drip trays, and empty them promptly.
Keep your sinks and showers dry. Fix any leaks or drips to prevent water accumulation.
Empty and clean pet water bowls daily to prevent mosquito breeding.
Inspect your home for any areas where water may collect, such as buckets, flower pots, or birdbaths. Empty and clean them regularly.
Securing Window And Door Screens
Properly installed window and door screens act as a physical barrier, preventing mosquitoes from entering your home.
Follow these guidelines to ensure your screens are effective:
Regularly inspect your screens for any holes, tears, or gaps. Repair or replace damaged screens promptly.
Ensure screens are tightly fitted and properly sealed to windows and doors, leaving no room for mosquitoes to squeeze through.
Use weatherstripping or door sweeps to close any gaps around doors and windows that may allow mosquitoes to enter.
Using Mosquito Repellents And Traps Indoors
Another effective strategy for preventing indoor mosquitoes is by using repellents and traps. Here are some options:
Repellents
Traps

Apply mosquito repellents containing DEET or picaridin on exposed skin.
Use mosquito-repellent candles or plug-in devices with natural ingredients like citronella.

Set up mosquito traps that attract and capture these insects without the use of chemicals.
Consider using indoor mosquito traps that utilize UV light or carbon dioxide to lure mosquitoes and trap them.
By employing these strategies consistently, you can greatly reduce the number of indoor mosquitoes and enjoy a mosquito-free living space.
Remember to take proactive measures to prevent their entry, eliminate stagnant water sources, and use repellents and traps for added protection.
With these steps in place, you can reclaim your home from these buzzing pests.
Natural Remedies For Eliminating Indoor Mosquitoes
Essential Oils And Herbs For Repelling Mosquitoes
Mosquitoes buzzing around your indoor spaces can be quite annoying. Fortunately, there are several natural remedies that you can use to keep these tiny pests at bay.
One effective method is to use essential oils and herbs that repel mosquitoes. These natural ingredients are not only safe for you and your family, but they also add a pleasant aroma to your home.
Here are some essential oils and herbs that can help repel mosquitoes:
Lemon Eucalyptus: This essential oil has been proven to effectively repel mosquitoes. Mix a few drops of lemon eucalyptus oil with a carrier oil, such as coconut or jojoba oil, and apply it to your exposed skin.
Lavender: The sweet scent of lavender is another great mosquito repellent. You can apply lavender oil directly to your skin or place dried lavender in various areas of your home.
Peppermint: Not only does peppermint oil repel mosquitoes, but it also has a cooling effect on your skin. Mix a few drops of peppermint oil with water and spray it around your home.
Citronella: Citronella candles and oil are popular choices for warding off mosquitoes. The strong scent of citronella masks the scent of humans, making it difficult for mosquitoes to find their targets.
Diy Mosquito Repellent Sprays And Candles
If you prefer a more hands-on approach, you can make your own mosquito repellent sprays and candles.
These DIY remedies are easy to create and can be customized to suit your preferences.
Here's how you can make your own mosquito repellent spray:
Mix equal parts water and witch hazel in a spray bottle.
Add a few drops of your preferred mosquito-repelling essential oil, such as lemon eucalyptus or lavender, to the mixture.
Shake the bottle well to combine the ingredients.
Spray the homemade repellent on exposed skin and surfaces to keep mosquitoes away.
If you enjoy the gentle flicker of candlelight, you can also create homemade mosquito-repelling candles. Here's how:
Melt soy or beeswax in a double boiler.
Add a few drops of essential oils known for repelling mosquitoes, such as citronella, lemongrass, or eucalyptus, to the melted wax.
Pour the mixture into a heat-resistant container and insert a candle wick.
Allow the wax to cool and solidify before lighting the candle.
Place the candle in areas where mosquitoes are prone to gather, such as near open windows or doorways.
Planting Mosquito-repelling Plants Indoors
Another effective way to combat indoor mosquitoes is by strategically placing mosquito-repelling plants throughout your home.
These plants not only add greenery to your indoor space but also act as natural insect repellents.
Consider adding these plants to your indoor garden:
| Plant | Benefits |
| --- | --- |
| Citronella | Produces a strong aroma that mosquitoes dislike |
| Basil | Repels mosquitoes and can be used in cooking |
| Lemon balm | Emits a citrusy scent that deters mosquitoes |
| Lavender | Repels mosquitoes and promotes relaxation |
| Mint | Deters mosquitoes and adds freshness to your home |
By incorporating these natural remedies into your indoor mosquito control routine, you can create a peaceful and mosquito-free environment for you and your loved ones.
Professional Mosquito Control Services For Indoor Infestations
Our professional mosquito control services provide effective solutions for indoor mosquito infestations.
Say goodbye to indoor mosquitoes with our reliable and efficient pest control treatments.
Hiring A Professional Mosquito Exterminator
When faced with an indoor mosquito infestation, it is essential to consider hiring a professional mosquito exterminator.
These experts are equipped with the necessary knowledge, experience, and tools to effectively eliminate and prevent mosquitoes from invading your home.
Rather than relying on DIY methods that may provide temporary respite, engaging the services of a professional will ensure a thorough and long-lasting solution.
Mosquito Control Techniques Used By Professionals
Professional mosquito control services employ a range of effective techniques to tackle indoor infestations.
These techniques are designed to target mosquitoes at every stage of their life cycle, including larvae, pupae, and adult mosquitoes.
Some commonly used methods by professionals include:
Misting systems: These automated systems release a fine mist of insecticide that effectively kills mosquitoes. They are installed on the property and can be programmed to operate at specific times, ensuring continuous control.
Residual insecticide applications: Professionals apply residual insecticides to key areas in your home where mosquitoes commonly rest or breed. This includes treating stagnant water sources, dark corners, and areas with high humidity.
Indoor fogging: Fogging machines are used to disperse a pesticide fog throughout the indoor space. This method quickly and effectively kills adult mosquitoes present in the area.
Long-term Management And Prevention Strategies
After eliminating the existing mosquito infestation, professional mosquito control services also focus on long-term management and prevention strategies.
This ensures that your home remains mosquito-free in the future. Some of these strategies include:
Regular inspections: Professionals conduct regular inspections to identify any potential mosquito breeding sites within your home. By eliminating these breeding grounds, they prevent future infestations.
Habitat modification: Experts may recommend modifications to your home and its surroundings to discourage mosquitoes. This can include trimming vegetation near windows, repairing screens, and improving drainage systems.
Educational resources: Professional exterminators often provide educational resources and guidance on mosquito prevention. This empowers homeowners to take proactive measures, such as removing stagnant water and using protective measures like mosquito nets and repellents.
Investing in professional mosquito control services for indoor infestations ensures that you have a team of experts dedicated to eradicating mosquitoes and preventing their reappearance.
With their arsenal of effective control techniques and long-term management strategies, they provide comprehensive and reliable solutions for a mosquito-free home.
Save yourself the hassle and enjoy a comfortable living space by entrusting the job to professionals who specialize in mosquito control.
FAQs Of How To Get Rid Of Indoor Mosquitoes
How Do I Get Rid Of Mosquitoes In My House?
To get rid of mosquitoes in your house, follow these steps:
– Remove any standing water where mosquitoes breed.
– Use screens on windows and doors to prevent them from entering.
– Install mosquito nets on beds for protection. – Use mosquito repellents or sprays.
– Keep your surroundings clean and free from clutter.
What Helps Keep Mosquitoes Away Indoors?
To keep mosquitoes away indoors, use screens on windows and doors, seal any gaps or cracks, and remove standing water. You can also use mosquito repellent products like sprays, candles, or plug-in devices.
What Causes Indoor Mosquitoes?
Indoor mosquitoes are caused by factors like open windows, doors, or gaps in screens that allow them to enter. Stagnant water in vases, buckets, or even pet bowls can become breeding grounds for them. Lack of proper ventilation or poor sanitation can also attract mosquitoes indoors.
What Is The Best Repellent For Mosquitoes Indoors?
The best repellent for mosquitoes indoors is an insect spray containing active ingredients like DEET or picaridin. These sprays effectively repel mosquitoes and can provide long-lasting protection against mosquito bites. Always read the instructions on the product label and use as directed.
Final Thoughts
Indoor mosquitoes can be a nuisance, but with these simple and effective strategies, you can get rid of them for good.
By implementing natural repellents, eliminating standing water, and employing mosquito traps, you can create an inhospitable environment for these pesky insects.
Don't let mosquitoes disrupt your indoor spaces, take action today and enjoy a mosquito-free home.