Mosquitoes die off during winter when temperatures drop and they hibernate or lay eggs. When temperatures rise, they return.
During the winter months, mosquitoes die off due to the drop in temperatures. This is because they go into a hibernation-like state or lay dormant eggs.
However, as temperatures begin to rise, especially during the spring and summer months, mosquitoes return in full force.
Mosquitoes are commonly known for their active presence when the weather becomes warmer and more favorable for their survival.
This is why mosquito bites and infestations are more common during these seasons.
Understanding the behavior and life cycle of mosquitoes can help in implementing effective strategies for mosquito control and prevention.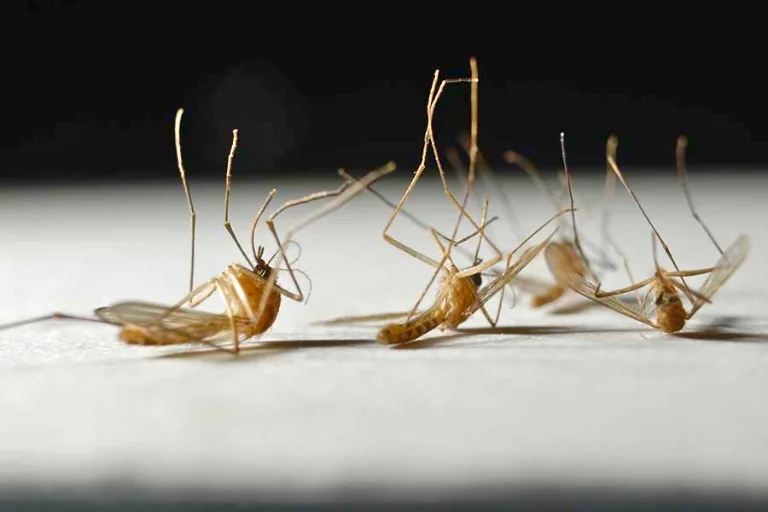 Understanding The Mosquito Life Cycle
Have you ever wondered why mosquitoes seem to appear out of nowhere during the summer months and then disappear once the weather starts to cool down?
Understanding the life cycle of these pesky insects can shed some light on their seasonal activity.
Mosquitoes go through a fascinating life cycle consisting of four stages: egg, larva, pupa, and adult.
Each stage plays a crucial role in their survival and reproduction, and understanding this process can help us better control their population and protect ourselves from their itchy bites.
The Four Stages Of The Mosquito Life Cycle
Mosquitoes undergo a complete metamorphosis, meaning they have distinct and separate stages of development.
Let's take a closer look at each stage:
From Eggs To Larvae: A Miraculous Transformation
The life cycle of a mosquito starts with eggs, which are usually laid on or near standing water.
Female mosquitoes can lay hundreds of eggs at a time, creating the potential for a massive population boom. These eggs hatch within 24 to 48 hours, giving rise to larvae.
Larvae, often referred to as "wigglers," are aquatic and spend their time feeding on microorganisms and organic matter in the water.
They have a unique adaptation in the form of a breathing tube called a siphon, which they use to obtain oxygen from the air.
During this stage, the larvae go through several molts, shedding their exoskeletons as they grow. This miraculous transformation allows them to reach the pupal stage.
Pupae: The Hidden Stage Of Development
While the pupal stage may seem like a period of dormancy, it is actually a critical time for the mosquito's development.
Pupae are known as "tumblers" because of their habit of tumbling and flipping when disturbed.
Although they don't feed during this stage, they are highly active and undergo significant changes internally.
Inside the pupal case, the mosquito transforms from a larva into an adult. Its organs, including the wings and legs, develop and take shape.
This stage typically lasts for 1 to 4 days, depending on the species and environmental conditions. Once fully developed, the pupal case splits open, and the adult mosquito emerges.
With wings that are initially soft and crumpled, the adult mosquito needs some time to allow it to expand and harden before taking flight.
Once ready, they are on a mission to find a blood meal and continue the cycle of life.
| Stage | Duration |
| --- | --- |
| Egg | 2-3 days |
| Larva | 5-14 days (species dependent) |
| Pupa | 1-4 days (species dependent) |
| Adult | Several weeks to several months (species dependent) |
Understanding the mosquito life cycle is essential in implementing effective strategies for mosquito control and prevention.
By disrupting their breeding sites, such as removing sources of standing water, we can greatly reduce their numbers and the risk of the diseases they carry.
Stay tuned for our next blog post, where we will explore the various methods and techniques to protect yourself and your loved ones from these notorious pests.
When Do Mosquitoes Die Off?
Mosquitoes are a nuisance that plagues us during the warm summer months. As the weather starts to cool down, you may find yourself wondering, "When do mosquitoes finally die off?"
Understanding the factors that influence mosquito lifespan can shed light on how long these pesky insects stick around.
we will explore here the various factors that affect mosquito survival, such as seasonal variations, temperature, and other key considerations.
Factors Influencing Mosquito Lifespan
Mosquitoes are influenced by several factors that impact their lifespan. From climate conditions to available food sources, these variables play a crucial role in determining how long mosquitoes survive.
When Do Mosquitoes Die off? Discover the Final Sting
Habitat: The type of environment mosquitoes inhabit greatly affects their lifespan. Some species thrive in stagnant water sources like ponds and puddles, while others prefer areas with lush vegetation.
Food Availability: Mosquitoes rely on nectar, plant sap, and other sources of sugar for sustenance. Females require a blood meal to lay eggs. The availability of these food sources impacts their overall lifespan.
Predators: Mosquitoes are food for many animals, including birds, bats, and dragonflies. The presence of predators in their environment can significantly reduce mosquito populations and lifespan.
Summer Vs Winter Survival Rates
The lifespan of mosquitoes can vary depending on the time of year. Summer tends to be the most active season for mosquitoes, while winter brings about a decline in their numbers.
Let's explore why this occurs:
During the summer months, female mosquitoes lay their eggs in stagnant water, where they develop into larvae and eventually emerge as adults. The warmer climate and ample food sources allow mosquitoes to thrive, leading to increased population numbers. However, as the colder months approach, mosquito activity decreases.
In winter, mosquitoes face several challenges. The drop in temperature slows down their metabolism and reproductive processes. Additionally, many species enter a hibernation-like state called diapause, where they become dormant. This allows mosquitoes to survive the cold weather until favorable conditions return again in the spring.
The Impact Of Temperature On Mosquito Longevity
The lifespan of mosquitoes is heavily influenced by temperature. Warmer temperatures accelerate their growth and metabolism, resulting in shorter lifespans.
Conversely, colder temperatures slow down their biological processes, leading to longer lifespans.
Research has shown that certain species of mosquitoes have an optimal temperature range for survival.
A decrease or increase in this range can negatively impact their lifespan. For example, extremely high temperatures can lead to dehydration, while extremely low temperatures can cause freezing and death.
| Temperature Range | Average Mosquito Lifespan |
| --- | --- |
| Below 50°F (10°C) | Longer lifespan, but activity significantly reduced |
| 70°F – 80°F (21°C – 27°C) | Optimal range for most mosquito species. Lifespan ranges from a few weeks to a couple of months. |
| Above 90°F (32°C) | Shorter lifespan due to increased metabolic activity and higher risk of dehydration. |
Understanding the impact of temperature on mosquito longevity can help us anticipate when these pests will be most active and when they are likely to die off.
The Final Sting: Mosquito Lifespan And Disease Transmission
Mosquitoes have a lifespan of only a few weeks, but their ability to transmit diseases like malaria and dengue fever can have long-lasting implications.
Understanding when these pests die off can help in implementing effective control measures to reduce their impact on human health.
The Connection Between Mosquito Lifespan And Disease Spread
The lifespan of a mosquito can significantly impact its ability to serve as a disease vector. Understanding this crucial connection is essential to combat the spread of vector-borne diseases.
Mosquitoes are known carriers of various pathogens, including viruses like dengue, Zika, and West Nile.
They acquire these disease-causing agents by feeding on infected hosts such as humans or animals.
Once infected, the mosquito can transmit the pathogen to its next host, perpetuating the disease cycle.
Therefore, the lifespan of a mosquito plays a pivotal role in the probability of successful disease transmission.
Vector-borne Diseases Carried By Mosquitoes
Mosquitoes are notorious for spreading a wide range of vector-borne diseases that pose a significant threat to human health.
Some of the most common diseases transmitted by mosquitoes include:
Malaria
Dengue Fever
Yellow Fever
Zika Virus
West Nile Virus
These diseases not only cause significant human suffering but also put a strain on healthcare systems and economies worldwide.
Preventing the spread of these diseases requires understanding the intricate relationship between mosquito lifespan and disease transmission.
How Mosquito Lifespan Affects Disease Transmission
The lifespan of a mosquito dictates its potential longevity as a vector for disease transmission.
Some mosquito species have shorter lifespans of a few weeks, while others can live for several months.
The longer a mosquito lives, the higher the chances of it becoming infected and spreading diseases.
A mosquito that survives for an extended period can potentially acquire multiple pathogens, increasing the risk of transmitting various diseases.
This is particularly concerning in areas where multiple vector-borne diseases coexist.
Furthermore, a mosquito's lifespan also influences its ability to infect humans or animals during multiple blood feedings.
While not all mosquitoes transmit diseases, those with longer lifespans have more opportunities to feed on different hosts and transmit infections.
Therefore, reducing the lifespan of mosquitoes can significantly decrease the likelihood of disease transmission and help control the spread of vector-borne illnesses.
Natural Mosquito Control: Nurturing A Skeeter-free Environment
When the warm weather arrives, so do the annoying and potentially harmful mosquitoes.
These tiny pests can quickly ruin outdoor activities and leave you scratching those itchy bites for days.
Instead of relying solely on chemical mosquito control methods, there are natural alternatives that can help create a skeeter-free environment.
By reducing mosquito breeding grounds, implementing preventive measures, and opting for eco-friendly solutions, you can take control of your surroundings and enjoy the great outdoors without the nuisance of mosquitoes.
Reducing Mosquito Breeding Grounds In Your Surroundings
One of the most effective ways to prevent mosquito infestations is by eliminating their breeding grounds.
Mosquitoes lay their eggs in stagnant water, so it's crucial to eliminate any sources of standing water around your property.
Here are some simple steps you can take:
Regularly empty and clean birdbaths, flowerpots, and other containers that can collect water.
Ensure proper drainage in your garden and yard to prevent water accumulation.
Clear clogged gutters and fix any leaks to avoid water pooling.
Use sand to fill in low-lying areas where water tends to collect.
Implementing Preventive Measures Against Mosquito Infestations
In addition to reducing breeding grounds, there are several preventive measures you can take to keep mosquitoes at bay.
Consider the following precautions:
When spending time outdoors, especially during peak mosquito activity at dawn and dusk, wear long sleeves, pants, and socks to minimize exposed skin.
Use mosquito repellents containing DEET or other recommended ingredients, following the instructions carefully.
Install window screens and keep doors closed, preventing mosquitoes from entering your home.
Invest in outdoor fans or citronella candles, as mosquitoes are less likely to bother you in areas with strong air movement or citronella scent.
Eco-friendly Alternatives To Chemical Mosquito Control Methods
For those looking to avoid chemical-based mosquito control methods, there are eco-friendly alternatives available.
These options not only help reduce mosquito populations but also minimize harm to the environment.
Consider the following alternatives:
| Alternative | Description |
| --- | --- |
| Bat houses | Installing bat houses in your yard can attract bats—a natural mosquito predator—that will help control mosquito populations. |
| Mosquito-repelling plants | Planting natural mosquito-repelling plants such as citronella, lavender, and marigolds can help deter mosquitoes from your garden and outdoor spaces. |
| Mosquito traps | Using mosquito traps that emit carbon dioxide or mimic human scent can lure and capture mosquitoes without the use of harmful chemicals. |
| Mosquito nets | Covering outdoor seating areas or beds with mosquito nets can provide an effective physical barrier against mosquitoes. |
By nurturing a mosquito-free environment through these natural methods, you can protect yourself, your family, and the planet while enjoying your time outdoors.
Embrace these eco-friendly and effective alternatives to chemical mosquito control, and say goodbye to those buzzing pests!
FAQs On When Do Mosquitoes Die Off
What Month Do Mosquitoes Go Away?
Mosquitoes usually go away in colder months, like winter, when the temperatures drop.
At What Temp Do Mosquitoes Go Away?
Mosquitoes go away when the temperature drops below 50 degrees Fahrenheit.
What Season Do Mosquitoes Stop Biting?
Mosquitoes stop biting in the colder seasons when the temperature drops below 50 degrees Fahrenheit (10 degrees Celsius).
How Long Do Mosquitoes Live In A House?
Mosquitoes can live in a house for up to 3 weeks, depending on the availability of food and favorable conditions. It's important to eliminate standing water and use mosquito repellents to prevent their breeding and infestation.
Final Thoughts
As the weather cools down and winter approaches, mosquitoes gradually die off. The dropping temperatures and limited food supply make it difficult for these pesky insects to survive.
However, it's crucial to note that not all mosquito species die off completely, with some overwintering in protected areas.
By understanding the seasonal cycle of mosquitoes, we can take appropriate measures to minimize their presence and ensure a comfortable outdoor experience.
Stay informed and take necessary precautions for a mosquito-free environment.