To kill mosquitoes in stagnant water, add larvicides such as Bacillus thuringiensis israelensis (BTI) or methoprene. These substances target and eliminate mosquito larvae, effectively controlling their population.
Now, I'll provide you with further information on killing mosquitoes in stagnant water.
Stagnant water is a breeding ground for mosquitoes, which can lead to an infestation and pose health risks due to the transmission of diseases such as dengue fever, Zika virus, and malaria.
It is crucial to take proactive measures to eliminate mosquito larvae and prevent their further growth.
We will explore effective methods and substances that can be added to stagnant water to kill mosquito larvae and prevent their development into adult mosquitoes.
By following these guidelines, you can help create a mosquito-free environment and safeguard your health.
Read on to discover the best practices for mosquito control in stagnant water.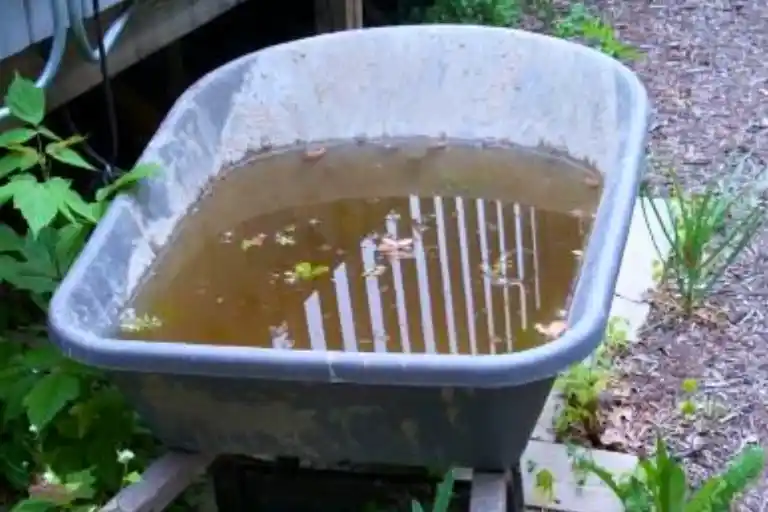 Understanding The Mosquitoes' Breeding Habits
Mosquitoes' breeding habits can be better understood by recognizing what can be added to stagnant water to eliminate them.
By targeting their preferred breeding grounds, such as gutters, flowerpots, or bird baths, effective solutions like larvicides, mosquito dunks, or even homemade remedies can be used to prevent their growth and ultimately reduce their population.
Mosquitoes are notorious pests that can quickly turn a peaceful outdoor evening into a frustrating battle against itchy bites.
To effectively control their population, we must understand their breeding habits.
Mosquitoes have evolved to efficiently reproduce and thrive in stagnant water, making it crucial to identify and eliminate their breeding grounds.
Overview Of Mosquitoes' Breeding Habits
When it comes to breeding, mosquitoes have a unique life cycle that involves four distinct stages: egg, larva, pupa, and adult. Female mosquitoes lay their eggs in or near water sources, and these eggs remain dormant until they are submerged in water.
Once in the water, the eggs hatch and transform into larvae. The larvae then consume nutrients from the water and undergo multiple molts to develop into pupae.
Finally, the pupae emerge as adult mosquitoes, ready to continue the cycle.
The Importance Of Stagnant Water In Mosquito Breeding
Stagnant water serves as an essential component for mosquitoes to breed successfully. Unlike many other insects, mosquitoes rely on water not just for hydration but also for every stage of their life cycle.
Without stagnant water, mosquitoes cannot reproduce, significantly reducing their population.
Stagnant water bodies such as ponds, ditches, bird baths, and even containers that collect rainwater become ideal breeding grounds.
Factors That Attract Mosquitoes To Stagnant Water
Mosquitoes demonstrate an impressive ability to detect and be drawn to stagnant water. Several factors increase the attractiveness of stagnant water to mosquitoes, including:
Temperature: Mosquitoes thrive in warm and humid environments. Stagnant water retains heat better than flowing water, providing an optimal temperature for their breeding.
Light: Mosquitoes are attracted to light sources, so bodies of water near artificial lights or areas with excessive sunlight can be particularly enticing to them.
Odor: Certain types of stagnant water produce distinct odors that attract mosquitoes. These odors result from bacterial decomposition, algae growth, or the presence of organic matter.
Protection: Mosquitoes prefer to lay their eggs in water sources that offer protection from predators and harsh weather conditions. Overhanging vegetation, debris, or containers provide such protection.
To effectively reduce mosquito breeding, it is crucial to identify and eliminate stagnant water sources in and around your property.
By understanding their breeding habits and the factors that attract them to stagnant water, you can take active measures to disrupt their life cycle and minimize their presence in your surroundings.
Identifying Common Sources Of Stagnant Water
Stagnant water can be a breeding ground for mosquitoes, which is why it is crucial to identify and eliminate any stagnant water sources around your home.
Stagnant Water In Outdoor Areas
Outdoor areas can provide numerous opportunities for stagnant water to accumulate.
It is essential to regularly inspect these areas and take the necessary steps to eliminate any standing water.
Here are some common outdoor sources to watch out for:
Puddles and pools: After rain, water tends to collect in low-lying areas, forming puddles or small pools. These areas can become stagnant if left untreated, making them prime breeding grounds for mosquitoes.
Gutters and downspouts: Clogged gutters and downspouts can trap rainwater, creating stagnant pools that mosquitoes can use for reproduction. Regular cleaning and maintenance are essential to prevent this issue.
Bird baths and garden ponds: While bird baths and garden ponds can add beauty to your outdoor space, they can also become stagnant if not properly maintained. Ensure proper circulation or use products designed to keep the water moving.
Unused containers: Items such as buckets, plant pots, and empty flower pots can collect rainwater and become stagnant over time. Store these items upside down or empty them regularly to prevent mosquito breeding.
Stagnant Water Inside The House
Stagnant water is not limited to outdoor areas; it can also be found inside your home. Identifying and addressing these sources is crucial to reduce mosquito presence indoors.
Here are some common indoor sources to be aware of:
Plumbing leaks: Leaking pipes, faucets, or clogged drains can create areas of stagnant water. Regularly check for and repair any plumbing issues to minimize the potential for mosquito breeding.
Potted plants: Overwatering indoor potted plants can lead to stagnant water in the saucers or trays beneath them. Ensure proper drainage and avoid overwatering to prevent mosquito breeding.
Bathroom and kitchen fixtures: Stagnant water can accumulate in unused sinks, tubs, or other fixtures that are not frequently used. Regularly flush these fixtures to avoid standing water.
Appliances: Appliances like air conditioning units, dehumidifiers, and refrigerators can produce condensation, creating stagnant water. Regularly clean and maintain these appliances to prevent mosquito breeding.
Uncommon Sources Of Stagnant Water To Be Aware Of
In addition to the more obvious sources of stagnant water, there are some lesser-known areas where standing water can collect.
While these sources may not be as common, it is still important to be aware of them:
Toy containers: Children's toys left outside can collect rainwater over time, creating stagnant water sources. Encourage proper storage of toys and regularly inspect any containers to ensure they are drained or kept covered.
Tire swings and tarps: Tire swings and tarps can accumulate water when it rains, leading to stagnant water. Empty any pooled water and ensure proper drainage to prevent mosquito breeding.
Construction materials: Leftover construction materials like buckets, barrels, or discarded materials can collect rainwater, creating stagnant water sources. Store or dispose of these materials properly to avoid mosquito breeding.
Using Biological Control Agents
Using biological control agents is an effective way to kill mosquitoes in stagnant water.
These natural agents, such as bacteria and fish, target the larvae, reducing the mosquito population without the need for harmful chemicals.
Introduction To Biological Control Agents
When it comes to getting rid of mosquitoes and preventing their breeding, using biological control agents can be an effective and eco-friendly approach.
These control agents are natural organisms that help in reducing mosquito populations and controlling their larvae.
Let's dive in and learn how these agents can help eliminate mosquitoes from stagnant water.
Bacterial Larvicides For Killing Mosquito Larvae
Bacterial larvicides are a safe and efficient method to target mosquito larvae.
They contain beneficial bacteria called Bacillus thuringiensis israelensis (Bti), which is harmless to humans, pets, and other wildlife, but deadly to mosquito larvae.
Bti produces toxic proteins that specifically target and kill mosquito larvae, disrupting their growth and development.
Using bacterial larvicides is simple. All you need to do is follow these steps:
Identify the stagnant water sources where mosquitoes are breeding.
Determine the dosage required based on the size of the water source.
Measure the appropriate amount of bacterial larvicide as indicated on the product label.
Apply the larvicide evenly across the stagnant water surface.
Repeat the process if necessary, following the recommended application intervals.
It's important to note that bacterial larvicides target mosquito larvae specifically and have minimal impact on other organisms inhabiting the water.
This makes them a suitable choice for mosquito control in areas where other beneficial insects and organisms are present.
Biological Mosquito Control Using Fish
Another effective method of biological control involves using fish species that feed on mosquito larvae.
Certain fish species, such as gambusia (also known as mosquito fish), killifish, and guppies, can be introduced into stagnant water bodies to consume mosquito larvae.
The Table below illustrates some commonly used fish species for biological mosquito control:
| Fish Species | Benefits |
| --- | --- |
| Gambusia | Efficient mosquito larvae predators |
| Killifish | Adaptable to various water conditions |
| Guppies | Colorful and attractive addition to water gardens |
When introducing fish for biological mosquito control, it is crucial to consider the following points:
Choose fish species that are native or well-suited to the local habitat.
Ensure the fish are introduced in sufficient numbers to effectively control the mosquito larvae population.
Avoid introducing fish into water bodies with sensitive ecosystems or where they could become invasive species.
Provide suitable habitat and food sources for the fish to thrive and reproduce.
By utilizing fish as biological control agents, you can take advantage of their natural predatory behavior to keep mosquito populations in check without resorting to chemical pesticides.
Homemade Remedies To Eliminate Mosquitoes
When it comes to dealing with stagnant water, which is a breeding ground for mosquitoes, there are several effective homemade remedies you can try.
By using natural ingredients and essential oils, you can not only repel but also kill mosquitoes, effectively controlling their population and reducing the risk of diseases such as malaria or dengue.
Diy Repellents For Stagnant Water
If you have stagnant water sources such as ponds, birdbaths, or rain barrels, you can create homemade repellents to deter mosquitoes from laying their eggs.
Below are a few simple and effective recipes you can try:
Vinegar Solution: Mix equal parts of white vinegar and water in a spray bottle. Spray this solution directly on the surface of stagnant water to kill mosquito larvae.
Bleach Treatment: Dilute one tablespoon of bleach in one gallon of water. Pour this solution into standing water to eliminate mosquito larvae.
Soap Solution: Add a few drops of dish soap to stagnant water. The soap breaks the surface tension, making it difficult for mosquito larvae to breathe.
Natural Ingredients That Repel And Kill Mosquitoes
Aside from DIY repellents, there are natural ingredients you can use to repel and kill mosquitoes.
These ingredients are safer alternatives to chemical-based products and are more environmentally friendly.
Here are a few examples:
| Natural Ingredient | Effective Against |
| --- | --- |
| Neem Oil | Mosquito larvae |
| Garlic | Adult mosquitoes |
| Lemongrass | Adult mosquitoes |
Using these natural ingredients in stagnant water not only repels mosquitoes but also kills their larvae, breaking the breeding cycle and reducing the mosquito population.
Using Essential Oils To Control Mosquito Populations In Water
Essential oils have long been used for their mosquito-repelling properties. They are not only effective but also offer a pleasant aroma.
Here are a few essential oils you can use to control mosquito populations in stagnant water:
Lavender oil: Add a few drops of lavender oil to stagnant water to repel mosquitoes.
Eucalyptus oil: Mixing eucalyptus oil with water before applying it to stagnant water helps kill mosquito larvae.
Peppermint oil: The strong scent of peppermint oil is known to deter mosquitoes from laying eggs in stagnant water.
By incorporating these essential oils into your stagnant water sources, you can effectively control the mosquito population while enjoying the pleasing fragrance.
Chemical Larvicides For Killing Mosquito Larvae
Chemical larvicides effectively kill mosquito larvae in stagnant water. These potent substances target the larvae, preventing the reproduction and growth of mosquitoes, thus helping to control mosquito populations.
Different Types Of Chemical Larvicides
When it comes to eliminating mosquito larvae in stagnant water, chemical larvicides are a highly effective solution.
These larvicides are specifically formulated to target and kill mosquito larvae before they can develop into adult mosquitoes.
There are several different types of larvicides available, each with its own unique properties and advantages.
Here are some of the most commonly used chemical larvicides:
Methoprene: This larvicide is an insect growth regulator that disrupts the normal development of mosquito larvae. Methoprene prevents larvae from reaching the pupal stage, effectively breaking the mosquito life cycle and reducing their population.
Bacillus thuringiensis israelensis (BTI): BTI is a naturally occurring bacteria that produces toxins harmful to mosquito larvae. It is considered to be highly targeted and safe for other organisms. BTI larvicides are available in granular or briquette form, which can be easily applied to standing water.
Temephos: Also known as Abate, temephos is a larvicide that disrupts the nervous system of mosquito larvae, leading to their death. It is commonly used in areas with large bodies of water, such as ponds and lakes.
Spinosad: Derived from a naturally occurring soil bacterium, spinosad is a potent larvicide that affects the nervous system of mosquitoes, ultimately causing their demise. It is available in granular form and is particularly effective against container-breeding mosquitoes.
Safety Precautions When Using Chemical Larvicides In Stagnant Water
While chemical larvicides are powerful tools in combating mosquito populations, it's important to handle them with utmost care to ensure your safety and the well-being of the environment.
Here are some safety precautions to keep in mind:
Read and follow the product label instructions: Before using any chemical larvicide, carefully read and adhere to the instructions provided by the manufacturer. This includes dosage and application guidelines, as well as safety precautions.
Wear protective clothing and equipment: When handling larvicides, be sure to wear protective clothing such as gloves, goggles, and a face mask to prevent direct contact with the product.
Store larvicides in a secure location: Keep larvicides out of the reach of children and pets. Store them in a secure place away from food, water sources, and direct sunlight.
Dispose of larvicides properly: After use, dispose of any leftover larvicide according to local regulations. Do not pour larvicides down the drain or into bodies of water.
How To Apply Chemical Larvicides Effectively
To ensure the maximum effectiveness of chemical larvicides, proper application is crucial.
Here are some guidelines to follow:
Identify mosquito breeding sites: Locate areas of stagnant water where mosquitoes are laying their eggs. This can include discarded tires, flower pots, bird baths, gutters, and any other water-holding containers.
Calculate the appropriate dosage: Determine the correct amount of larvicide to use based on the size of the breeding site. This information can usually be found on the product label or obtained from the manufacturer.
Apply the larvicide directly to the water: Carefully sprinkle or distribute the larvicide evenly over the surface of the stagnant water. For larger areas, use a handheld sprayer or follow the recommended application method specified on the product label.
Reapply as necessary: Depending on the larvicide used, you may need to reapply it periodically to maintain its effectiveness. Follow the instructions provided by the manufacturer for proper reapplication intervals.
The Role Of Pesticides In Mosquito Control
Pesticides play a crucial role in mosquito control by effectively killing mosquitoes in stagnant water.
These chemicals help eliminate breeding grounds and reduce the risk of mosquito-borne diseases.
Types Of Pesticides Used For Mosquito Control
When it comes to fighting mosquitoes and preventing the spread of mosquito-borne diseases, pesticides play a crucial role.
Mosquitoes breed in stagnant water, making it vital to target their larvae in these areas.
Various types of pesticides are used for mosquito control to effectively eliminate these pests.
Here are some commonly used pesticides:
Larvicides: These pesticides specifically target mosquito larvae, preventing them from developing into adult mosquitoes. Larvicides come in various forms such as pellets, briquettes, and granules. They are designed to be applied directly to stagnant water sources, disrupting the mosquito life cycle and reducing their numbers significantly.
Insect Growth Regulators (IGRs): IGRs are chemicals that disrupt the growth and development of mosquitoes. They work by interfering with the molting process, preventing larvae from maturing into adult mosquitoes. Unlike larvicides, IGRs have a longer residual effect, providing extended control over mosquito populations.
Contact Insecticides: These pesticides are designed to kill mosquitoes upon contact. They are usually sprayed onto the surfaces of stagnant water infested with mosquito larvae. Contact insecticides contain active ingredients that effectively eliminate mosquitoes, providing immediate results in reducing mosquito populations.
Risks And Precautions Associated With Pesticide Use In Stagnant Water
While pesticides are effective tools in mosquito control, it is important to be aware of the associated risks and take necessary precautions.
Here are some key risks and precautions to consider:
Environmental Impact: Pesticides can have unintended effects on non-target organisms and ecosystems. It is crucial to choose pesticides specifically labeled for mosquito control and follow the application instructions carefully to minimize environmental impact.
Human Health Risks: Pesticides, if not used properly, can pose risks to human health. Direct exposure or ingestion of pesticides can lead to adverse health effects. Always read and follow the pesticide label instructions, wear appropriate protective gear, and avoid contact with treated water.
Potential Resistance: Frequent and improper use of pesticides can contribute to mosquito resistance, rendering them less effective over time. It is important to rotate between different types of pesticides and use them judiciously to prevent resistance development.
Proper Application Techniques For Effective Results
To achieve optimal results with pesticide application in stagnant water, it is essential to follow proper techniques.
Here are some tips to ensure effective mosquito control:
Read the Label: Always thoroughly read and understand the pesticide label instructions before application. Different pesticides may have specific requirements and restrictions.
Timing: Apply the pesticide during the mosquito larvae stage when they are most vulnerable. Early intervention is key to preventing adult mosquito emergence and reducing the overall mosquito population.
Uniform Coverage: Ensure the stagnant water receives uniform coverage of the pesticide. Proper distribution ensures that all larvae are exposed and effectively targeted.
Appropriate Dosage: Use the correct dosage of pesticide as recommended on the label. Using too little may be ineffective while using too much can be environmentally harmful.
Safety Measures: Always prioritize personal safety when handling pesticides. Wear protective clothing, gloves, and masks as recommended. Avoid contact with the pesticide and wash hands thoroughly after application.
Physical Removal Of Stagnant Water
When it comes to mosquito control, one effective approach is to physically remove any stagnant water sources around your property.
By taking action to eliminate standing water, you can significantly reduce the breeding grounds for these annoying and potentially disease-carrying pests.
Tools And Techniques For Removing Stagnant Water
If you discover stagnant water on your property, it is important to act promptly to prevent mosquitoes from multiplying.
Here are some tools and techniques you can use to remove stagnant water:
Buckets and containers: Empty any buckets, flower pots, or containers that are holding water. Be sure to flip them upside down to prevent them from collecting water again.
Gutters and downspouts: Clean out clogged gutters and ensure that downspouts are directing water away from your home's foundation.
Birdbaths and fountains: Change the water in birdbaths at least once a week and regularly clean and maintain outdoor fountains to keep water flowing.
Swimming pools: If you have a swimming pool that is no longer in use, properly drain and cover it to prevent mosquitoes from using it as a breeding ground.
Tires: Remove any stagnant water from old tires and either dispose of them properly or store them in a way that prevents water accumulation.
Drainage areas: Ensure that your property has proper drainage to prevent water from collecting in low-lying areas.
Preventive Measures To Avoid Water Stagnation
In addition to physically removing stagnant water, taking preventive measures can help avoid water stagnation altogether.
By implementing these practices, you can minimize the chances of providing breeding areas for mosquitoes:
Regular maintenance: Keep your property well-maintained by regularly removing debris and fallen leaves where water can accumulate.
Proper storage: Store outdoor items such as toys, gardening equipment, and furniture in a way that prevents water from accumulating.
Mosquito repellent plants: Plant mosquito-repellent plants, such as citronella, rosemary, and lavender, in your garden to naturally deter mosquitoes.
Screening: Ensure that windows, doors, and vents are properly screened to prevent mosquitoes from entering your home.
Maintain swimming pools: If you have a swimming pool, ensure it is properly chlorinated and maintained to prevent mosquitoes from breeding.
By combining the physical removal of stagnant water with preventive measures, you can create an environment that is less attractive to mosquitoes and reduce the risk of mosquito-borne diseases.
Integrated Mosquito Management Techniques
Integrated Mosquito Management Techniques involve combining multiple approaches for effective mosquito control.
Planning and implementing an integrated mosquito management strategy can help in reducing mosquito populations and minimizing the risk of mosquito-borne diseases.
Let's explore some key strategies and methods that can be used in combination to achieve optimal results.
Combining Multiple Approaches For Effective Mosquito Control
When it comes to combating mosquitoes, a multi-faceted approach is often the most successful.
By combining various methods, you can target mosquitoes at different stages of their life cycle and disrupt their breeding and survival mechanisms.
Eliminate breeding sites: Start by eliminating any sources of stagnant water around your property. Mosquitoes breed in standing water, so removing it or treating it can significantly reduce their numbers. Consider emptying flower pots, bird baths, and any other containers that collect water regularly.
Biological control: Introduce natural predators of mosquitoes, such as mosquito-eating fish or dragonflies, to bodies of water around your home. These natural enemies can help keep mosquito populations in check.
Insect repellents: Use EPA-approved insect repellents on exposed skin and clothing to repel mosquitoes. Choose products with active ingredients like DEET, picaridin, or oil of lemon eucalyptus for maximum effectiveness.
Mosquito traps: Set up mosquito traps in strategic locations to attract and capture adult mosquitoes. These traps use various mechanisms like CO2 and UV light to lure mosquitoes and prevent them from escaping.
Planning And Implementing An Integrated Mosquito Management Strategy
Developing an integrated mosquito management strategy requires careful planning and execution.
Here are some essential steps to consider:
Assessment: Start by assessing the mosquito-related issues in your area. Identify key breeding sites, high-risk areas, and potential sources of mosquito infestation.
Monitoring: Regularly monitor mosquito populations using mosquito surveillance techniques. This can involve setting up mosquito traps, conducting larvae or pupae inspections, or collaborating with local health departments to gather data.
Targeted interventions: Based on your assessment and monitoring, implement targeted interventions. These may include larviciding, applying larvicide to mosquito breeding sites, or using adulticidal treatments to control adult mosquitoes in specific areas.
Educating the community: Raise awareness about mosquito control measures among community members. Provide educational materials on reducing breeding sites, using repellents correctly, and other preventive measures.
Regular evaluation: Continuously evaluate the effectiveness of your integrated mosquito management strategy. Make adjustments as necessary to optimize control measures and keep mosquito populations in check.
Remember, mosquito control is an ongoing process and requires a proactive approach.
By combining different techniques and implementing an integrated mosquito management strategy, you can significantly reduce mosquito populations and create a more mosquito-free environment.
FAQs On What To Put In Stagnant Water To Kill Mosquitoes
How Do You Get Rid Of Mosquitoes In Stagnant Water?
To eliminate mosquitoes in stagnant water, remove any standing water sources, such as buckets or tires. Clean and empty birdbaths or flowerpots regularly. Use larvicides or biological control agents to kill mosquito larvae. Install mosquito netting on rain barrels or cisterns to prevent mosquito breeding.
Will Pouring Bleach In Standing Water Kill Mosquitoes?
Yes, pouring bleach in standing water can kill mosquitoes. Bleach's chemicals break down their larvae and prevent them from growing.
Does Vinegar In Standing Water Kill Mosquitoes?
Yes, vinegar in standing water can help kill mosquitoes. The acidic nature of vinegar affects the mosquito larvae and prevents them from developing into adults. However, it is not the most effective or long-lasting method for controlling mosquito populations.
What Can I Put In My Pond To Kill Mosquitoes?
You can use larvicides or mosquito dunks to kill mosquitoes in your pond.
Final Thoughts
Eliminating stagnant water is the key to mosquito control. By using effective solutions like larvicides, bleach, neem oil, or mosquito dunks, you can effectively kill mosquito larvae and prevent their breeding.
It is crucial to regularly check and treat any standing water sources in your surroundings to keep the mosquito population at bay.
Stay proactive and adopt these measures to keep your home and family mosquito-free.