Mosquitoes lay eggs in standing water and areas with stagnant water in the house. Mosquitoes are pesky insects that can invade your home and cause annoyance and discomfort.
These tiny creatures have a particular affinity for stagnant water, which serves as their breeding ground.
Understanding where mosquitoes lay eggs in your house is crucial in preventing their infestation and the potential spread of diseases they carry.
By identifying and eliminating these breeding sites, you can significantly reduce the mosquito population in your home.
We will explore the different areas in and around your house where mosquitoes are likely to lay eggs and suggest effective ways to prevent their proliferation.
So, let's dive in and discover how to keep these bothersome insects at bay.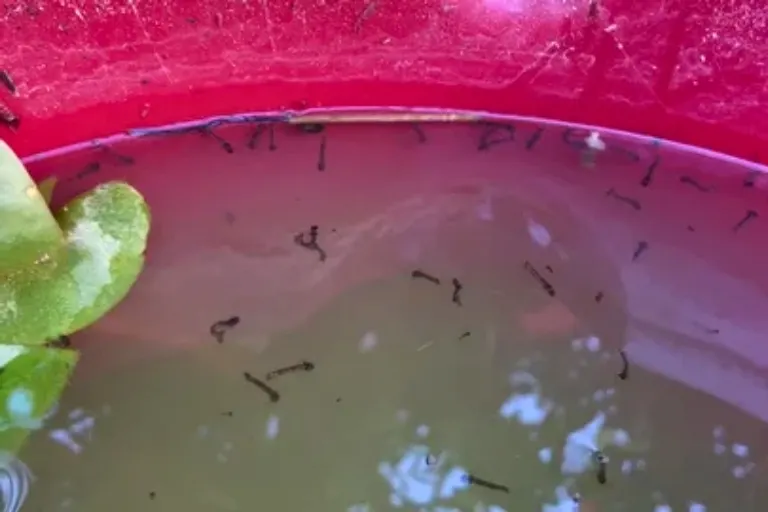 Understanding The Breeding Habits Of Mosquitoes
The Lifecycle Of A Mosquito: From Egg To Adult Mosquito
Mosquitoes reproduce through a four-stage lifecycle, which encompasses the egg, larva, pupa, and adult stages.
It's crucial to understand this lifecycle in order to effectively combat and prevent mosquito infestations within homes.
Eggs: Female mosquitoes lay their eggs in stagnant water, which serves as the ideal breeding ground. These eggs are usually laid in clusters or rafts, floating on the water's surface. Each raft can contain hundreds of eggs. Interestingly, female mosquitoes have the ability to lay multiple rafts during their lifespan, resulting in large populations of mosquitoes within a short period of time.
Larva: Once the eggs hatch, larvae emerge from within. These larvae are aquatic and spend their time in water. They have tiny hair-like structures called siphons, which they use to breathe. Larvae feed on microorganisms present in the water, developing rapidly and molting several times in the process.
Pupa: After the larval stage, mosquitoes enter the pupal stage. During this period, they do not feed and are relatively inactive. Pupae have a unique shape, resembling a comma or exclamation point. They remain near the water's surface, using their respiratory trumpets to acquire oxygen. While in the pupal stage, mosquitoes undergo the necessary transformations to become adults.
Adult mosquitoes: Once the pupal stage is complete, adult mosquitoes emerge from the water. Initially, they rest on the water's surface briefly to allow their wings to dry and harden. Once ready, they take flight, seeking out a host to feed on and continue the lifecycle. It's important to note that only female mosquitoes feed on blood, as they require the protein found within to produce eggs.
The Role Of Standing Water In Mosquito Breeding
Mosquitoes heavily rely on standing water for breeding, making it crucial to eliminate or treat areas where stagnant water accumulates.
Standing water provides females with the perfect environment to lay their eggs, ensuring that the next generation of mosquitoes will be able to thrive.
Outdoor areas: Mosquitoes can lay their eggs in a variety of outdoor areas that collect water, such as birdbaths, flower pots, clogged gutters, and even discarded tires. These small receptacles can easily become breeding grounds if not properly managed. It's essential to regularly inspect and empty any containers that can collect water to prevent mosquitoes from laying their eggs.
Indoor areas: While mosquitoes are primarily outdoor pests, they can also find their way into indoor areas. They are particularly attracted to areas with high humidity, such as basements, bathrooms, and laundry rooms. It's crucial to keep these areas dry and well-ventilated to discourage mosquito breeding. Additionally, fixing any leaks or plumbing issues can help eliminate potential breeding sites.
Why Mosquitoes Are Attracted To Houses And Indoor Areas
Mosquitoes are not solely outdoor pests. They can be attracted to houses and indoor areas for several reasons.
Understanding these factors can help homeowners effectively prevent mosquito infestations and protect their living spaces.
Availability of water sources: Mosquitoes are drawn to houses and indoor areas that provide them with water sources. This includes leaky pipes, standing water in sinks or bathtubs, and even potted plants that are overwatered. By eliminating these water sources or properly managing them, homeowners can significantly reduce the attractiveness of their houses to mosquitoes.
Presence of humans and animals: Mosquitoes are attracted to the carbon dioxide and body heat emitted by humans and animals. When mosquitoes are in search of a blood meal, houses and indoor areas can provide them with a readily available supply. Installing screens on doors and windows, using mosquito repellents, and wearing appropriate clothing can help reduce the risk of mosquito bites indoors.
Indoor humidity: Mosquitoes are also attracted to areas with high humidity levels. Indoor areas that lack proper ventilation or have excessive moisture can create an environment favorable for mosquito breeding. Ensuring proper ventilation, using dehumidifiers, and fixing any moisture issues can help deter mosquitoes from invading indoor spaces.
Understanding the breeding habits of mosquitoes is essential for effective mosquito control.
By knowing their lifecycle, the role of standing water in breeding, and the factors that attract them to houses and indoor areas, homeowners can implement preventive measures to reduce the presence of mosquitoes and protect their homes from these pesky pests.
Identifying Common Mosquito Breeding Sites In Houses
Mosquitoes are not only annoying pests but also potential carriers of various diseases.
To effectively control mosquitoes and minimize their breeding grounds, it is essential to identify their common breeding sites in houses.
By understanding where these blood-sucking insects lay their eggs, we can take the necessary steps to eliminate stagnant water and reduce the risk of infestations.
Stagnant Water Sources Inside The House
Mosquitoes can breed in even the smallest amounts of stagnant water found indoors.
Identifying and eliminating these breeding sites is crucial to keep your home mosquito-free.
Here are some common areas where mosquitoes may lay eggs inside the house:
Flower pots and vases filled with water
Unused water containers or buckets
Clogged gutters and drains
Leaking pipes or faucets
Open containers for pet water, birdbaths, or fish tanks
By regularly checking and drying out these potential breeding spots, you can significantly reduce the risk of mosquito infestations inside your home.
Potential Outdoor Sources That Can Lead To Indoor Infestations
In some cases, mosquitoes breeding outside your house can find their way indoors, leading to infestations.
To prevent this from happening, it is essential to identify and address possible outdoor sources of mosquito breeding that can contribute to indoor infestations. Where Do Mosquitoes Lay Eggs in House? Don't Let Them Infest!
Untreated swimming pools and ponds
Uncleared rain gutters or roof drains
Puddles or stagnant water near window wells or doorways
Outdoor containers that collect water, such as discarded tires or toys
Pet bowls left outside
By addressing these potential outdoor sources, you can minimize the risk of mosquitoes entering your house and breeding indoors.
Unusual Or Overlooked Breeding Grounds Within The House
Sometimes, mosquitoes can find breeding sites in less obvious places within the house. These areas may often be overlooked but can provide suitable conditions for egg-laying and larval development.
Here are a few unusual or overlooked breeding grounds that can contribute to mosquito infestations:
Clogged air conditioner drain pans
Indoor plant saucers with standing water
Unused or forgotten containers in storage areas
Cracks or gaps in walls or foundations that collect water
By being aware of these less-obvious breeding sites, you can ensure a more thorough approach to mosquito control inside your home.
Preventing Mosquitoes From Breeding Indoors
Mosquitoes — those pesky insects that can quickly ruin a pleasant evening. While it's no secret that stagnant water outside provides a favorable breeding ground for these bloodsuckers, did you know that they can also lay eggs indoors? To keep your home a mosquito-free zone, it's crucial to understand and implement effective prevention strategies. In this blog post, we'll discuss essential tips and natural remedies that will help you eliminate stagnant water inside your house, mosquito-proof your home, and deter mosquitoes from laying eggs indoors.
Tips For Eliminating Stagnant Water Inside The House
When it comes to mosquitoes, getting rid of standing water is the first line of defense. These pesky insects can lay eggs in something as tiny as a bottle cap filled with water. Therefore, it's crucial to identify and eliminate potential breeding grounds within your home. Here are some tips to help you tackle stagnant water indoors:
Regularly check and empty flower vases, pet bowls, and potted plant saucers to prevent water accumulation.
Ensure that your indoor plumbing is in good condition, fixing any leaks promptly.
Change the water in your bird baths and decorative ponds at least once a week.
Check and clean your air conditioning drain pans to prevent water pooling.
Unclog gutters and downspouts to avoid water buildup.
Store buckets, containers, and other items that may collect water in a covered area or upside down.
Effective Strategies For Mosquito-proofing Your Home
When it comes to keeping mosquitoes at bay, it's important to mosquito-proof your home. By implementing these effective strategies, you can drastically reduce the chances of mosquitoes invading your indoor space:
Install tight-fitting screens on windows and doors to keep mosquitoes from entering your home.
Repair any ripped or damaged screens to maximize their effectiveness.
Seal any gaps or cracks in your home's foundation, walls, and windows to prevent mosquitoes from gaining access.
Use door sweeps to close off any gaps beneath exterior doors.
If necessary, consider using mosquito nets around beds and cribs for added protection during sleep.
Use indoor insecticide sprays or mosquito repellents to create a barrier against mosquitoes.
Natural Remedies To Deter Mosquitoes From Laying Eggs Indoors
If you prefer natural alternatives to chemical repellents, there are various approaches you can take to deter mosquitoes from laying eggs indoors:
Grow mosquito-repellent plants such as citronella, basil, lavender, and mint inside your home.
Essential oils like neem, eucalyptus, and lemon can act as natural mosquito deterrents when applied to surfaces or used in diffusers.
Keep windows and doors closed during dawn and dusk, when mosquitoes are most active.
Use window screens, mosquito nets, or door curtains made of cotton or bamboo to allow ventilation while keeping mosquitoes out.
Keep your home clean and free of clutter, as mosquitoes are attracted to dark and damp areas.
Maintaining A Mosquito-free Home Environment
Mosquitoes can lay eggs in various places inside your home, such as stagnant water, flowerpots, gutters, and even unused containers.
To maintain a mosquito-free environment, regularly inspect and eliminate these potential breeding grounds to reduce their population in your house.
Regular maintenance and inspection to prevent stagnant water buildup
One of the most effective ways to keep mosquitoes at bay in your house is by regularly maintaining and inspecting your surroundings for any potential breeding grounds.
Mosquitoes require stagnant water to lay their eggs, so eliminating these water sources is crucial.
Perform regular inspections of your outdoor areas, including gutters, flower pots, birdbaths, and buckets.
Make sure to empty any standing water and clean these areas to prevent mosquito larvae from thriving.
Additionally, check for any leaks or seepages in your pipes or faucets that may result in water accumulating in your house.
By conducting regular maintenance and being proactive in eliminating stagnant water, you can significantly reduce the risk of mosquitoes infesting your home.
Using mosquito repellents and traps indoors
When it comes to keeping mosquitoes out of your house, using mosquito repellents and traps indoors can be highly effective.
To prevent mosquito bites and create a mosquito-hostile environment, consider investing in mosquito repellent sprays, lotions, or electronic devices.
These repellents work by releasing substances that either mask the scent of humans or interfere with the mosquito's sensory receptors, making it difficult for them to locate their prey.
Place mosquito traps in strategic locations around your house to capture and eliminate mosquitoes.
These traps typically use a combination of attractants, such as light or carbon dioxide, to lure mosquitoes and trap them.
By incorporating mosquito repellents and traps indoors, you can significantly reduce the mosquito population in your house and enjoy a mosquito-free living space.
Incorporating mosquito-repelling plants in your indoor spaces
Besides using repellents and traps, incorporating mosquito-repelling plants in your indoor spaces can naturally deter these pesky insects.
Certain plants, such as citronella, lavender, mint, and basil, have natural properties that repel mosquitoes.
By placing these plants strategically around your house, you can create an inhospitable environment for mosquitoes and keep them away.
Apart from their repellent properties, these plants also add a touch of beauty and freshness to your indoor spaces.
Ensure that you provide adequate care for these plants, including proper watering and sunlight exposure.
In addition to enhancing the aesthetics of your home, these plants can serve as an effective defense against mosquitoes.
Maintaining a mosquito-free home environment requires regular maintenance and inspection to prevent stagnant water buildup, using mosquito repellents and traps indoors, and incorporating mosquito-repelling plants in your indoor spaces.
By following these methods, you can create a hostile environment for mosquitoes and enjoy a peaceful and mosquito-free home.
Remember to conduct inspections regularly, invest in mosquito repellents and traps, and bring in mosquito-repelling plants to keep your home mosquito-free.
Seeking Professional Help For Severe Infestations
Severe mosquito infestations can be a nuisance in your house. Professional help is recommended to locate and eliminate mosquito breeding grounds, preventing further eggs from being laid.
Signs Of A Severe Mosquito Infestation In The House
If you've noticed an increase in mosquito activity around your home, it's important to be able to identify the signs of a severe infestation.
While occasional mosquito bites are common, a substantial increase in their presence can be a cause for concern.
By recognizing the signs early on, you can take the necessary measures to keep yourself and your family safe.
When To Contact A Pest Control Specialist
While there are many do-it-yourself methods available to control mosquitoes, sometimes a severe infestation requires the expertise of a pest control specialist.
It can be difficult to determine when it's the right time to reach out for professional help.
Consider the following indicators that your mosquito problem may be too severe to handle alone:
A substantial increase in mosquito activity despite your efforts to control them
Mosquitoes invading your living spaces, making it challenging to enjoy time indoors
Multiple breeding sites identified around your property
Recurring instances of mosquito-borne illnesses reported in your area
Steps To Take If An Infestation Cannot Be Resolved On Your Own
In situations where a mosquito infestation is severe and traditional control methods have proven ineffective, it's crucial to take appropriate action.
When faced with a troubling mosquito problem that cannot be resolved on your own, follow these steps to ensure your home and property are protected:
Contact a reputable pest control company with experience in mosquito control
Schedule an inspection with the pest control specialist to assess the severity of the infestation
Discuss treatment options and follow the specialist's recommendations
Implement any necessary preventative measures, such as eliminating standing water and maintaining a clean outdoor environment
Adhere to any post-treatment instructions provided by the specialist to maximize effectiveness and prevent future infestations
Remember, severe mosquito infestations can pose health risks and diminish the enjoyment of your home.
Seeking professional help is a proactive step towards reclaiming your space and ensuring a mosquito-free environment for you and your loved ones.
Don't hesitate to reach out for assistance, as pest control specialists have the expertise and tools to address even the most challenging infestations.
FAQs Of Where Do Mosquitoes Lay Eggs In House
How Do You Find Where Mosquitoes Are Laying Eggs?
Mosquitoes lay eggs in stagnant water. Look for any standing water like puddles, flowerpots, or gutters. Remove or drain the water to prevent breeding.
How Do I Find A Mosquito Nest In My House?
To find a mosquito nest in your house, check areas with stagnant water, like flower pots or buckets. Look for dark, damp places such as closets, basements, or crawl spaces. Mosquitoes are attracted to moisture, so focus on these areas to locate their breeding grounds.
Why Do I Suddenly Have Mosquitoes In My House?
Mosquitoes in your house can appear suddenly due to open doors and windows, leaving gaps that allow them entry. Standing water, like in plant saucers or pet bowls, provides breeding grounds. Try using screens, closing doors, and eliminating stagnant water to reduce their presence.
How Do You Find Mosquito Breeding Grounds?
You can find mosquito breeding grounds by looking for stagnant water sources such as puddles, birdbaths, and clogged gutters. Remove or treat these areas to prevent mosquitoes from breeding.
Final Thoughts
To prevent the hassle of dealing with mosquitoes in your house, it is crucial to understand where they lay their eggs.
By targeting these potential breeding grounds, such as stagnant water sources, gutters, and flower pots, you can effectively eliminate the chances of mosquito infestation.
Regular maintenance and proper hygiene practices play a vital role in ensuring a mosquito-free environment. Stay proactive and stay protected!