Mosquitoes are attracted to certain people due to higher levels of chemicals on their skin.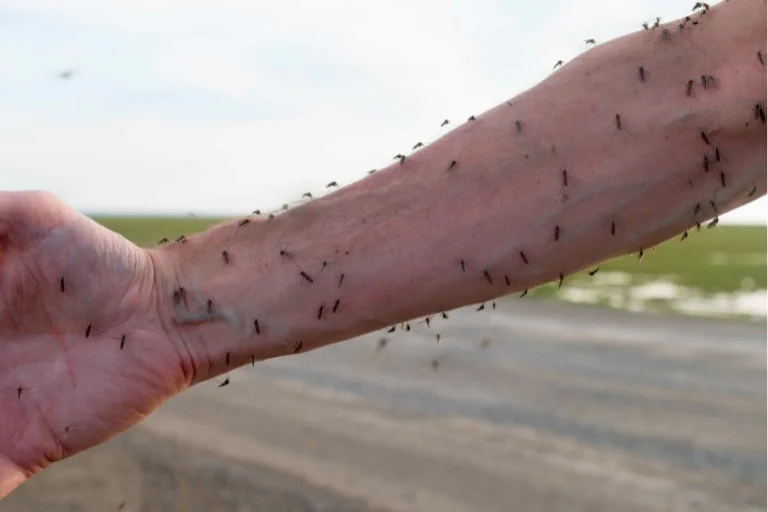 The Fascination Of Mosquitoes
Mosquitoes – those tiny, buzzing insects that seem to find pleasure in biting and sucking our blood.
While we may despise them for the itchy welts they leave behind, there's a certain fascination that surrounds these miniature vampires.
We'll explore the reasons why mosquitoes have a natural affinity for us and why they play an important role in the ecosystem.
Mosquitoes: Small Yet Deadly
Despite their diminutive size, mosquitoes have proven themselves to be one of the deadliest creatures on Earth.
It's hard to believe that such tiny insects can have such a vast impact on human health.
Mosquitoes are known carriers of various diseases, including malaria, dengue fever, Zika virus, and West Nile virus.
Their ability to transmit these diseases to humans and animals alike has earned them a notorious reputation.
Mosquitoes are equipped with specialized mouthparts, perfectly designed for penetrating the skin and extracting blood.
They use a combination of chemical cues, heat sensors, and carbon dioxide sensitivity to detect their prey from a distance of up to 50 meters.
This remarkable ability allows them to track down their next blood meal with pinpoint accuracy.
Understanding The Mosquito Species
With over 3,500 species of mosquitoes worldwide, it's important to note that not all mosquitoes are created equal.
Different species have distinct preferences when it comes to their meal choices and breeding habitats.
Some mosquitoes, like Aedes aegypti, are primarily responsible for spreading diseases to humans, while others may target different hosts such as birds or mammals.
Mosquitoes have evolved to adapt to various environments, from tropical rainforests to urban areas.
Their adaptability and resilience contribute to their worldwide distribution and ability to thrive in diverse conditions.
Understanding the characteristics and behaviors of different mosquito species can help us develop effective strategies for mosquito control and disease prevention.
The Role Of Mosquitoes In The Ecosystem
While mosquitoes may seem like a nuisance to humans, they actually play a crucial role in the ecosystem.
Mosquito larvae serve as an important food source for various aquatic organisms, including fish, frogs, and other insects.
In their adult stage, mosquitoes also provide sustenance for bats, birds, and other insectivorous animals.
Additionally, female mosquitoes contribute to pollination by feeding on nectar from flowers.
They inadvertently transfer pollen from one flower to another, aiding in the reproduction of plant species.
Thus, while their bites may annoy us, mosquitoes fulfill essential ecological functions.
Mosquito Attraction Mechanisms
Mosquitoes are tiny creatures that can cause big problems. If you find yourself constantly being eaten alive by mosquitoes, you may be wondering why they seem to be targeting you specifically.
The answer lies in the mosquito attraction mechanisms. These mechanisms are a combination of scents, factors affecting mosquito attraction, and the science behind CO2 and heat attraction.
By understanding these mechanisms, you can better protect yourself from these pesky bloodsuckers.
Scent: The Mosquito's Calling Card
When it comes to attracting mosquitoes, scent plays a crucial role. Mosquitoes have a keen sense of smell, and they are particularly attracted to certain scents that are emitted by our bodies.
These scents act as a calling card for mosquitoes, signaling them to come in for a feasting session.
There are several factors that contribute to the scents that attract mosquitoes. One of the main factors is the production of lactic acid and ammonia in our sweat.
Mosquitoes are drawn to these chemicals, which are more prevalent in some individuals than others.
Additionally, the bacteria that naturally reside on our skin produce other odors that mosquitoes find irresistible.
To make matters worse, certain scents can actually make you more attractive to mosquitoes.
If you enjoy wearing floral or fruity fragrances, you may be inadvertently inviting mosquitoes to come and feast on you.
These scents mimic the scent of flowers, which is a common nectar source for mosquitoes.
Factors Affecting Mosquito Attraction
While scent is a major factor in attracting mosquitoes, it is not the only one. There are several other factors that can make you more or less attractive to these blood-thirsty insects.
Factors Affecting Mosquito Attraction:
Chemical cues in sweat
Carbon dioxide levels
Body temperature
Blood type
As mentioned earlier, the chemicals in our sweat can attract mosquitoes. But it's not just the composition of sweat that matters – the amount of sweat we produce can also make a difference.
Mosquitoes are more attracted to individuals who produce larger amounts of sweat.
Another factor that plays a role in mosquito attraction is the level of carbon dioxide we exhale.
Mosquitoes can sense carbon dioxide from a distance, and higher levels of carbon dioxide in the immediate vicinity indicate the presence of potential hosts.
Our body temperature also affects our attractiveness to mosquitoes. Mosquitoes are attracted to the heat our bodies emit, with warmer individuals being more appealing targets.
Believe it or not, even your blood type can make a difference in how attractive you are to mosquitoes.
Studies have shown that individuals with certain blood types are more likely to be bitten than others.
The Science Behind CO2 and Heat Attraction
Mosquitoes have evolved to detect and home in on their prey through a variety of mechanisms, including their ability to sense carbon dioxide and heat.
When we exhale, we release carbon dioxide into the air. Mosquitoes have receptors that can detect even small amounts of carbon dioxide, allowing them to pinpoint potential hosts from a distance.
In addition to carbon dioxide, mosquitoes are also attracted to the heat our bodies give off.
They have specialized heat sensors that help them identify warm-blooded animals, which are their preferred source of blood meals.
By understanding the science behind these attraction mechanisms, we can take steps to protect ourselves from mosquito bites.
However, it's important to remember that no method is foolproof, and mosquitoes have a knack for finding their way to their desired targets.
By being aware of the factors that attract mosquitoes, we can at least minimize our chances of being eaten alive.
Genetic Predisposition And Blood Type
Your blood type and genetic predisposition may play a role in attracting mosquitoes.
These pesky insects are more attracted to people with certain blood types, making them feel like they're being eaten alive.
However, further research is needed to fully understand this phenomenon.
The Genetic Basis Of Attractiveness
Have you ever wondered why mosquitoes seem to have a particular affinity for you while your friends remain untouched?
It turns out that your genetic predisposition and blood type play a significant role in determining your attractiveness to these pesky insects.
Let's explore the fascinating connection between genetics, blood type, and mosquito magnetism!
The Link Between Blood Type And Mosquito Magnetism
Research suggests that mosquitoes are more attracted to certain blood types than others.
This discovery stems from a study conducted by scientists who observed that individuals with Type O blood are more likely to be bitten by mosquitoes than those with Type A or Type B blood. But why is this the case?
When mosquitoes bite, they are drawn to specific chemicals found in our blood.
These chemicals vary depending on our blood type, and each blood type emits a distinct odor that can either attract or repel mosquitoes.
For example, individuals with Type O blood tend to have higher concentrations of certain chemicals, making them more enticing to mosquitoes.
On the other hand, people with Type A and Type B blood have different chemical compositions that are less appealing to these blood-sucking insects.
It's important to note that while blood type plays a role in attracting mosquitoes, it is not the sole determining factor.
Other genetic components come into play as well, making some individuals more prone to mosquito bites than others.
Exploring The Role Of Sweat
Aside from blood type, another factor that contributes to mosquito magnetism is sweat.
Did you know that mosquitoes are attracted to the odor emitted by sweat?
Yes, that's right! When we sweat, our bodies release chemical compounds that act as a signal for mosquitoes.
These compounds, such as lactic acid and ammonia, can vary from person to person, making some individuals more appealing to mosquitoes than others.
Furthermore, mosquitoes are also drawn to the heat and moisture produced by our bodies when we perspire.
This combination of chemical signals, body heat, and moisture creates an irresistible lure for these insects.
Interestingly, factors such as metabolism, hormonal changes, and even the presence of certain bacteria on our skin can influence the composition of our sweat and thus affect our attractiveness to mosquitoes.
In Summary
Genetics and blood type play a significant role in determining our attractiveness to mosquitoes.
Type O blood is more attractive to mosquitoes compared to Type A and Type B blood.
Our blood type emits distinct odors that either attract or repel mosquitoes.
Sweat also plays a crucial role in attracting mosquitoes, with the odor, heat, and moisture acting as the perfect mosquito magnet.
Factors such as metabolism, hormonal changes, and bacteria on our skin can affect the composition of our sweat and, consequently, our appeal to mosquitoes.
Next time you find yourself relentlessly swatting away mosquitoes, remember that your genetic predisposition and blood type might be the reason why you are their preferred feasting ground.
So, whether you're in a mosquito-infested area or planning an outdoor adventure, be sure to take the necessary precautions to protect yourself and stay itch-free!
Environmental Factors At Play
The presence of mosquitoes can make outdoor activities uncomfortable and leave you with itchy bites.
If you frequently find yourself getting eaten alive by these pesky insects, there are several environmental factors at play that could be attracting them to you.
Understanding these factors can help you take proactive measures to minimize mosquito activity and protect yourself.
Weather And Mosquito Activity
The weather plays a significant role in mosquito activity. These tiny creatures thrive in warm and humid conditions, which facilitate their breeding and egg-laying process.
Mosquitoes are more active during the warmer months of the year, typically from spring to early fall.
When the temperature rises and humidity levels increase, mosquitoes become more abundant, making it the ideal time for them to feed and reproduce.
Additionally, certain weather conditions can enhance mosquito activity. Mosquitoes are attracted to still air because it allows them to land and feed without being disturbed.
Windy conditions make it difficult for mosquitoes to fly and therefore reduce their activity.
On the other hand, calm and windless evenings provide a perfect environment for mosquitoes to thrive and search for their next blood meal.
The Significance Of Standing Water
Standing water is a primary factor contributing to mosquito population growth. Mosquitoes require water to lay their eggs and complete their life cycle.
Any stagnant water source, even as small as a bottle cap, can serve as a breeding ground for these pests.
Puddles, ditches, clogged gutters, birdbaths, and flowerpot saucers are all opportunities for mosquitoes to reproduce.
To reduce mosquito breeding sites, it is crucial to eliminate or reduce stagnant water sources around your property.
Regularly drain and refresh pet bowls, fix leaky outdoor faucets, and ensure the proper drainage of your yard to prevent water from accumulating.
By denying mosquitoes their preferred breeding spots, you can significantly decrease their population near you.
Vegetation And Mosquito Habitats
Vegetation and mosquito habitats go hand in hand. Mosquitoes are attracted to dense vegetation because it provides them shelter, protection, and ideal resting spots during the day.
Tall grass, shrubs, and overgrown plants create cool and damp environments, which mosquitoes find particularly appealing.
By keeping your lawn well-maintained and regularly trimming vegetation, you can reduce the likelihood of attracting mosquitoes.
Additionally, consider planting mosquito-repelling plants such as citronella, lavender, and marigolds to create a natural barrier against these pests.
These plants contain natural compounds that mosquitoes find unpleasant, helping to deter them from your surroundings.
Understanding the environmental factors that contribute to mosquito activity can give you valuable insights into how you can minimize your risk of getting bitten.
By manipulating weather conditions around your outdoor activities, eliminating standing water sources, and managing vegetation, you can create an environment that is less attractive to mosquitoes and enjoy your time outside without becoming their next meal.
Personal Prevention And Protection
If you've ever found yourself being eaten alive by mosquitoes, you know how frustrating and uncomfortable it can be.
Fortunately, there are several personal prevention and protection measures you can take to keep these pesky insects at bay.
By following these tips, you can enjoy your time outdoors without worrying about those bothersome mosquito bites.
Choosing The Right Repellents
When it comes to choosing mosquito repellents, it's essential to select the ones that are most effective.
Look for repellents that contain active ingredients like DEET, picaridin, or oil of lemon eucalyptus (OLE).
These ingredients have been proven to repel mosquitoes effectively. It's also important to check the concentration of the active ingredient.
Higher concentrations usually provide longer-lasting protection.
In addition to traditional repellents, there are also natural alternatives available. Products containing essential oils such as citronella, lemongrass, and lavender can offer some protection against mosquitoes.
However, keep in mind that natural repellents may not provide the same level of efficacy as chemical-based products.
Avoiding Peak Mosquito Activity Times
One effective way to prevent mosquito bites is to avoid being outside during peak mosquito activity times.
Mosquitoes are most active during dawn and dusk when the weather is cooler. If possible, schedule your outdoor activities during other times of the day when mosquito activity is minimal.
This simple adjustment can significantly reduce your chances of getting bitten.
Tips For Mosquito-proofing Your Home
While it's essential to protect yourself outside, don't forget about keeping mosquitoes out of your home.
These tiny insects can easily find their way indoors, leaving you vulnerable to bites even when you're inside.
Here are a few mosquito-proofing tips to follow:
Keep windows and doors closed or use screens to prevent mosquitoes from entering your home.
Eliminate stagnant water sources around your property, such as birdbaths, flower pots, or clogged gutters. Mosquitoes breed in standing water, so removing these potential breeding grounds can make a significant difference.
Install mosquito nets over your beds to protect yourself while sleeping.
By following these home mosquito-proofing tips, you can create a safe haven where mosquitoes are less likely to bother you.
FAQs For Why Do I Get Eaten Alive By Mosquitoes
How Do I Stop Getting Eaten Alive By Mosquitoes?
To avoid getting bitten by mosquitoes, use insect repellent containing DEET, wear long-sleeved shirts and pants, and avoid being outside during dawn and dusk. Also, remove standing water around your home to eliminate breeding sites for mosquitoes. Stay protected!
Why Am I Getting Ate Up By Mosquitoes?
Mosquitoes can be attracted to you because of factors like body odor, heat, and carbon dioxide. They locate their targets by sensing these cues and other chemicals emitted by the human body. Wearing light-colored clothing, using mosquito repellents, and avoiding peak mosquito activity times can help reduce mosquito bites.
Why Do Mosquitoes Eat Me And Not Others?
Mosquitoes are attracted to individuals based on body odor, heat, and carbon dioxide. These factors vary from person to person, making some individuals more appealing to mosquitoes than others.
What Blood Type Attracts Mosquitoes?
Mosquitoes are attracted to certain blood types like Type O, which releases more odors and chemicals than others.
Conclusion
Understanding why mosquitoes seem to feast on some individuals more than others can help alleviate the frustration of constantly getting bitten.
Factors such as genetics, body heat, skin bacteria, and carbon dioxide production all play a role in attracting these pesky insects.
By taking preventive measures, such as using insect repellents and wearing protective clothing, you can reduce your chances of becoming a mosquito buffet. Stay informed and stay protected!